Product Description
Product

Standard Double Pitch Roller chain

Material

40Mn steel,304 stainless steel, 316 stainless steel and 201 stainless steel.

Types

Standard chains and special chains, such as A or B series chains, roller chains, driving chains, conveyor chains, hoisting chains, agricultural chains, sprockets, gears, wheels and so on.

Series

 A series(12.7-50.8mm pitches),B series (9.525-50.8mm pitches)and the heavy series.

Short pitch precision roller chain

Simplex Roller Chains&Bushing Chains: 

04C-1,06C-1,085-1,08A-1,10A-1,12A-1,16A-1,20A-1,24A-1,28A-1,32A-1,36A-1,40A-1,48A-1
Duplex Roller Chains&Bushing Chains:

04C-2,06C-2,085-2,08A-2,10A-2,12A-2,16A-2,20A-2,24A-2,28A-2,32A-2,36A-2,40A-2,48A-2
Triplex Roller Chains&Bushing Chains:

04C-3,06C-2,085-3,08A-3,10A-3,12A-3,16A-3,20A-3,24A-3,28A-3,32A-3,36A-3,40A-3,48A-3

Chain link type

Standard links (without attachment) and non-standard links (with attachment).

 

A1: One-side,one hole cranked attachments.
A2: One-side,two holes cranked attachments.
K1: Both-side,one hole cranked attachments.
K2: Both-side,two hole cranked attachments.
D1: One-side,an extended pin on every outer link.
D3: One-side,two extended pin on every outer link.

Our Products Advantage

1. Every step from production order to the packing process has a strict quality inspection.
2. We have standard roller chain with 1.5 CZPT (DIN. ANSI.); Non-standard roller chain (customized acording to customer drawings).
3. Export products with high quality and low price.
4.We have a good service before and after-sale.
1.Fast delivery: Standard products can be delivered in as fast as 20 days
2.Good service: timely reply, prompt quotation, responsible for the product
3.High cost performance: can maintain price stability for a certain period of time, bringing greater profits to customers
4.Good quality: production and testing have corresponding supervision to ensure product quality and get high praise from customers
5.OEM service: products can be customized according to drawings and requirements
We are responsible for the ordered products. We are very confident in the products we produce. Of course, if you have any problems after receiving the goods, you can contact us directly. We will confirm and negotiate in time to solve your difficulties.
| | |
| --- | --- |
| Standard or Nonstandard: | Standard |
| Application: | Textile Machinery, Garment Machinery, Conveyer Equipment, Packaging Machinery, Food Machinery, Mining Equipment, Agricultural Machinery |
| Surface Treatment: | Oil Blooming |
| Structure: | Roller Chain |
| Material: | Alloy |
| Type: | Double Pitch Chain |
Samples:

US$ 35/kg

1 kg(Min.Order)

|
Request Sample
Customization:

Available

|

Customized Request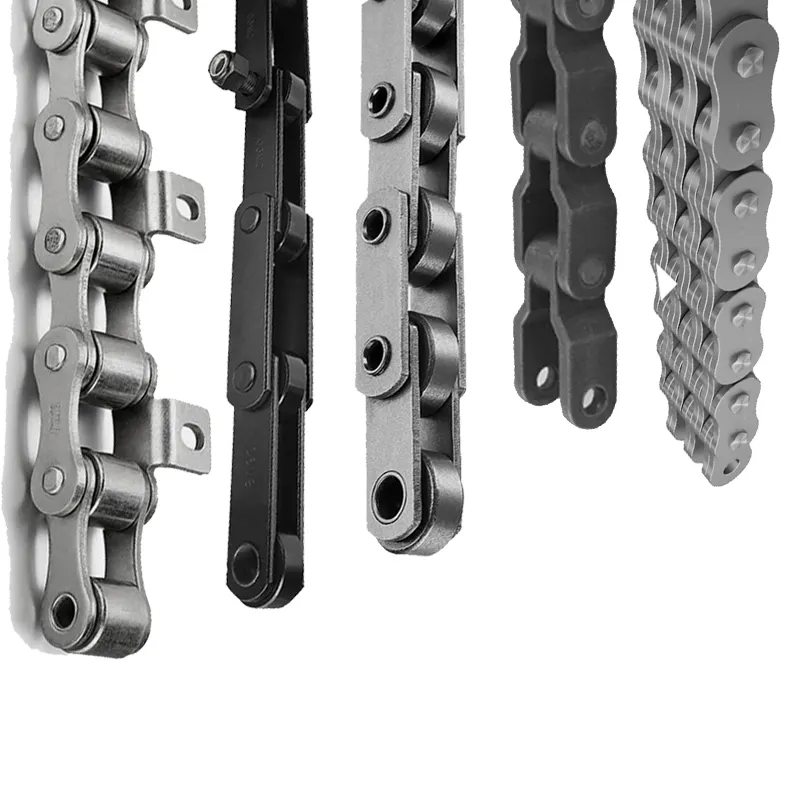 Can roller chains be used for power transmission in bicycles?
Yes, roller chains are commonly used for power transmission in bicycles. Here's a detailed answer to the question:
Roller chains are an integral component of bicycle drivetrains, transmitting power from the pedals to the rear wheel. They offer several advantages that make them well-suited for this application:
1. Efficient Power Transfer: Roller chains provide efficient power transfer from the rider's pedaling force to the rear wheel of the bicycle. They have low frictional losses, allowing for a smooth and efficient transfer of energy, resulting in better propulsion and improved performance.
2. High Strength and Durability: Roller chains used in bicycles are designed to withstand the forces exerted during pedaling and the varying loads encountered during riding. They are constructed using high-quality materials and precise manufacturing techniques to ensure strength and durability.
3. Lightweight: Roller chains used in bicycles are lightweight, contributing to the overall weight reduction of the bike. This is important for cyclists as it allows for faster acceleration, easier maneuverability, and enhanced handling.
4. Versatility: Roller chains are available in various sizes and configurations, allowing them to be used in different types of bicycles. Whether it's a road bike, mountain bike, or city bike, roller chains can be adapted to suit the specific requirements of the bike's drivetrain.
5. Easy Maintenance: Roller chains in bicycles require regular maintenance to ensure optimal performance and longevity. Proper lubrication and periodic cleaning are essential to prevent wear and corrosion. Fortunately, bicycle chains are relatively easy to maintain and can be readily accessed for cleaning and lubrication.
6. Cost-Effective Solution: Roller chains offer a cost-effective solution for power transmission in bicycles. They are affordable and widely available, making them a practical choice for bike manufacturers and cyclists alike.
In summary, roller chains are commonly used for power transmission in bicycles due to their efficient power transfer, strength, durability, lightweight nature, versatility, ease of maintenance, and cost-effectiveness. They play a crucial role in ensuring a smooth and reliable ride for cyclists of all types and skill levels.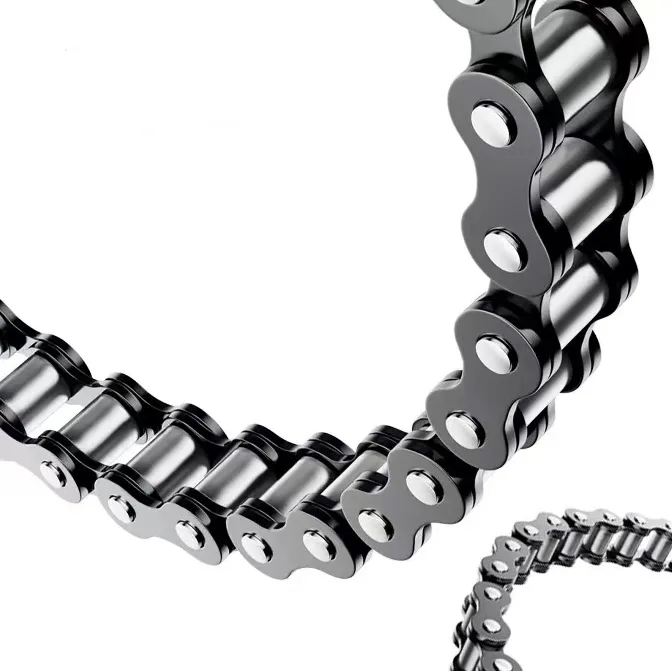 What are the advantages of using a roller chain over a timing belt?
Roller chains and timing belts are both commonly used for power transmission in various applications. Here's a detailed answer to the question:
Advantages of using a roller chain:
1. Higher Load Capacity: Roller chains are capable of handling higher loads compared to timing belts. They are designed to transmit power in heavy-duty applications where high torque and shock loads are present.
2. Flexibility in Power Transmission: Roller chains are more versatile in terms of power transmission. They can transmit power over longer distances and are suitable for applications that require multiple shafts and complex power transmission routes.
3. Tolerance to Misalignment: Roller chains can tolerate more misalignment between the driving and driven sprockets compared to timing belts. They can accommodate slight angular misalignments and axial movements, making them suitable for applications where alignment precision is challenging.
4. Resistance to Harsh Environments: Roller chains are generally more resistant to contaminants, such as dirt, dust, and debris, compared to timing belts. They are commonly used in applications where exposure to harsh environments, such as high temperatures, chemicals, or abrasive particles, is expected.
5. Easy Maintenance and Replacement: Roller chains are relatively easy to maintain and replace. Regular lubrication, tension adjustment, and periodic inspection can help prolong their lifespan. In case of wear or damage, individual chain links can be replaced without the need for replacing the entire chain, making maintenance more cost-effective.
It's important to note that the choice between a roller chain and a timing belt depends on various factors, including the specific application requirements, load conditions, speed, accuracy, and environmental considerations. Consulting with experts and considering the specific needs of the application can help determine the most suitable power transmission solution.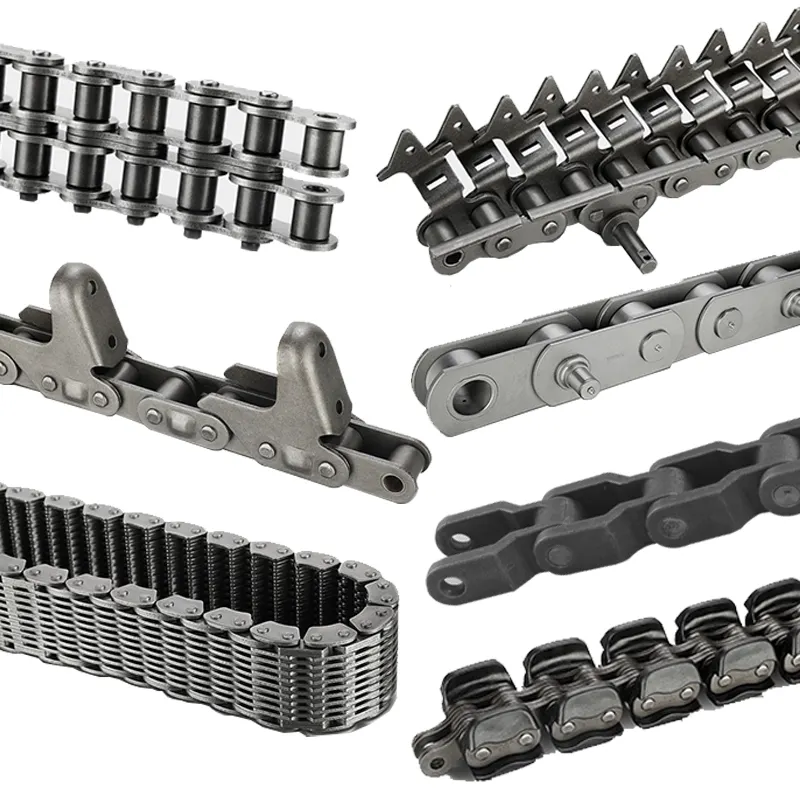 What are the key components of a roller chain?
A roller chain consists of several key components that work together to facilitate power transmission. Here's a detailed answer to the question:
1. Inner and Outer Plates: The inner and outer plates are flat metal plates that form the sides of the roller chain. They provide support and protection to the other components and help maintain the proper spacing between the rollers.
2. Rollers: The rollers are cylindrical components that are positioned between the inner and outer plates. They are responsible for engaging with the sprockets and transmitting power. The rollers rotate freely on the bushings and reduce friction during operation.
3. Bushings: The bushings are cylindrical sleeves that fit inside the rollers. They provide a low-friction surface for the rollers to rotate on and help reduce wear and extend the life of the chain.
4. Pins: The pins are cylindrical metal rods that connect the inner and outer plates. They pass through the bushings and hold the chain together. The pins are press-fitted into the plates and provide a pivot point for the rollers.
5. Link Plates: The link plates are the connecting elements between adjacent chain links. They are the plates that hold the pins in place and provide structural integrity to the chain.
6. Master Link or Connecting Link: The master link, also known as the connecting link, is a special link that allows for easy installation and removal of the roller chain. It typically has a removable pin or clip that enables the chain to be opened and closed without the need for special tools.
These components work together to form a continuous loop that engages with the sprockets and transfers power from one shaft to another. The precise design and construction of these components contribute to the overall strength, durability, and efficiency of the roller chain.



editor by CX 2023-08-07