Product Description
Product Description
Pitch P=100, 125, 150, 152.4, 160, 200mm with attached plate conveyor chain according to drawing
Rollers are available: small roller (S type), large roller (P type), convex edge roller (F type)
Roller diameters are 36, 42, 50, 60, 70, 85, 100, 120mm etc.
Chain plates are available: single side horizontal CZPT plate attached plate, single side bent plate with ears and double holes type A2, double side bent plate type K2. The chain plate thickness is 4, 5, 6, 7, 8, 10, 12 mm. The width of the chain plate is 25, 30, 35, 40, 50, 60, 70 mm, etc.
Pin diameters are 10, 12, 15, 18, 21, 25mm, etc.
M series metric conveyor chains are available in the following models: M56, M80, M112, M160, M224, M315.
M315,the dimensions are in accordance with the standard GB8350-87.
And can be matched with sprockets.
Product Attribute
Product Name
 Conveyor Chians 
Available materials
carbon steel, alloy steel,stainless steel 
OEM customisation according to your requirements
Surface Treatment
Shot peening,  Zinc-plated, Nickel-plated, Anodized, etc.
Performance 
High temperature resistant Abrasion resistant 
Reference standards
ISO,DIN,ANSL 
Customised drawings
YES
Certificates
ISO9001:2008  SGS   brand  TV
Delivery time
 20 days for samples. 45 days for official order.
Packaging
Plastic Bag + Cardboard Box + Wooden
Product Parameters
Our Advantages
Company Advantages:
Own Import & Export License, The TV trade mark registered successfully in many countries, Sales network spread all over China, Products export to 65 countries in 5 continents.
Membership:
1. The member of China General Machine Components Industry Association.
2. The member of China Chain Transmission Association.
3. The member of China Chain Standardization Association.
4. The member of China Agricultural Association Machinery Manufacturers.
With our excellent trained staffs and workers, advanced and efficient equipments, completely sales network, strict QA systems. You are confidence that our premium qualified chain can meet all customers' specification and strictest quality standards.
Please do not hesitate to contact us for more information on how TransVision products can meet your industries demands at highly competitive pricing.
Quality First, Clients Uppermost.
Product Categories

WHY CHOOSE US
Comprehensive Product Portfolio We produce and supply a wide range of power transmission
products including drive chains, leaf chains, conveyor chains, agricultural chains, sprockets, and
couplings. This one-store-for-all shopping experience will significantly reduce your searching costs while
guarantee youfind what you want at 1 click.
Value Choice Products Our products are the best combination of quality and price, and you get what
you want within your budgets
Seasoned Sales Associates and Engineers We have 15 seasoned sales associates and 5 engineers;
on our team at your disposal any time when you need a helping hand. They are well trained with industry
know-now and will always respond to your requests within 24 hours.
100% Customer Retention Rate Our regular customers from overseas come back not just for our
premium quality products, but for the superior services that we've provided over the years.
FAQ
Q1: What's your average lead time?
A: It varies. Our regular end-to-end lead time is 1-2 months.. We also provide express shipments for rush orders. For details,please consult our sales associate.
Q2: Is your price better than your competitors given the same quality?
A: Definitely YES. We provide the most competitive price in the power transmission industry. If price disparity exists, we'll be more than happy to do a price match.
Q3: Can you make chains according to my CAD drawings?
A: Yes. Besides the regular standard chains, we produce non-standard and custom-design products to meet the specific technical requirements. In reality, a sizable portion of our production capacity is assigned to make non-standard products.
Q4: Can we inspect the goods before shipment?
A: Yes. You or your representative or any third-party inspection party assigned is allowed access to our facility and do the inspection.
Q5: What kind of payment method is acceptable for your mill?
A: We're flexible. We take T/T, L/C, or any other online payment methods so long as it's applicable for you.
Q6: What if I have any other questions?
A: Whenever in doubt, you're always encouraged to consult our sales associate any time – They will help you to your satisfaction.
Shipping Cost:

Estimated freight per unit.





To be negotiated
| | |
| --- | --- |
| Material: | Alloy |
| Structure: | Hollow Chain |
| Surface Treatment: | Electroplating |
Customization:

Available

|

Customized Request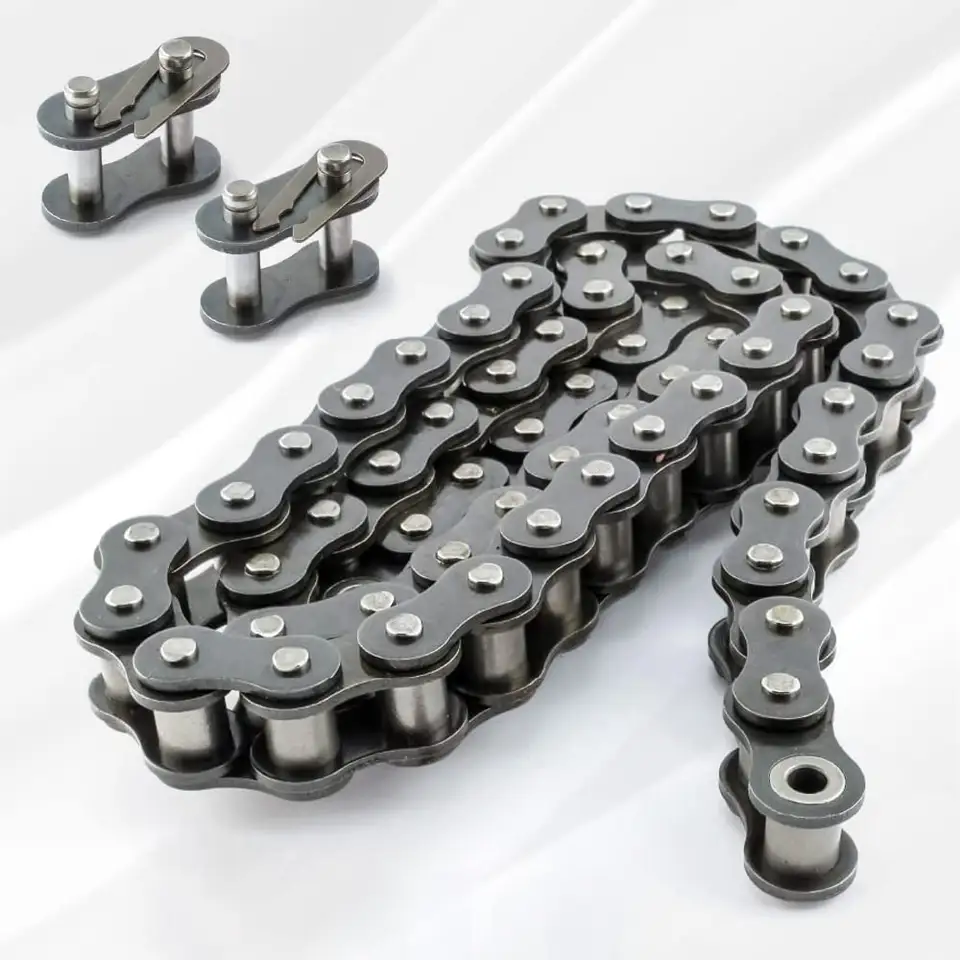 Are there any environmental considerations when using roller chains?
Yes, there are several environmental considerations to keep in mind when using roller chains. Here's a detailed answer to the question:
1. Lubricants: The choice of lubricant for roller chains can have an environmental impact. It's important to select lubricants that are environmentally friendly and comply with any relevant regulations. Biodegradable lubricants or those with low toxicity are often preferred to minimize environmental harm in case of leaks or spills.
2. Contamination: Roller chains can be susceptible to contamination from dust, dirt, or other particles present in the operating environment. Contaminants can accelerate wear and reduce the lifespan of the chain. Implementing proper sealing measures, such as using protective covers or enclosures, can help prevent contamination and maintain chain performance.
3. Noise and Vibration: Roller chains can generate noise and vibration during operation, which may have environmental implications, especially in noise-sensitive areas. Employing noise reduction measures, such as using noise-dampening materials or implementing sound barriers, can help mitigate the impact of chain noise on the surrounding environment.
4. Corrosion Protection: In corrosive environments, protecting the roller chain from corrosion is crucial. Corrosion not only affects the performance and lifespan of the chain but can also lead to the release of harmful substances into the environment. Using corrosion-resistant materials or applying appropriate coatings can help minimize environmental risks.
5. Energy Efficiency: Roller chains should be properly tensioned and maintained to ensure efficient power transmission. By optimizing the performance of the chain, energy consumption can be minimized, resulting in reduced environmental impact.
6. Recycling and Disposal: When roller chains reach the end of their lifespan, proper disposal or recycling should be considered. Some components of the chain, such as metal links, can be recycled to minimize waste and conserve resources. Local regulations and recycling facilities should be consulted for guidance on the proper disposal or recycling methods.
It's important to assess the specific environmental requirements and regulations in the operating environment and choose roller chain solutions that align with sustainable practices and minimize any negative environmental impacts.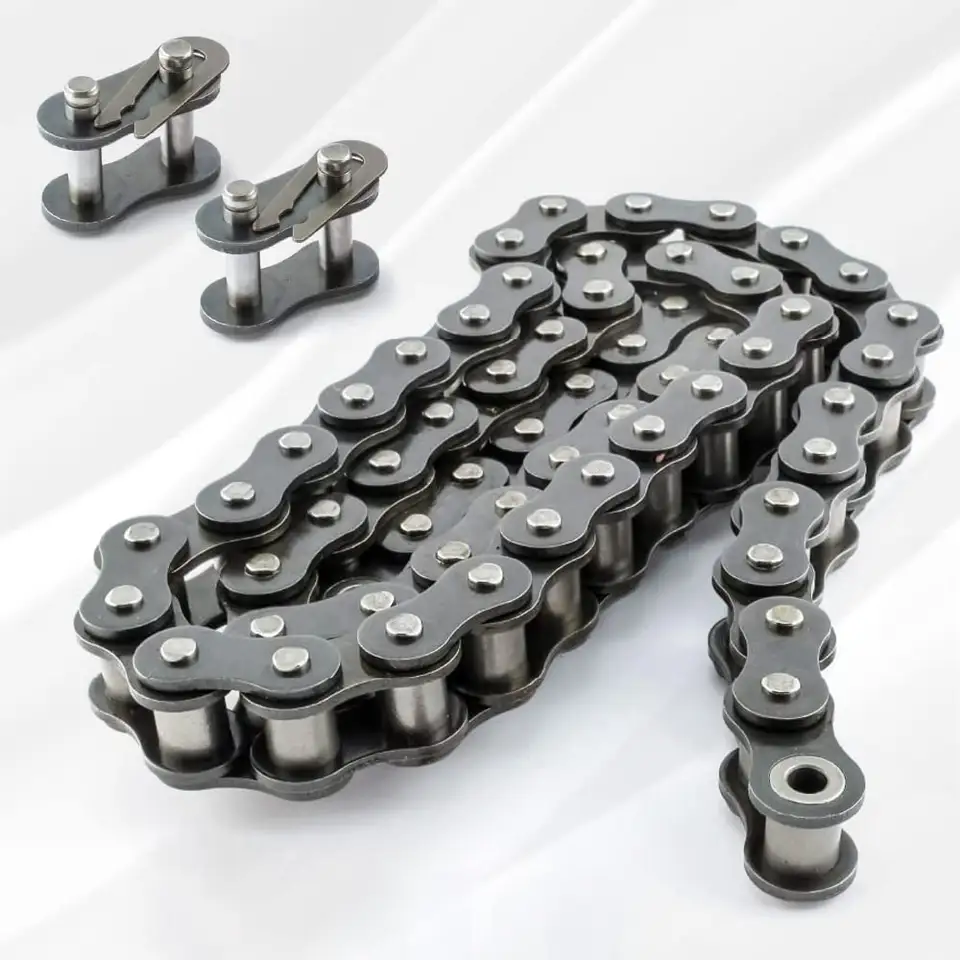 Can roller chains be used in underwater applications?
Roller chains are not typically recommended for direct use in underwater applications due to the potential for corrosion and water ingress. However, with appropriate modifications and additional protective measures, roller chains can be adapted for certain underwater applications. Here's a detailed answer to the question:
1. Corrosion Resistance: In underwater environments, corrosion is a significant concern. Roller chains can be manufactured from corrosion-resistant materials such as stainless steel or coated with anti-corrosion treatments to mitigate the effects of exposure to water and moisture.
2. Sealing and Waterproofing: Special seals, O-rings, or protective covers can be installed to prevent water ingress into the chain's internal components. These seals help to maintain lubrication and protect against corrosion, ensuring reliable operation even in wet conditions.
3. Lubrication Selection: Choosing the appropriate lubricant is crucial for underwater applications. Lubricants with excellent water resistance and corrosion protection properties should be selected to provide long-lasting lubrication in the submerged environment.
4. Maintenance and Inspection: Regular maintenance and inspection are essential to monitor the condition of the roller chain in underwater applications. This includes checking for signs of corrosion, lubricant degradation, or seal damage. Prompt replacement of worn or damaged components is necessary to prevent chain failure and ensure optimal performance.
It's important to consult with experts or manufacturers experienced in underwater applications to determine the suitability of roller chains for specific underwater environments. They can provide guidance on the necessary modifications, materials, and maintenance practices to ensure the safe and reliable operation of roller chains in such conditions.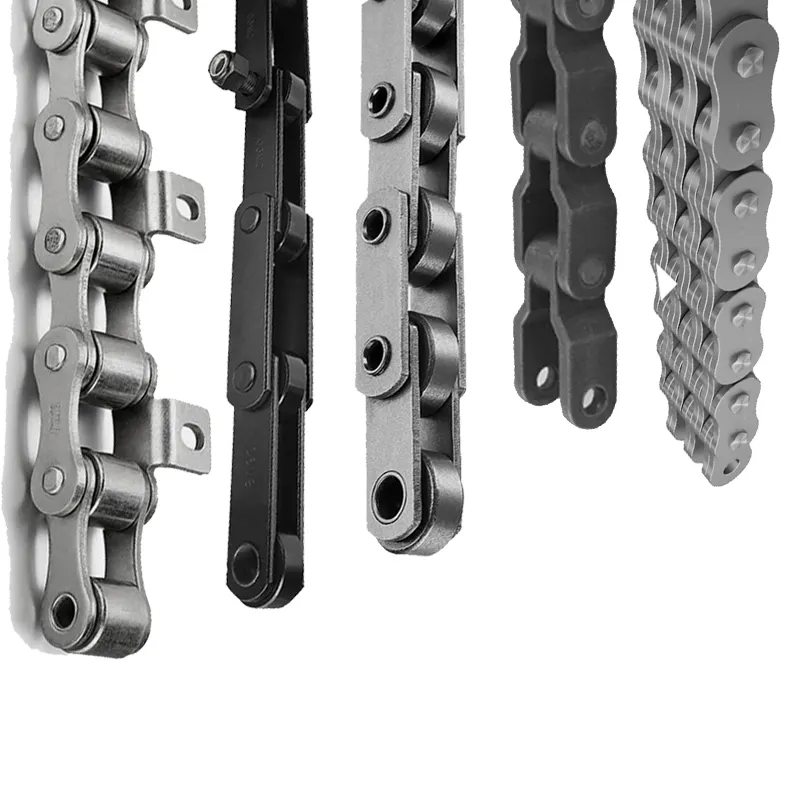 How do you properly lubricate a roller chain?
Proper lubrication is crucial for the performance and longevity of a roller chain. Here's a detailed answer to the question:
1. Clean the Chain: Before lubricating the roller chain, ensure that it is clean and free from dirt, debris, and old lubricant. Use a suitable cleaning agent or solvent to remove any contaminants.
2. Select the Right Lubricant: Choose a high-quality lubricant specifically designed for roller chains. Consider factors such as the operating conditions, load capacity, speed, and temperature range when selecting the lubricant. Consult the manufacturer's recommendations for the appropriate lubricant type and viscosity.
3. Apply the Lubricant: Apply the lubricant evenly to the entire length of the roller chain. You can use a lubrication system, brush, or spray applicator for effective coverage. Ensure that the lubricant penetrates between the rollers and bushings, as well as the pins and inner plates.
4. Remove Excess Lubricant: After applying the lubricant, remove any excess oil or grease from the chain. Excessive lubrication can attract dirt and debris, leading to accelerated wear and chain failure. Wipe off any excess lubricant using a clean cloth.
5. Reapply Lubricant Regularly: Roller chains require regular lubrication to maintain optimal performance. The frequency of lubrication depends on the operating conditions and the manufacturer's recommendations. In general, lubrication should be done at regular intervals or when the chain shows signs of dryness or wear.
6. Monitor and Inspect: Regularly monitor the condition of the lubricated roller chain. Look for any signs of wear, rust, or inadequate lubrication. If necessary, reapply the lubricant or adjust the lubrication frequency based on the chain's performance and operating conditions.
Proper lubrication helps reduce friction, wear, and heat generation, ensuring smooth operation and extending the life of the roller chain. Following the manufacturer's recommendations and best practices for lubrication will help maintain the chain's performance and prevent premature failure.



editor by CX 2023-08-09