Product Description
Duplex Short Pitch Precision Conveyor Roller Chain Transmission Chain (DIN764)
SHORT PITCH PRECISSION ROLLER CHAINS (B SERIES)
Material: Alloy Steel
Surface Treatment: Shot Peening / Blacking / Blueing
Main Application: Idustry machinery
ANSI CHAIN NO.: 05B-2  06B-2  10B-2  12B-2  16B-2  20B-2  24B-2  28B-2  32B-2  40B-2 48B-2  56B-2  72B-2
Pitch:8 9.525 12.7 15.875 19.05 25.4 31.75 38.1 44.45 50.8 63.5 76.2 88.9 101.6 114.3 
Product name 
 Duplex Short Pitch Precision Roller Chain (B series) Chain (DIN764)
Materials Available
1. Stainless Steel: SS201, SS303, SS304, SS316, SS416, SS420
2. Steel:C45(K1045), C46(K1046),C20
3. Brass:C36000 ( C26800), C37700 ( HPb59), C38500( HPb58), C27200(CuZn37), C28000(CuZn40)
4. Bronze: C51000, C52100, C54400, etc
5. Iron: 1213, 12L14,1215
6. Aluminum: Al6061, Al6063
7.OEM according to your request
Surface Treatment
Annealing, natural anodization, heat treatment,  polishing, nickel plating, chrome plating, znic plating,yellow passivation, gold passivation,  satin, Black surface painted etc.
Products Available
sprockt chains, pulley, shafts(axles, spline shafts, dart shafts),gears (pinions, wheels gear rack) bearing, bearing seat,  bushing, coupling, lock assembly etc.
Processing Method
CNC machining, punch,turning, milling, drilling, grinding, broaching, welding and assembly
QC :
Technicians self-check in production,final-check before package by  professional Quality inspector
Size
Drawings
Package
Wooden Case/Container and pallet, or as per customized specifications
Certificate
ISO9001:2008 , ISO14001:2001,ISO/TS 16949:2009
Advantage
Quality first Service superior , Advanced equipment,Experienced workers,Perfect testing equipment
Lead Time
15-25days samples. 30-45days offcial order
1. Are you manufacturer or trade Company?
We are a factory founded in 1991 with trade team for international service.
2. What terms of payment you usually use?
T/T 30% deposit and 70% against document, Western Union, L/C at sight
3. what is your lead time for your goods?
Normally 45 days after confirmed order. 30 days could be available in low season for some items (during May to July), and 65 days during new year and hot season ( Jan to March).
4. Do you attend any Show?
We attend Hannover show in Germany, NMW in Austrilia, Canton fair, PTC, in China and many other special furniture shows.
 
| | |
| --- | --- |
| Usage: | Transmission Chain |
| Material: | Alloy/Carbon Steel |
| Surface Treatment: | Polishing |
| Feature: | Heat Resistant |
| Chain Size: | 1/2"*3/32" |
| Structure: | Roller Chain |
Customization:

Available

|

Customized Request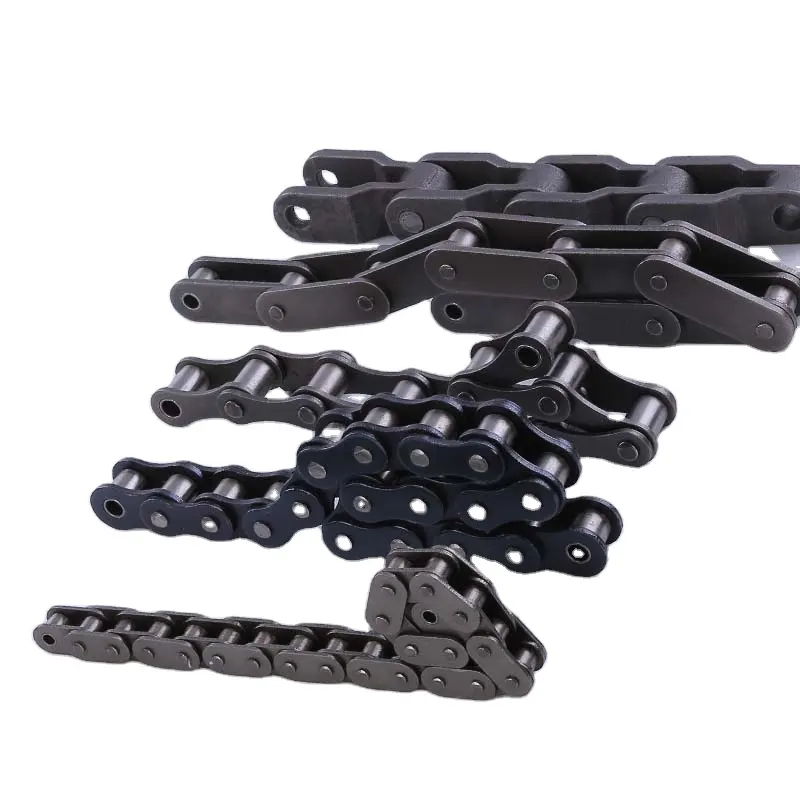 How do roller chains handle high torque loads?
Roller chains are designed to handle high torque loads effectively. Here's a detailed answer to the question:
1. Robust Construction: Roller chains are constructed using high-quality materials and precise manufacturing techniques to ensure strength and durability. They are designed to withstand the forces generated by high torque loads without deformation or failure.
2. Load Distribution: Roller chains distribute the high torque load evenly across their links and pins. This even distribution helps prevent concentrated stress points and ensures that each link carries a portion of the load, reducing the risk of chain failure.
3. Fatigue Resistance: Roller chains are designed to resist fatigue caused by repeated stress cycles. They have sufficient strength and resilience to endure the high torque loads encountered during operation without experiencing premature wear or failure.
4. Proper Lubrication: Adequate lubrication is crucial for the smooth operation and longevity of roller chains under high torque loads. Lubrication reduces friction, minimizes wear, and helps dissipate heat generated by the increased forces. Proper lubrication ensures that the chain operates efficiently and extends its lifespan.
5. Tensile Strength: Roller chains are engineered to have high tensile strength, which allows them to withstand the tension created by high torque loads. The tensile strength of the chain ensures that it can handle the pulling force exerted by the rotating sprockets without elongation or failure.
6. Sprocket Selection: The choice of sprockets also plays a significant role in handling high torque loads. Sprockets should be matched appropriately with the roller chain to ensure proper engagement and efficient power transmission. Selecting sprockets with the appropriate tooth profile, material, and design helps optimize the performance and longevity of the chain under high torque conditions.
Roller chains have been extensively used in applications that require the transmission of high torque, such as heavy machinery, industrial equipment, and automotive systems. Their robust construction, load distribution capabilities, fatigue resistance, proper lubrication, high tensile strength, and compatibility with well-designed sprockets make them reliable and efficient in handling high torque loads.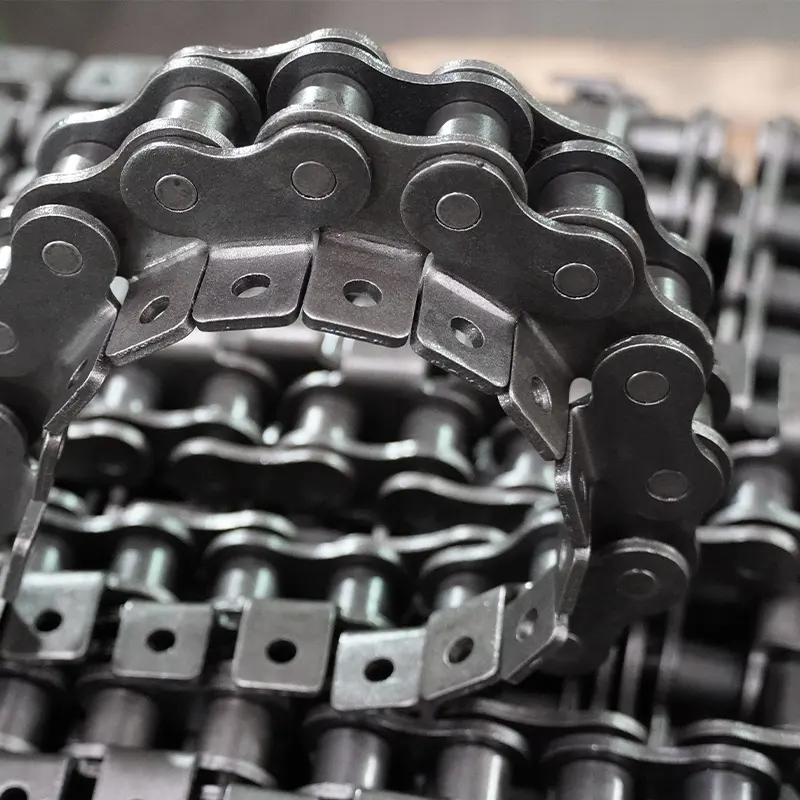 How do roller chains handle angular misalignment between sprockets?
Roller chains are designed to accommodate a certain degree of angular misalignment between sprockets. Here's a detailed answer to the question:
1. Flexibility: Roller chains have inherent flexibility, allowing them to adapt to slight misalignments between sprockets. The chain links can articulate and adjust their position to compensate for the angular misalignment. This flexibility helps to reduce stress on the chain and the sprockets.
2. Chain Articulation: The individual chain links in a roller chain are connected by pins, allowing them to rotate and articulate as the chain engages with the sprockets. This articulation enables the chain to follow the angular movement of the sprockets and maintain proper engagement. It helps to distribute the load evenly across the chain and minimize concentrated stresses on individual chain links.
3. Tolerance for Misalignment: Roller chains have a certain tolerance for angular misalignment between the sprockets. The exact amount of misalignment that a chain can handle depends on factors such as chain size, pitch, and design. However, it's important to note that excessive misalignment can lead to accelerated wear, increased noise, and reduced chain life.
4. Proper Alignment: While roller chains can tolerate some degree of angular misalignment, it's still essential to aim for proper sprocket alignment whenever possible. Proper alignment helps to optimize chain performance, minimize wear, and extend the lifespan of the chain and sprockets. Aligning the sprockets correctly ensures that the chain engages smoothly and uniformly with the sprocket teeth, reducing the risk of premature wear or failure.
5. Regular Inspection and Maintenance: To ensure optimal performance and longevity, it's important to regularly inspect the roller chain system for any signs of misalignment or excessive wear. Routine maintenance, such as lubrication and tension adjustment, helps to mitigate the effects of misalignment and promotes smooth operation.
While roller chains can handle a certain degree of angular misalignment, it's always recommended to minimize misalignment and strive for proper sprocket alignment to ensure optimal performance, efficiency, and longevity of the chain and sprocket system.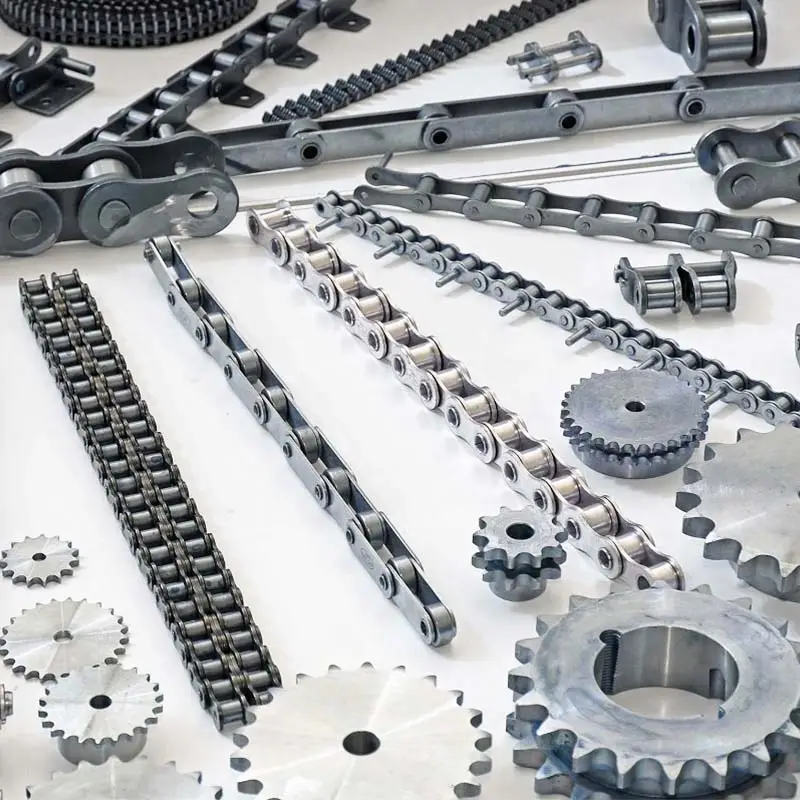 Are there any alternatives to roller chains for power transmission?
Yes, there are several alternatives to roller chains for power transmission, depending on the specific application requirements. Here's a detailed answer to the question:
1. Belt Drives: Belt drives are a common alternative to roller chains for power transmission. They use a flexible belt made of materials such as rubber, polyurethane, or neoprene. Belt drives offer smooth and quiet operation, high-speed capabilities, and can transmit power over long distances. They are often used in applications where precise synchronization is not required.
2. Gear Drives: Gear drives use meshing gears to transmit power. They offer high torque capabilities, precise motion control, and can handle heavy loads. Gear drives are commonly used in applications that require high efficiency and precise speed control, such as industrial machinery, automotive transmissions, and robotics.
3. Timing Belts: Timing belts, also known as synchronous belts, are toothed belts that provide positive power transmission. They are used in applications that require precise synchronization between two or more shafts. Timing belts offer low noise, high efficiency, and resistance to slippage. They are commonly used in automotive engines, industrial automation, and precision machinery.
4. Chain Drives: Chain drives, similar to roller chains, use interconnected links to transmit power. However, chain drives often have larger pitch sizes and heavier-duty construction compared to roller chains. Chain drives offer high load-carrying capacity, durability, and can operate in demanding conditions. They are commonly used in heavy machinery, agricultural equipment, and motorcycles.
5. Direct Drives: Direct drives eliminate the need for mechanical power transmission components like chains or belts. They directly connect the motor or power source to the driven equipment, providing a more efficient and compact solution. Direct drives are commonly used in applications that require high precision, such as CNC machines, robotics, and linear motion systems.
When considering alternatives to roller chains, factors such as load requirements, speed, precision, environmental conditions, and cost must be taken into account. Each alternative has its own advantages and limitations, and the choice depends on the specific needs of the application.



editor by CX 2023-09-13