Product Description
1. Description:
| | |
| --- | --- |
| Part No.: |  ID1354/37 |
| Machine No.: |  450E 450G  |
| Description: |  Track Link |
| Logo: |  Beneparts |
| Color: |  Yellow or others |
| Production Method: |  Forging/Casting |
| Material: |  40Mn/35MnB |
| Surface hardness: |  HRC 52 ~ 58 |
More products:
Bucket tooth:  product/jJArxYWdhhks/China-Spare-Parts-Track-Bushing-Excavator-Pin-40cr-42CrMo-Bucket-Link-Pin-Link-Pin-Replacement-Bucket-Tooth-Locking-Pins-Forged-Bucket-Tooth-Pin-K170-Pin-2320170.html
Rubber track: product/yQLRiCgPvAVJ/China-Mini-Excavator-Rubber-Track-Undercarriage-Dx340LC-Machinery-Lubricated-Dry-Track-Link-Shoe-Assy-Track-Chain.html
Track roller: product/jmWpigyGJLcA/China-246-571-Roller-Gp-Track-Single-Flange-Excavator-Undercarriage-Parts-Down-Upper-Lower-Roller-Idler-Sprocket-Track-Roller.html
Grader blade:  product/XZlfQcLdlFhi/China-Construction-Machinery-Parts-Grader-Blade-Motor-Grader-Carbon-Steel-Boron-Steel-Dbf-Cutting-Edge-Bulldozer-4t6694.html
Track link chain:  product/yQLRiCgPvAVJ/China-Mini-Excavator-Rubber-Track-Undercarriage-Dx340LC-Machinery-Lubricated-Dry-Track-Link-Shoe-Assy-Track-Chain.html
Bucket:  product/UdMAiYuwXGhW/China-China-Heavy-Equipment-Buckets-Wh60c-Q345b-3-4cx-12-Bucket.html
Chocky bar:  product/kyPmTlxusBhU/China-Excavator-Bucket-Protection-Spare-Parts-CB1-Teeth-Pins-Retainer-Bushing-Locker-80-125r.html
2. Our products range
  
3. Our production line:
4.Popular items blow for reference:
Brand
Model
Track Roller,                                                            Top Roller,                                                      Sprocket,                                                          Idler,                                                            Track Link,                                                         Track Shoes
  
PC18-2
PC20-5/7
PC30-5/6/7/8
PC40-5/6/7
PC50/PC55
PC60-5/6/7
PC100-5/6/7
PC120-5-6-7
PC200-3/5/6/7/8
PC220-3/5/6/7/8
PC200LC-3/5/6/7/8
PC220-3/5/6/7/8
PC300-5-6-7
PC300LC-/5-6-7
PC350-5/6/7
PC350LC-5/6/7
PC360-5/6/7
PC360LC-5/6/7
PC400-1/3/5/6/7
PC400LC-1/3/5/6/7
PC450-5/6/7
PC450LC-5/6/7
PC600
PC800
 
 
  
EX30
EX40
EX55
EX60-2/3/5
EX70
EX100-1/3/5/
EX120-1/3/5
EX150
EX200-1/2/3/5
EX200LC-1/2/3/5
EX220-1/2/3/5
EX220LC-1/2/3/5
EX270-1/2/5
EX270LC-1/2/5
EX300-1/2/3/5
EX300LC-1/2/3/5
EX330
EX330LC
EX400-1/2/3/5
EX400LC-1/2/3/5
EX450-1/2/3/5
EX450LC-1/2/3/5
UH07-7
UH081
UH083
UH045
UH571
 
 
 
 
ZAX55
ZAX70
ZAX120
ZAX200
ZAX210
ZAX230
ZAX240
ZAX330
ZAX450
 
 
 
 
 
 
 
 
 
 
 
    
DH55
DH80
DH130
DH150
DH220
DH258
DH280
DH300
DH320
DH360
DH370
DH400
DH420
DH500
 
 
DX300
DX370
DX380
 
 
 
 
SK035
SK035SR
SK30
SK35
SK45
SK50-1
SK50-6
SK55
SK60-3
SK60-1/2/5
SK60-8
SK100
SK120
SK130-8
SK200-3/5/8
SK210
SK230
SK250
SK300
SK320
SK330
SK350
SK07N2
 
 
 
   
SH35
SH55
SH60
SH65
SH75
SH100
SH120
SH120A3
SH200
SH220
SH265
SH280
SH300
SH320
SH340
SH350
SH430
LS2800
 
 
 
 
   
HD250
HD400
HD450
HD700
HD770
HD820
HD1571
HD1250
HD1430
 
 
 
 
 
     
R55
R60-5/7/8
R80
R130
R150LC-7
R200
R210-3
R220-5
R225-7
R275
R290
R300
R320
R305
R360
R450
 
 
 
R914
R924
R934C
R944C
 
 
 
CX35
CX45
CX55
CX240
 
 
 
KX35
KX50
KX55
KX80
KX185
 
 
 
 
 
 
SWE35
SWE40
SWE50
SWE55
SWE60
SWE70
SWE85
SWE330
 
 
 
IHI30
IHI35
IHI80
IHI85
 
 
 
TB150
TB175
 
 
 
 
 
FR65
FR85
 
 
 
 
 
 
      
SY65
SY200
SY215
SY330
 
 
    
YC13
YC35
YC45
YC60
YC85
YC135
 
 
 
 
 
 
  
VIO30 YM30
VIO35 YM35
VIO40 YM40
VIO55 YM55
VIO75 YM75
 
 
 
 
 
   
D3B D3C
D4
D4D
D4E
D4H
D5
D5B
D5C
D5H
D5M
D5N
D6
D6C
D6D
D6R
D6H
D6T
D7G
D7R
D7H
D8N
D8L
D8T
D8R
D8H
D8K
D9L
D9N
D9R
D9T
D10N
D10R
D10T
D11N
D11R
 
 
 
  
D20
D31
D37EX-21
D40
D41P-6
D41E-6
D50
D53
D51EX-22
D60
D65
D65-12
D61EX-12
D65EX-12
D65PX-12
D80
D85
D85EX-15
D85-21
D155
D155A-1
D155A-2
D155A-3
D155A-5
D155-6
D275
D355A-3
D375-5
BD2G
 
 
 
5. Our warehouse:
6.Company information
HangZhou CZPT Machinery co., Ltd as your reliable Undercarriage parts supplier, offering full range of replacement parts suitable for all kinds of earthmoving machines which apply to mining, construction, agriculture etc. Like Excavator, Bulldozer, Loader, Backhoe, Scraper, Crusher and so on. The replacement parts that we supply including casting parts like idler, sprocket, top roller, track link, track roller, track shoes…, etc. and forged parts like forged idler, sprocket, top roller, track link, track roller, track shoes…, etc. 
 
Beneparts has a very strong sales team and firmly cooperated manufacturer with high-tech and focus on quality with more than 28 years experience.
 
Our advantages are 4 fold, our:
1.strong technical team, and we have the ability to formulate materials to meetthe specific needs of our customer's projects.
2.Perfect quality monitoring system, and full range of advanced facilities, like Component analysis machine, Impact Machine, Tensile Strength machine etc.
3. Rich experience to do OEM/ODM business, we can develop items as per drawings and samples if you have specific requirement.
4. Efficient management, we can short delivery time and we have good after sale service which keep long term business cooperation with our customers.
 
Our commitment to you is always providing quick, convenient, effective customer service.
Look CZPT to meeting you!
Shipping Cost:

Estimated freight per unit.





To be negotiated
| | |
| --- | --- |
| Type: | Track Link |
| Application: | Bulldozer |
| Certification: | CE |
Customization:

Available

|

Customized Request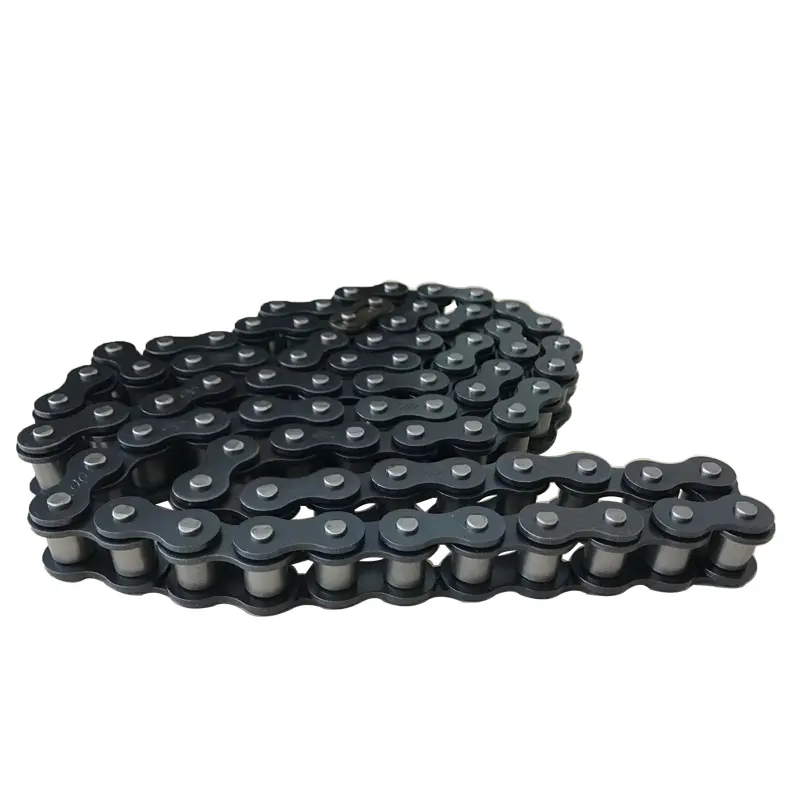 What are the factors that affect roller chain lifespan?
The lifespan of a roller chain can be influenced by several factors. Here's a detailed answer to the question:
1. Load Capacity: The load capacity of a roller chain refers to its ability to handle the applied load without experiencing excessive stress or deformation. Using a roller chain that is properly sized and rated for the specific application's load requirements is crucial for ensuring a longer lifespan.
2. Lubrication: Proper lubrication is essential for reducing friction and wear in a roller chain. Insufficient lubrication can lead to increased friction, heat generation, and accelerated wear. On the other hand, over-lubrication can attract contaminants and contribute to chain wear. Regular and proper lubrication based on the manufacturer's recommendations is necessary to maximize chain lifespan.
3. Alignment: Proper alignment between the sprockets and the roller chain is critical for smooth operation and reduced wear. Misalignment can cause the chain to rub against the sprocket teeth, leading to increased friction and premature wear. Regular inspection and adjustment of the sprocket alignment can help extend the chain's lifespan.
4. Environmental Conditions: The operating environment can have a significant impact on the lifespan of a roller chain. Factors such as temperature extremes, moisture, dust, chemicals, and abrasive contaminants can accelerate wear and corrosion. Using appropriate chain coatings, seals, and regular cleaning can help protect the chain and extend its lifespan.
5. Maintenance: Regular maintenance practices, including inspection, lubrication, and adjustment, are crucial for maximizing the lifespan of a roller chain. Periodic inspection for wear, damaged links, or other issues allows for timely replacement or repair, preventing further damage and potential chain failure.
6. Material Quality: The quality of the roller chain material affects its durability and resistance to wear. High-quality materials, such as alloy steel, with proper heat treatment and surface hardening, can enhance the chain's strength and resistance to fatigue and wear.
7. Operational Conditions: The operating conditions, including speed, shock loads, and cycle frequency, can impact the chain's lifespan. Excessive speeds, sudden changes in loads, or frequent starts and stops can put additional stress on the chain, leading to accelerated wear and potential failure.
By considering these factors and implementing proper maintenance and operating practices, the lifespan of a roller chain can be optimized, ensuring reliable and efficient performance over an extended period.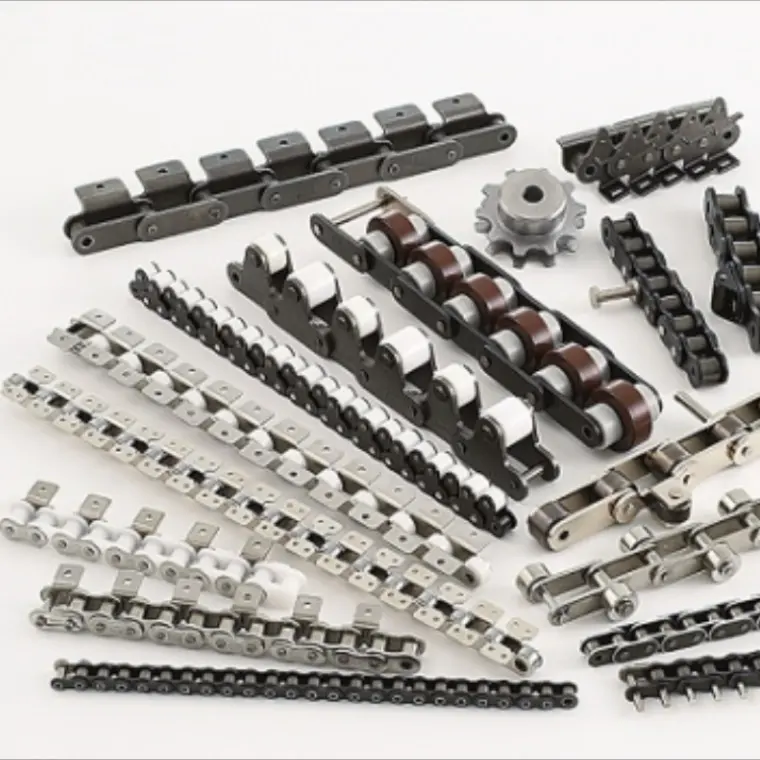 How do roller chains handle backstop or anti-reverse motion?
Roller chains are capable of handling backstop or anti-reverse motion through the use of specific chain attachments or additional components. Here's a detailed answer to the question:
Backstop or anti-reverse motion is the ability of a system to prevent or control the reverse movement of a load. In applications where roller chains are required to handle backstop or anti-reverse motion, the following methods can be employed:
1. One-Way Clutch: A one-way clutch mechanism can be integrated into the system to allow the roller chain to transmit power in one direction while preventing reverse movement. This mechanism typically consists of a set of sprags or rollers that engage with the sprocket teeth in one direction and disengage in the reverse direction.
2. Ratchet and Pawl System: Another approach is the use of a ratchet and pawl system, where the roller chain is connected to a ratchet wheel with pawls that engage with the teeth of the wheel in one direction, allowing power transmission, and prevent reverse movement when the load tries to rotate in the opposite direction.
3. Overrunning Clutch: An overrunning clutch, also known as a freewheel, can be employed to allow the roller chain to transmit power in one direction and disengage in the reverse direction. This allows for smooth operation in applications where backstop or anti-reverse motion is required.
These mechanisms effectively enable the roller chain to handle backstop or anti-reverse motion by allowing power transmission in one direction and preventing reverse movement. The specific mechanism used depends on the application requirements and the desired level of control over the motion.
It's important to consult the manufacturer's guidelines and specifications when implementing backstop or anti-reverse motion in roller chain applications to ensure proper selection and installation of the appropriate mechanisms.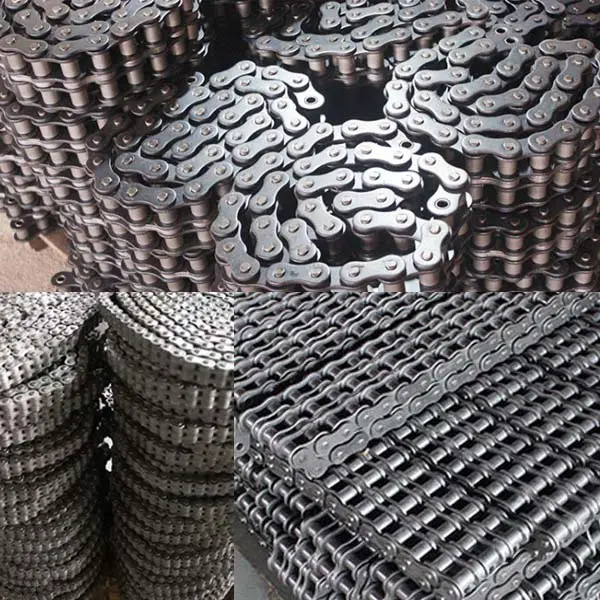 What materials are roller chains typically made of?
Roller chains are typically made from various materials, each offering unique properties and advantages. Here's a detailed answer to the question:
1. Carbon Steel: Carbon steel is the most common material used for roller chains. It provides good strength, durability, and wear resistance. Carbon steel chains are suitable for a wide range of applications and offer a cost-effective solution.
2. Stainless Steel: Stainless steel roller chains are chosen for their excellent corrosion resistance. They are ideal for applications where exposure to moisture, chemicals, or high humidity is expected. Stainless steel chains are commonly used in food processing, pharmaceutical, and outdoor applications.
3. Alloy Steel: Alloy steel roller chains are designed to withstand high loads and offer superior strength and durability. They are commonly used in heavy-duty applications, such as construction equipment, agricultural machinery, and mining equipment.
4. Nickel-Plated Steel: Nickel-plated roller chains provide an added layer of corrosion resistance. The nickel plating helps protect the chain against rust and provides a smooth surface, reducing friction and wear. These chains are often used in applications where both corrosion resistance and aesthetic appearance are important.
5. Plastic: In certain applications, plastic roller chains are used for their lightweight, non-corrosive, and low-noise properties. Plastic chains are commonly found in industries such as packaging, electronics, and conveyors.
6. Coatings: Some roller chains may also have specialized coatings to enhance their performance. Examples include zinc plating for improved corrosion resistance, lubricant coatings for reduced friction, or specialized coatings for specific applications.
The choice of material for a roller chain depends on factors such as the application requirements, operating conditions, load capacity, corrosion resistance, and budget. It's important to consider these factors and consult with roller chain manufacturers to select the most suitable material for your specific application.



editor by CX 2023-08-08