Product Description
Product Description
Pitch P=100, 125, 150, 152.4, 160, 200mm with attached plate conveyor chain according to drawing
Rollers are available: small roller (S type), large roller (P type), convex edge roller (F type)
Roller diameters are 36, 42, 50, 60, 70, 85, 100, 120mm etc.
Chain plates are available: single side horizontal CZPT plate attached plate, single side bent plate with ears and double holes type A2, double side bent plate type K2. The chain plate thickness is 4, 5, 6, 7, 8, 10, 12 mm. The width of the chain plate is 25, 30, 35, 40, 50, 60, 70 mm, etc.
Pin diameters are 10, 12, 15, 18, 21, 25mm, etc.
M series metric conveyor chains are available in the following models: M56, M80, M112, M160, M224, M315.
M315,the dimensions are in accordance with the standard GB8350-87.
And can be matched with sprockets.
Product Attribute
Product Name
 Conveyor Chians 
Available materials
carbon steel, alloy steel,stainless steel 
OEM customisation according to your requirements
Surface Treatment
Shot peening,  Zinc-plated, Nickel-plated, Anodized, etc.
Performance 
High temperature resistant Abrasion resistant 
Reference standards
ISO,DIN,ANSL 
Customised drawings
YES
Certificates
ISO9001:2008  SGS   brand  TV
Delivery time
 20 days for samples. 45 days for official order.
Packaging
Plastic Bag + Cardboard Box + Wooden
Product Parameters
Our Advantages
Company Advantages:
Own Import & Export License, The TV trade mark registered successfully in many countries, Sales network spread all over China, Products export to 65 countries in 5 continents.
Membership:
1. The member of China General Machine Components Industry Association.
2. The member of China Chain Transmission Association.
3. The member of China Chain Standardization Association.
4. The member of China Agricultural Association Machinery Manufacturers.
With our excellent trained staffs and workers, advanced and efficient equipments, completely sales network, strict QA systems. You are confidence that our premium qualified chain can meet all customers' specification and strictest quality standards.
Please do not hesitate to contact us for more information on how TransVision products can meet your industries demands at highly competitive pricing.
Quality First, Clients Uppermost.
Product Categories

WHY CHOOSE US
Comprehensive Product Portfolio We produce and supply a wide range of power transmission
products including drive chains, leaf chains, conveyor chains, agricultural chains, sprockets, and
couplings. This one-store-for-all shopping experience will significantly reduce your searching costs while
guarantee youfind what you want at 1 click.
Value Choice Products Our products are the best combination of quality and price, and you get what
you want within your budgets
Seasoned Sales Associates and Engineers We have 15 seasoned sales associates and 5 engineers;
on our team at your disposal any time when you need a helping hand. They are well trained with industry
know-now and will always respond to your requests within 24 hours.
100% Customer Retention Rate Our regular customers from overseas come back not just for our
premium quality products, but for the superior services that we've provided over the years.
FAQ
Q1: What's your average lead time?
A: It varies. Our regular end-to-end lead time is 1-2 months.. We also provide express shipments for rush orders. For details,please consult our sales associate.
Q2: Is your price better than your competitors given the same quality?
A: Definitely YES. We provide the most competitive price in the power transmission industry. If price disparity exists, we'll be more than happy to do a price match.
Q3: Can you make chains according to my CAD drawings?
A: Yes. Besides the regular standard chains, we produce non-standard and custom-design products to meet the specific technical requirements. In reality, a sizable portion of our production capacity is assigned to make non-standard products.
Q4: Can we inspect the goods before shipment?
A: Yes. You or your representative or any third-party inspection party assigned is allowed access to our facility and do the inspection.
Q5: What kind of payment method is acceptable for your mill?
A: We're flexible. We take T/T, L/C, or any other online payment methods so long as it's applicable for you.
Q6: What if I have any other questions?
A: Whenever in doubt, you're always encouraged to consult our sales associate any time – They will help you to your satisfaction.
Shipping Cost:

Estimated freight per unit.





To be negotiated
| | |
| --- | --- |
| Material: | Alloy |
| Structure: | Hollow Chain |
| Surface Treatment: | Electroplating |
Customization:

Available

|

Customized Request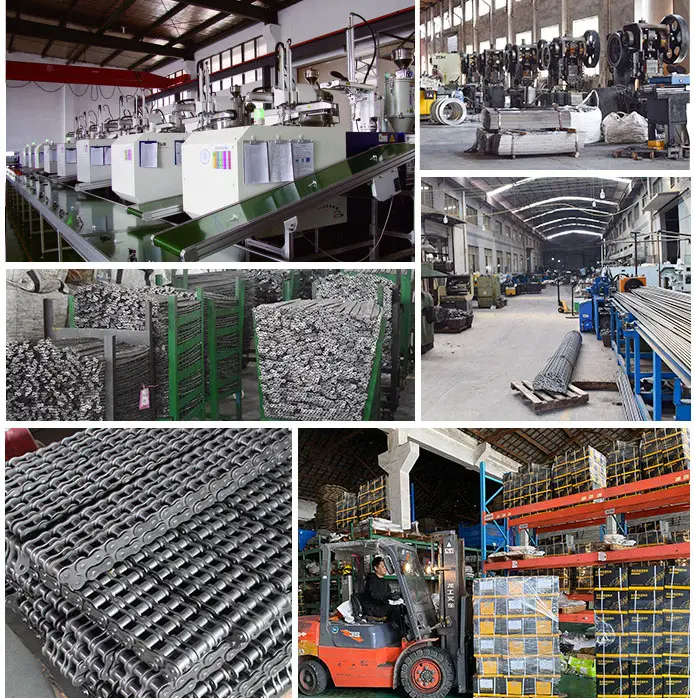 How do roller chains perform in extreme weather conditions?
Roller chains are designed to perform reliably in a wide range of operating conditions, including extreme weather conditions. Here's a detailed answer to the question:
1. Temperature Extremes: Roller chains can withstand a wide range of temperatures, both high and low. The performance of the chain depends on the specific material used and its temperature rating. For example, stainless steel chains are suitable for high-temperature applications, while specialty chains with low-temperature lubricants are available for cold environments.
2. Corrosion Resistance: Roller chains can be manufactured using corrosion-resistant materials such as stainless steel or with specialized coatings to enhance their resistance to rust and corrosion. This makes them suitable for outdoor applications where exposure to moisture, humidity, and other environmental factors is common.
3. Lubrication: Proper lubrication is crucial for the performance of roller chains in extreme weather conditions. Lubricants with suitable viscosity and temperature range should be used to ensure smooth operation and minimize wear. In some cases, lubrication-free chains with self-lubricating properties can be used to eliminate the need for external lubrication.
4. Sealing and Protection: Roller chains can be equipped with additional sealing mechanisms to protect against the ingress of dirt, dust, and other contaminants. Sealed or encapsulated chains feature protective covers or seals that prevent debris from entering the chain and affecting its performance, making them more suitable for extreme weather conditions.
5. Maintenance and Inspection: Regular maintenance and inspection are essential for ensuring the optimal performance of roller chains in extreme weather conditions. This includes cleaning the chains, checking for signs of wear or damage, and replacing any worn-out components. Proper tensioning and alignment should also be maintained to prevent premature failure.
It's important to consult the manufacturer's specifications and recommendations for the specific roller chain and its intended application in extreme weather conditions. By selecting the appropriate materials, lubrication, and protection mechanisms, roller chains can provide reliable and efficient power transmission even in challenging environmental conditions.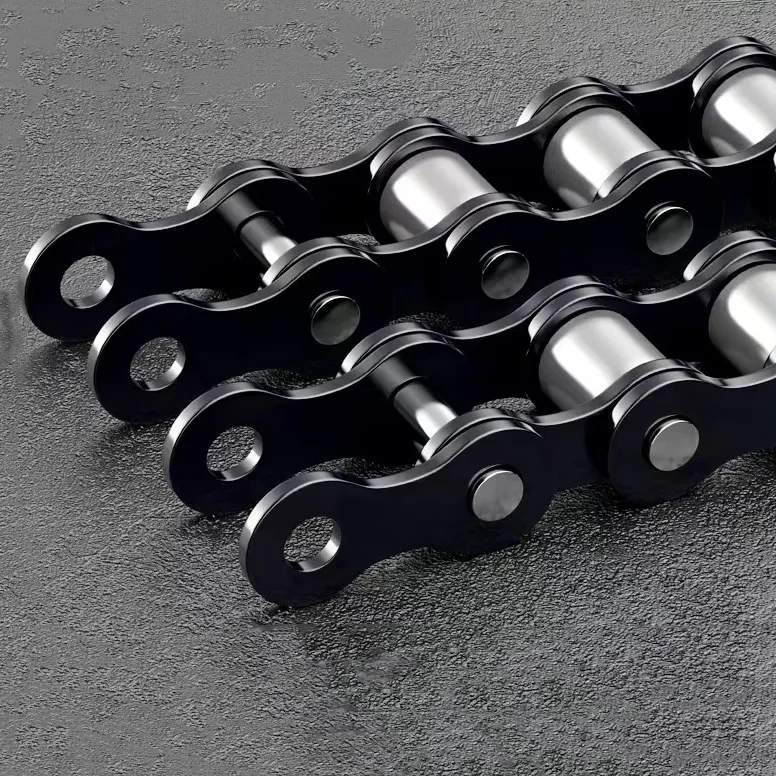 Can roller chains be used for power transmission in mining equipment?
Yes, roller chains can be used for power transmission in mining equipment. Here's a detailed answer to the question:
Mining equipment often requires robust and reliable power transmission systems to handle the demanding conditions and heavy loads encountered in mining operations. Roller chains have proven to be a suitable choice for power transmission in mining equipment due to their various advantages:
1. High Strength and Durability: Roller chains are designed to withstand high loads and provide reliable power transmission in challenging environments. They are made from high-strength materials such as alloy steel, which enables them to handle the heavy loads typically encountered in mining applications.
2. Resistance to Shock and Impact: Mining equipment often operates in rugged environments with frequent shock and impact loads. Roller chains are engineered to handle such conditions and can withstand the sudden changes in load and direction without compromising their performance or integrity.
3. Flexibility and Adaptability: Roller chains have inherent flexibility, allowing them to accommodate misalignment and angular movement between sprockets. This flexibility helps to ensure smooth and efficient power transmission even in applications where slight misalignments may occur due to the nature of the mining equipment.
4. Resistance to Contaminants: Mining environments can be dusty and contain abrasive particles. Roller chains are designed to resist contamination and maintain their performance even in dirty and harsh conditions. Proper sealing and lubrication can further enhance their resistance to contaminants.
5. Easy Maintenance and Replacement: Roller chains are relatively easy to maintain and replace. Regular inspection, lubrication, and tension adjustment can help ensure optimal performance and extend the lifespan of the chain. In case of wear or damage, individual chain links can be replaced without the need for replacing the entire chain, making maintenance more cost-effective.
It's important to note that when using roller chains in mining equipment, proper selection, installation, and maintenance are crucial. Working with reputable suppliers and following recommended guidelines for chain selection, lubrication, and tensioning can help maximize the performance and longevity of the roller chain system in mining applications.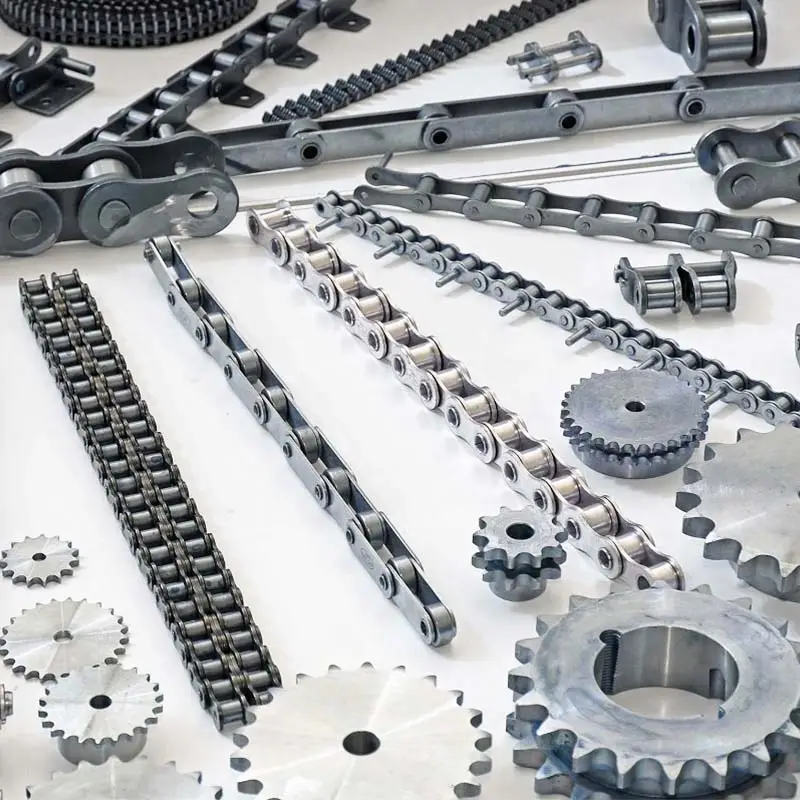 Are there any alternatives to roller chains for power transmission?
Yes, there are several alternatives to roller chains for power transmission, depending on the specific application requirements. Here's a detailed answer to the question:
1. Belt Drives: Belt drives are a common alternative to roller chains for power transmission. They use a flexible belt made of materials such as rubber, polyurethane, or neoprene. Belt drives offer smooth and quiet operation, high-speed capabilities, and can transmit power over long distances. They are often used in applications where precise synchronization is not required.
2. Gear Drives: Gear drives use meshing gears to transmit power. They offer high torque capabilities, precise motion control, and can handle heavy loads. Gear drives are commonly used in applications that require high efficiency and precise speed control, such as industrial machinery, automotive transmissions, and robotics.
3. Timing Belts: Timing belts, also known as synchronous belts, are toothed belts that provide positive power transmission. They are used in applications that require precise synchronization between two or more shafts. Timing belts offer low noise, high efficiency, and resistance to slippage. They are commonly used in automotive engines, industrial automation, and precision machinery.
4. Chain Drives: Chain drives, similar to roller chains, use interconnected links to transmit power. However, chain drives often have larger pitch sizes and heavier-duty construction compared to roller chains. Chain drives offer high load-carrying capacity, durability, and can operate in demanding conditions. They are commonly used in heavy machinery, agricultural equipment, and motorcycles.
5. Direct Drives: Direct drives eliminate the need for mechanical power transmission components like chains or belts. They directly connect the motor or power source to the driven equipment, providing a more efficient and compact solution. Direct drives are commonly used in applications that require high precision, such as CNC machines, robotics, and linear motion systems.
When considering alternatives to roller chains, factors such as load requirements, speed, precision, environmental conditions, and cost must be taken into account. Each alternative has its own advantages and limitations, and the choice depends on the specific needs of the application.



editor by CX 2023-07-26