Product Description
Hollow Pin Stainless Steel Roller Chain From China
 
Product Description
1. Material: Alloy steel & Stainless steel
2. Surface treatment: Shot peening / Zinc-plated / Nickel-plated / Dacromet-plated
3. Application: The hollow pin chain is mainly used in products transmission.
4.  Chain No: 
Type A 08BHPFSS, 40HPSS, 50HPSS, 60HPSS, 80HPSS, 12BHPSS, etc
Type B C2040HPSS, C2050HPSS, C2060HPSS, C2080HPSS, etc
 
Product name 
Hollow Pin Stainless Steel Roller Chain From China
Materials Available 
1. Stainless Steel: SS304, SS316, etc
2. Alloy Steel: 45Mn, 42CrMo, etc
3. OEM according to your request
Surface Treatment
Shot peening, Polishing, Oxygenation, Blackening, Zinc-plated, Nickel-plated, Anodized, etc.
Characteristic
Fire Resistant, Oil Resistant, Heat Resistant
Application
Industry machine
Design criterion
ISO DIN ANSI & Customer's Drawing
Size
Customer's Drawing & ISO standard 
Package
Wooden Case / Container and pallet, or made-to-order
Certificate
ISO9001: 2008 
Advantage
Quality first, service first, competitive price, fast delivery
Delivery Time
20 days for samples. 45 days for official order.
Detailed Photos
View more products,please click here…
Company Profile
| | |
| --- | --- |
| Material: | Stainless Steel |
| Structure: | Roller Chain |
| Chain Size: | C2042hpss, C2052hpss |
| Feature: | Heat Resistant |
| Sample: | for Free |
| Transport Package: | Plastic Bag+Carton Box+Plywood Case |
Samples:

US$ 0/Meter

1 Meter(Min.Order)

|
Request Sample
Customization:

Available

|

Customized Request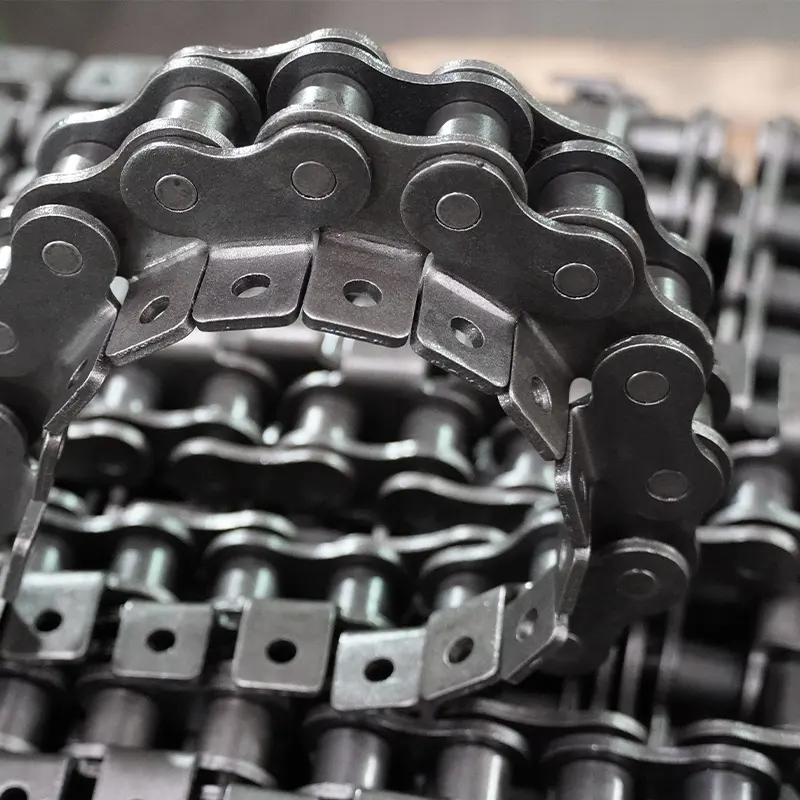 What are the key differences between single-strand and multi-strand roller chains?
Single-strand and multi-strand roller chains are two variations of roller chains with distinct characteristics. Here's a detailed answer to the question:
1. Structure: Single-strand roller chains consist of a single row of links, while multi-strand roller chains have two or more parallel rows of links running side by side.
2. Load Capacity: Multi-strand roller chains generally have a higher load capacity compared to single-strand chains. The additional strands distribute the load across multiple rows of links, increasing the overall strength and load-carrying capacity of the chain.
3. Width: Multi-strand roller chains are wider than single-strand chains due to the presence of multiple rows of links. The increased width provides additional surface area for load distribution and enhances the chain's overall stability and strength.
4. Speed Limit: Single-strand roller chains typically have a higher speed limit compared to multi-strand chains. The presence of multiple strands in multi-strand chains can create more friction and resistance, limiting their speed capability.
5. Tolerance to Misalignment: Multi-strand roller chains generally have better tolerance to misalignment compared to single-strand chains. The multiple rows of links allow for slight misalignments between sprockets, providing some flexibility and accommodating minor deviations without compromising the chain's performance.
6. Installation Complexity: Single-strand chains are generally easier to install and align compared to multi-strand chains. The simplicity of a single row of links reduces the complexity of installation and reduces the chances of misalignment.
7. Application Suitability: Single-strand roller chains are commonly used in applications where moderate loads and higher speeds are required, such as bicycles, motorcycles, and light machinery. Multi-strand roller chains are preferred for heavy-duty applications that involve high loads, such as industrial machinery, conveyors, and heavy equipment.
When selecting between single-strand and multi-strand roller chains, factors such as the magnitude of the load, operating speed, alignment requirements, and application-specific considerations should be taken into account to ensure optimal chain performance and longevity.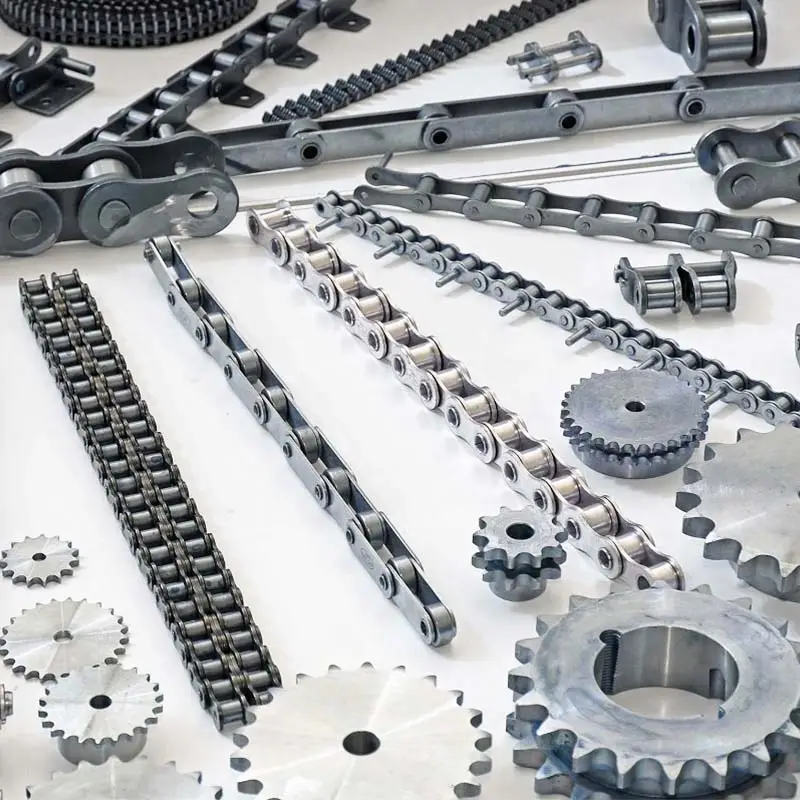 What are the benefits of using a roller chain in material handling systems?
Roller chains offer several benefits when used in material handling systems. Here's a detailed answer to the question:
1. High Load Capacity: Roller chains are designed to handle heavy loads. They have the strength and durability to support the weight of materials being transported in material handling systems. The multiple contact points provided by the rollers distribute the load evenly, reducing stress concentrations and ensuring efficient load carrying.
2. Reliable Power Transmission: Roller chains provide reliable power transmission in material handling systems. They efficiently transfer power from the motor to the moving components, such as conveyors, lifts, and sorting systems. The precision engineering of roller chains ensures smooth and consistent power transfer, minimizing slippage and maximizing operational efficiency.
3. Flexibility and Versatility: Roller chains are available in various sizes, pitches, and configurations, offering flexibility in design and application. They can be easily adapted to different material handling system layouts and requirements. Roller chains can accommodate both horizontal and vertical movements, making them suitable for a wide range of material handling applications.
4. Durability and Longevity: Roller chains are known for their durability and resistance to wear. They are designed to withstand the demanding operating conditions typically encountered in material handling systems, such as high speeds, heavy loads, and exposure to dust, debris, and contaminants. Proper lubrication and maintenance can further enhance their longevity and reliability.
5. Easy Maintenance: Roller chains are relatively easy to maintain. Regular lubrication and periodic inspection can help ensure smooth operation and detect any signs of wear or damage. Chain tension can be easily adjusted to maintain optimal performance. In the event of chain wear or failure, individual chain links can be replaced, minimizing downtime and maintenance costs.
6. Cost-Effective Solution: Roller chains offer a cost-effective solution for power transmission in material handling systems. They are generally more affordable compared to alternative systems such as belts or gears. Additionally, their durability and longevity reduce the need for frequent replacements, resulting in cost savings over the system's lifespan.
When selecting a roller chain for a material handling system, factors such as load capacity, speed, environmental conditions, and specific application requirements should be considered. Regular maintenance and inspection are essential to ensure optimal performance and to identify any potential issues that may require attention.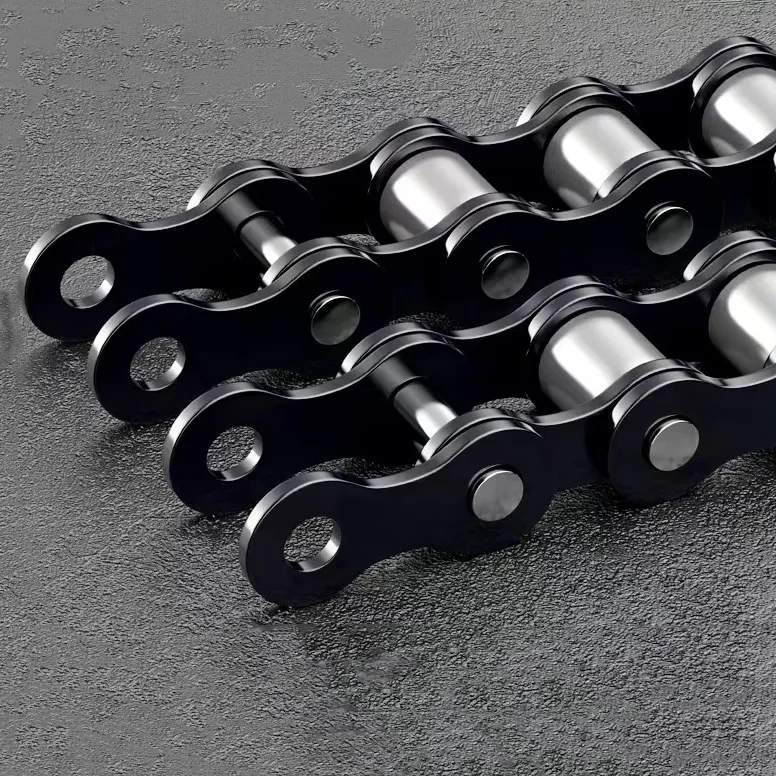 What are some common causes of roller chain failure?
Roller chain failure can occur due to various factors. Here's a detailed answer to the question:
1. Insufficient Lubrication: One of the primary causes of roller chain failure is inadequate lubrication. Insufficient lubrication leads to increased friction, heat generation, and wear between the chain's components, such as pins, bushings, and rollers. Over time, this can cause the chain to seize up, deform, or break.
2. Contamination: Contamination of the roller chain with dirt, dust, debris, or foreign particles can accelerate wear and increase the risk of failure. These contaminants can penetrate the chain's joints, causing abrasive action and reducing the effectiveness of lubrication. Contamination can also cause corrosion, leading to weakened chain links.
3. Misalignment: Improper alignment of the sprockets and other drivetrain components can cause excessive side loading, uneven wear, and accelerated fatigue on the roller chain. Misalignment can result from improper installation, worn sprockets, or misaligned shafts, and it can lead to premature chain failure.
4. Overloading: Subjecting the roller chain to loads beyond its rated capacity can cause stress and fatigue, leading to chain failure. Overloading can occur due to improper application design, sudden shock loads, or continuous operation near or beyond the chain's maximum load limit.
5. Wear and Fatigue: Over time, roller chains experience wear and fatigue due to normal usage. As the chain articulates around the sprockets, the pins, bushings, and rollers undergo cyclic stress, which can lead to wear, elongation, and eventually chain failure if not addressed through regular maintenance and replacement.
6. Corrosion: Exposure to corrosive environments, such as high humidity, chemicals, or saltwater, can cause corrosion on the roller chain. Corrosion weakens the chain's structural integrity, leading to reduced load-carrying capacity and increased susceptibility to failure.
Proper maintenance, including regular lubrication, cleaning, inspection for wear and alignment, and avoiding overloading or exposure to harsh environments, is crucial to prevent roller chain failure. Timely replacement of worn or damaged chains and addressing any underlying issues that contribute to chain failure is essential for ensuring the reliable and safe operation of machinery or equipment.



editor by CX 2023-08-05