Product Description
FAQ
Q:Is your company a trading company or a manufacturer?
A: We have our own factory.
Q:How long does the lead time take?
A: If the goods are in stock, it is generally 1-2 days; if the goods are not in stock, it is 5-10 days, depending on the quantity.
Q: Can I order shaft bore couplings that are not listed in the catalog?)(Additional machining service for coupling shaft hole
A:Of course.In addition, the recommended dimensional tolerance for the applicable shaft diameter is H7.
Q: How to handle when the received parts are of poor quality?
A:If there is any non-conformity of the product, please contact us immediately, we will check the problem in the first time, and rework or repair.
Q: Why choose XingHe Precision Transmission ?
A:As a professional manufacturer of coupling , we possess a skillful team of workers and designers To provide our customers with first-class services.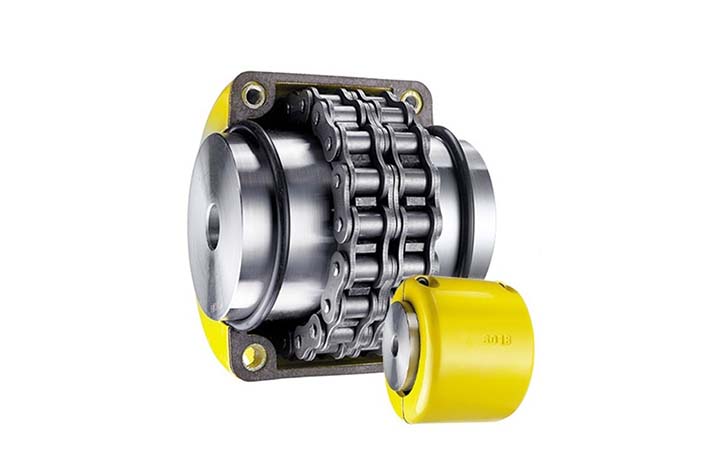 Comparison of Roller Chain Couplings to Other Coupling Types
Roller chain couplings offer distinct advantages and characteristics that set them apart from other coupling types, such as gear or disc couplings. Below is a comparison of roller chain couplings with these two commonly used coupling types:
– Roller chain couplings are flexible and can accommodate misalignments, making them ideal for applications where shafts may not be perfectly aligned.
– They offer good shock absorption, which is beneficial in systems with varying loads or frequent starts and stops.
– Roller chain couplings are relatively compact and lightweight compared to other couplings, making them suitable for space-constrained installations.
– These couplings are cost-effective and provide a reliable and efficient power transmission solution.
– Gear couplings are capable of handling high torque and can transmit power efficiently, making them suitable for heavy-duty applications.
– They have a high level of torsional rigidity, ensuring accurate torque transmission without backlash.
– Gear couplings are generally more expensive than roller chain couplings.
– They require accurate alignment during installation, which can be challenging in some applications.
– Disc couplings offer high torque capacity and torsional stiffness, providing precise torque transmission and no backlash.
– They have a compact design and are often used in applications with limited space.
– Disc couplings can handle misalignment to some extent but may not be as forgiving as roller chain couplings.
– They are generally more expensive than roller chain couplings.
When choosing the appropriate coupling type, it is essential to consider the specific requirements of the application, such as torque, misalignment, speed, space limitations, and budget constraints. Each coupling type has its strengths, and the selection should be based on the demands of the mechanical power transmission system.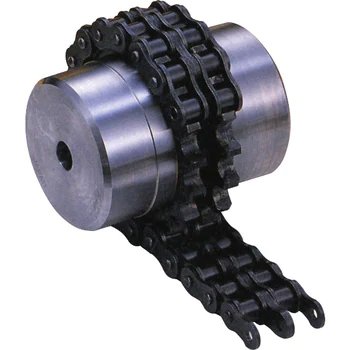 Maintenance Requirements for Roller Chain Couplings
To ensure the optimal performance and longevity of roller chain couplings, regular maintenance is essential. Here are some key maintenance requirements:
Lubrication: Regularly lubricate the roller chain and sprockets to reduce friction and wear. Use the appropriate lubricant recommended by the coupling manufacturer.
Inspections: Periodically inspect the coupling for signs of wear, misalignment, or damage. Look for elongation or wear of the roller chain, damaged sprocket teeth, or any signs of excessive vibration.
Tightening: Check and ensure that all fasteners, such as bolts and set screws, are properly tightened to the manufacturer's recommended torque specifications.
Alignment: Maintain proper alignment between the driving and driven shafts to prevent undue stress on the coupling components.
Cleanliness: Keep the coupling and surrounding area clean and free from debris or contaminants that could interfere with its operation.
Temperature: Avoid operating the coupling beyond its recommended temperature limits, as excessive heat can lead to premature failure.
Replacement: Replace any worn or damaged components promptly to prevent further damage to the coupling or connected equipment.
Regular maintenance not only ensures the coupling's optimal performance but also helps identify potential issues early, allowing for timely repairs or replacements. It is crucial to follow the manufacturer's maintenance guidelines and schedule to ensure the coupling's reliability and prevent unexpected failures that could disrupt operations and lead to costly downtime.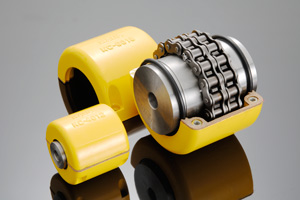 How to Select the Right Roller Chain Coupling for Specific Machinery or Equipment?
Selecting the right roller chain coupling for specific machinery or equipment involves considering several important factors. Here's a step-by-step guide:
Torque Requirements: Determine the torque that the coupling needs to transmit between the driving and driven shafts. This will help you choose a coupling with the appropriate torque capacity for your application.
Speed: Consider the operating speed of the machinery. Higher speeds may require special high-speed roller chain couplings designed to handle the centrifugal forces.
Misalignment: Evaluate the degree of misalignment between the shafts. Different roller chain couplings have varying misalignment capabilities, so choose one that can accommodate the misalignment in your application.
Space Constraints: Measure the available space for the coupling. Some roller chain couplings are compact and may be suitable for applications with limited space.
Environmental Conditions: Take into account the operating environment, including temperature, humidity, and exposure to contaminants. Choose a coupling material and finish that can withstand the environmental conditions.
Load Characteristics: Assess the nature of the loads and any shock or vibration present in the system. For heavy-duty or shock-loaded applications, consider using heavy-duty roller chain couplings.
Alignment Maintenance: Evaluate the ease of alignment maintenance. Some couplings may require more frequent checks and adjustments to maintain proper alignment.
Backlash: Determine the level of backlash permissible in the application. Certain couplings may introduce minimal backlash, which is critical in precision systems.
Cost: Consider the overall cost, including the initial purchase price and long-term maintenance expenses. Opt for a roller chain coupling that provides the best value for your specific needs.
By carefully considering these factors, engineers and designers can identify the most suitable roller chain coupling that ensures reliable and efficient power transmission for their machinery or equipment.



editor by CX 2023-09-27