Product Description
Item
Standard Transmission Roller Chains
Model
Series A, Series B, Heavy Duty
Row
Simplex/Duplex/Triplex
Application
Machinery Parts
Surface Teatment
Self-color/Sand-blasted/Shot-peening
Brand
OEM
Package
Poly bag, then box, finally poly-wooden case
Port
Any sea port or airport in China
A Series
03C,04C-1,06C-1,085-1,08A-1,10A-1,12A-1,16A-1,20A-1,24A-1,28A-1,32A-1,36A-1,40A-1,48A-1. 15,25-1,35-1,41-1,40-1,50-1,60-1,80-1,100-1,120-1,140-1,160-1,180-1,200-1,240-1.
04C-2,06C-2,085-2,08A-2,10A-2,12A-2,16A-2,20A-2,24A-2,28A-2,32A-2,36A-2,40A-2,48A-2. 15,25-2,35-2,41-2,40-2,50-2,60-2,80-2,100-2,120-2,140-2,160-2,180-2,200-2,240-2.
04C-3,06C-3,085-3,08A-3,10A-3,12A-3,16A-3,20A-3,24A-3,28A-3,32A-3,36A-3,40A-3,48A-3. 15,25-3,35-3,41-3,40-3,50-3,60-3,80-3,100-3,120-3,140-3,160-3,180-3,200-3,240-3.
B Series
05B-1,06B-1,08B-1,10B-1,12B-1,16B-1,20B-1,24B-1,28B-1,32B-1,40B-1,48B-1,56B-1,64B-1,72B-1.
05B-2,06B-2,08B-2,10B-2,12B-2,16B-2,20B-2,24B-2,28B-2,32B-2,40B-2,48B-2,56B-2,64B-2,72B-2.
05B-3,06B-3,08B-3,10B-3,12B-3,16B-3,20B-3,24B-3,28B-3,32B-3,40B-3,48B-3,56B-3,64B-3,72B-3.
Heavy Duty Type
35H-1,40H-1,50H-1,60H-1,80H-1,100H-1,120H-1,140H-1,160H-1,180H-1,200H-1,240H-1.
35H-2,40H-2,50H-2,60H-2,80H-2,100H-2,120H-2,140H-2,160H-2,180H-2,200H-2,240H-2.
35H-3,40H-3,50H-3,60H-3,80H-3,100H-3,120H-3,140H-3,160H-3,180H-3,200H-3,240H-3.
| | |
| --- | --- |
| Standard or Nonstandard: | Standard/Nonstandard |
| Application: | Textile Machinery, Garment Machinery, Conveyer Equipment, Packaging Machinery, Motorcycle, Food Machinery, Marine, Mining Equipment, Agricultural Machinery, Car |
| Surface Treatment: | Polishing |
| Structure: | Roller Chain |
| Material: | Carbon Steel/Stainless Steel |
| Type: | Short Pitch Chain |
Samples:

US$ 5/Several links of standard chain

1 Several links of standard chain(Min.Order)

|
Request Sample
Customization:

Available

|

Customized Request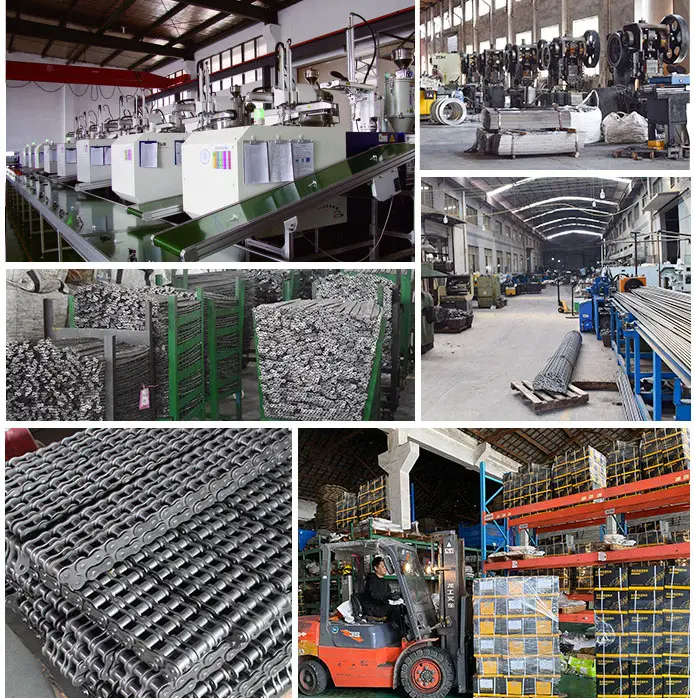 How do roller chains perform in extreme weather conditions?
Roller chains are designed to perform reliably in a wide range of operating conditions, including extreme weather conditions. Here's a detailed answer to the question:
1. Temperature Extremes: Roller chains can withstand a wide range of temperatures, both high and low. The performance of the chain depends on the specific material used and its temperature rating. For example, stainless steel chains are suitable for high-temperature applications, while specialty chains with low-temperature lubricants are available for cold environments.
2. Corrosion Resistance: Roller chains can be manufactured using corrosion-resistant materials such as stainless steel or with specialized coatings to enhance their resistance to rust and corrosion. This makes them suitable for outdoor applications where exposure to moisture, humidity, and other environmental factors is common.
3. Lubrication: Proper lubrication is crucial for the performance of roller chains in extreme weather conditions. Lubricants with suitable viscosity and temperature range should be used to ensure smooth operation and minimize wear. In some cases, lubrication-free chains with self-lubricating properties can be used to eliminate the need for external lubrication.
4. Sealing and Protection: Roller chains can be equipped with additional sealing mechanisms to protect against the ingress of dirt, dust, and other contaminants. Sealed or encapsulated chains feature protective covers or seals that prevent debris from entering the chain and affecting its performance, making them more suitable for extreme weather conditions.
5. Maintenance and Inspection: Regular maintenance and inspection are essential for ensuring the optimal performance of roller chains in extreme weather conditions. This includes cleaning the chains, checking for signs of wear or damage, and replacing any worn-out components. Proper tensioning and alignment should also be maintained to prevent premature failure.
It's important to consult the manufacturer's specifications and recommendations for the specific roller chain and its intended application in extreme weather conditions. By selecting the appropriate materials, lubrication, and protection mechanisms, roller chains can provide reliable and efficient power transmission even in challenging environmental conditions.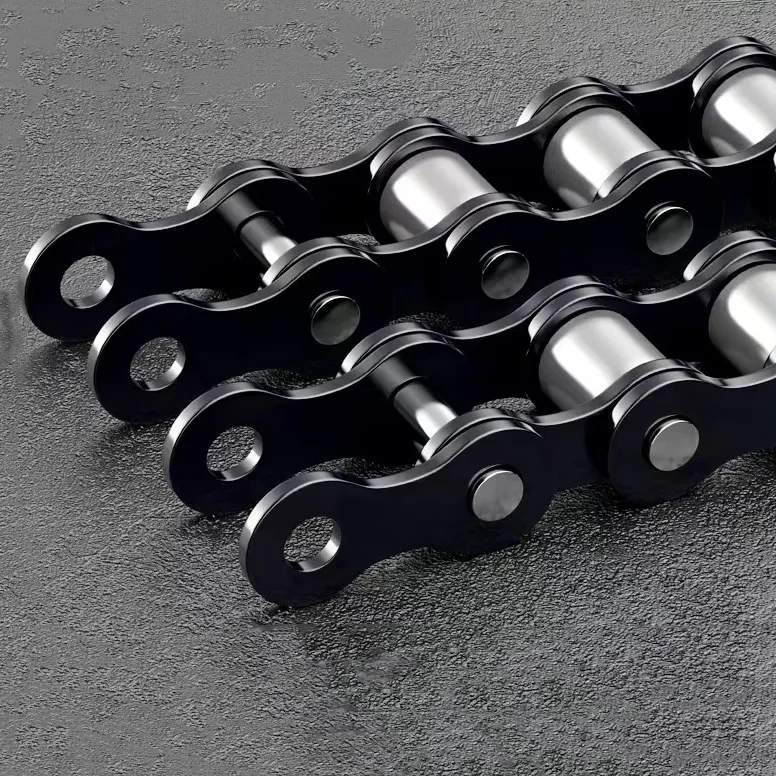 Can roller chains be used for power transmission in mining equipment?
Yes, roller chains can be used for power transmission in mining equipment. Here's a detailed answer to the question:
Mining equipment often requires robust and reliable power transmission systems to handle the demanding conditions and heavy loads encountered in mining operations. Roller chains have proven to be a suitable choice for power transmission in mining equipment due to their various advantages:
1. High Strength and Durability: Roller chains are designed to withstand high loads and provide reliable power transmission in challenging environments. They are made from high-strength materials such as alloy steel, which enables them to handle the heavy loads typically encountered in mining applications.
2. Resistance to Shock and Impact: Mining equipment often operates in rugged environments with frequent shock and impact loads. Roller chains are engineered to handle such conditions and can withstand the sudden changes in load and direction without compromising their performance or integrity.
3. Flexibility and Adaptability: Roller chains have inherent flexibility, allowing them to accommodate misalignment and angular movement between sprockets. This flexibility helps to ensure smooth and efficient power transmission even in applications where slight misalignments may occur due to the nature of the mining equipment.
4. Resistance to Contaminants: Mining environments can be dusty and contain abrasive particles. Roller chains are designed to resist contamination and maintain their performance even in dirty and harsh conditions. Proper sealing and lubrication can further enhance their resistance to contaminants.
5. Easy Maintenance and Replacement: Roller chains are relatively easy to maintain and replace. Regular inspection, lubrication, and tension adjustment can help ensure optimal performance and extend the lifespan of the chain. In case of wear or damage, individual chain links can be replaced without the need for replacing the entire chain, making maintenance more cost-effective.
It's important to note that when using roller chains in mining equipment, proper selection, installation, and maintenance are crucial. Working with reputable suppliers and following recommended guidelines for chain selection, lubrication, and tensioning can help maximize the performance and longevity of the roller chain system in mining applications.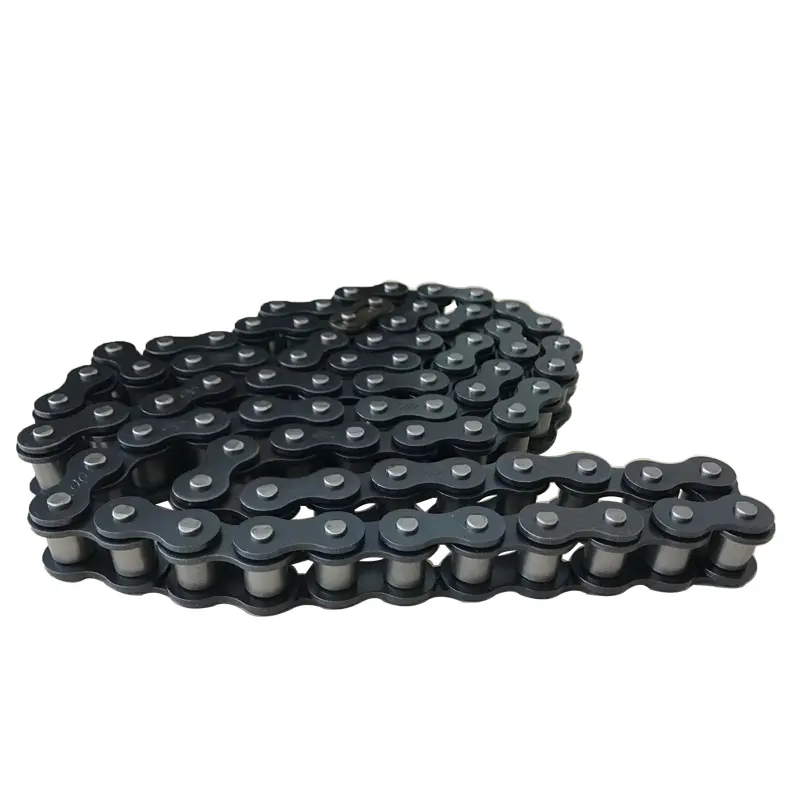 How do roller chains compare to belt drives in terms of efficiency?
Roller chains and belt drives are both widely used power transmission systems, but they differ in terms of efficiency. Here's a detailed answer to the question:
1. Mechanical Efficiency: Roller chains generally have higher mechanical efficiency compared to belt drives. The engagement between the chain and sprockets provides a positive drive with minimal slippage, resulting in efficient power transfer. Belt drives, on the other hand, can experience some slip, especially in high-torque or heavy-load applications, leading to lower efficiency.
2. Size and Length: Roller chains are typically more compact and have a shorter pitch length compared to belt drives. This allows for more compact machine design and closer shaft spacing, reducing the overall size and weight of the power transmission system.
3. Load Capacity: Roller chains are known for their high load-carrying capacity, making them suitable for heavy-duty applications. They can handle high loads and transmit significant amounts of power without compromising performance. Belt drives have lower load-carrying capacity and are more commonly used in lighter-duty applications.
4. Speed and Torque: Roller chains are suitable for both high-speed and high-torque applications. They can operate at high rotational speeds while transmitting significant torque. Belt drives, on the other hand, may have limitations in terms of speed and torque capacity, especially in demanding applications.
5. Maintenance and Durability: Roller chains require regular lubrication and maintenance to ensure optimal performance and longevity. Belt drives, on the other hand, are generally considered maintenance-free. However, if a belt drive becomes misaligned or experiences excessive wear, it may need to be replaced entirely. Roller chains, with proper maintenance, can be more durable and have longer service life.
It's important to note that the choice between roller chains and belt drives depends on various factors, including the specific application requirements, load conditions, speed requirements, and space constraints. Each system has its advantages and considerations, and selecting the most suitable option should be based on a careful evaluation of these factors.



editor by CX 2023-09-13