Product Description
GL Type Roller Chain Couplings (GB/T609-2002)
♦Description
♦Basic Parameter and Main Dimension
Note:
N.m= Norminal Torque; rpm= Allowable speed of rotation(with cover/ without cover); d1.d2= Diameter of shaft hole ;
Y J1 L= Length of shaft hole; 06B 08B…= Chain number; P mm= Distance between 2 shaft lines of the chain;
Z= Number of teeth; kg= Mass;  kg.m²= Rotational inertia; Amount of length compensation(radial, axial,angular)
♦Other Products List
Transmission Machinery 
Parts Name
Model
Universal Coupling
WS, WSD, WSP
Cardan Shaft
SWC, SWP, SWZ
Tooth Coupling
CL, CLZ, GCLD, GIICL
GICL, NGCL, GGCL, GCLK
Disc Coupling
JMI, JMIJ, JMII, JMIIJ
High Flexible Coupling
LM
Chain Coupling
GL
Jaw Coupling
LT
Grid Coupling
JS
♦Our Company
HangZhou CZPT Machinery Manufacturing Co., Ltd. is a technology-based company specializing in the design and manufacture of basic transmission parts and various auxiliary non-standard equipment accessories. The products are mainly used in metallurgy, electric power, mining, chemical industry, petroleum, papermaking, shipbuilding, heavy industry, etc.
In many industries, it has provided strong technical and equipment support for many companies around the world. At present, the products are also exported to Russia, Italy, Spain, Brazil, Ukraine, Turkey, Australia, Singapore, Vietnam, Indonesia, Malaysia, Sri Lanka, and other countries and regions.
Welcome to customize products from our factory and please provide your design drawings or contact us if you need other requirements.
♦Our Services
1. Design Services
Our design team has experience in Cardan shafts relating to product design and development. If you have any needs for your new product or wish to make further improvements, we are here to offer our support.
2. Product Services
Raw materials → Cutting → Forging →Rough machining →Shot blasting →Heat treatment →Testing →Fashioning →Cleaning→ Assembly→ Packing → Shipping
3. Samples Procedure
We could develop the sample according to your requirement and amend the sample constantly to meet your need.
4. Research & Development
We usually research the new needs of the market and develop the new model when there is new cars in the market.
5. Quality Control
Every step should be a special test by Professional Staff according to the standard of ISO9001 and TS16949.
♦FAQ
Q 1: Are you a trading company or a manufacturer?
A: We are a professional manufacturer specializing in manufacturing various series of couplings.
Q 2: Can you do OEM?
Yes, we can. We can do OEM & ODM for all the customers with customized artworks in PDF or AI format.
Q 3: How long is your delivery time?
Generally, it is 20-30 days if the goods are not in stock. It is according to quantity.
Q 4: Do you provide samples? Is it free or extra?
Yes, we could offer the sample but not for free. Actually, we have a very good price principle, when you make the bulk order the cost of the sample will be deducted.
Q 5: How long is your warranty?
A: Our Warranty is 12 months under normal circumstances.
Q 6: What is the MOQ?
A: Usually our MOQ is 1 pcs.
Q 7: Do you have inspection procedures for coupling?
A: 100% self-inspection before packing.
Q 8: Can I have a visit to your factory before the order?
A: Sure, welcome to visit our factory.
Q 9: What's your payment?
A: T/T. 
♦Contact Us
Add: No.11 HangZhou Road,Chengnan park,HangZhou City,ZheJiang Province,China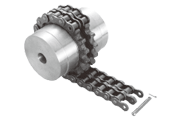 Retrofitting Roller Chain Couplings for Improved Performance
Yes, roller chain couplings can be retrofitted into existing systems to improve performance and enhance power transmission capabilities. Retrofitting is a cost-effective way to upgrade the coupling system without the need for significant modifications to the existing machinery.
When considering a retrofit with roller chain couplings, it is essential to ensure that the new couplings are compatible with the existing shaft sizes and operating conditions. The dimensions of the roller chain couplings should match the space available in the system, and the torque and speed ratings should meet or exceed the requirements of the application.
The advantages of retrofitting with roller chain couplings include:
Increased Torque Capacity: Roller chain couplings can handle higher torque loads compared to some other coupling types, providing improved power transmission capabilities.
Better Misalignment Tolerance: Roller chain couplings can accommodate both angular and parallel misalignments, reducing stress on the connected equipment and extending its service life.
Shock Load Absorption: The flexibility of roller chain couplings allows them to absorb shock loads, protecting the drivetrain and other mechanical components from sudden impacts.
Reduced Downtime: Retrofitting can be a quick and straightforward process, minimizing downtime during the upgrade.
Before proceeding with the retrofit, it is essential to consult with coupling manufacturers or engineering experts to ensure the proper selection and installation of roller chain couplings. Additionally, regular maintenance and inspections are crucial to ensure continued optimal performance and reliability of the retrofitted coupling system.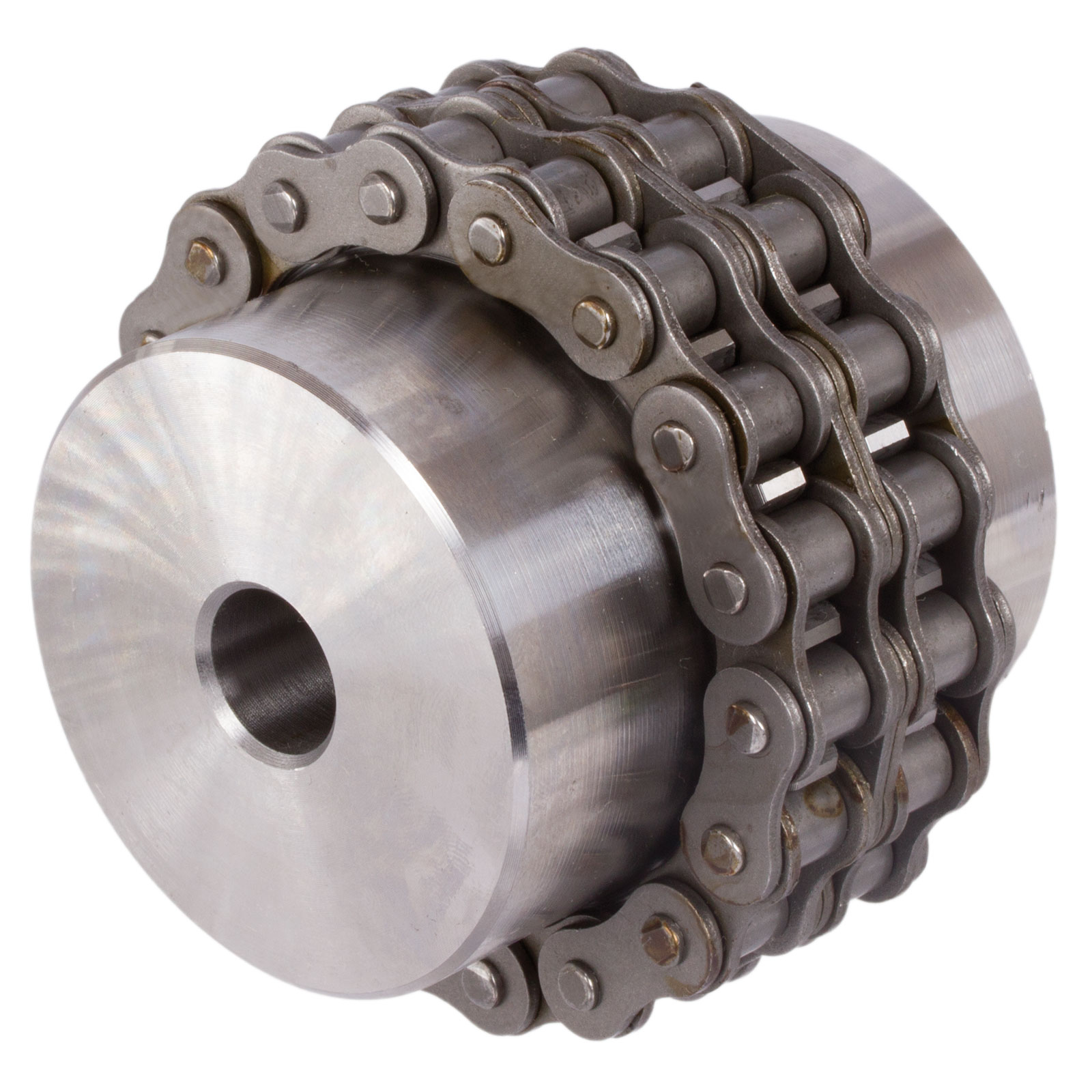 Materials Used in Manufacturing Roller Chain Couplings
Roller chain couplings are typically constructed from high-quality materials to ensure durability and reliable performance. The most common materials used in their manufacturing include:
Steel: Steel is a popular choice for roller chain couplings due to its excellent strength and resistance to wear. It can handle high torque and speed requirements, making it suitable for a wide range of industrial applications.
Stainless Steel: Stainless steel is used when corrosion resistance is required. It is often employed in industries where the coupling is exposed to moisture, chemicals, or harsh environmental conditions.
Cast Iron: Cast iron is known for its robustness and excellent heat dissipation properties. It is commonly used in applications where shock absorption and reduced vibrations are essential.
Aluminum: Aluminum is a lightweight material that offers good strength-to-weight ratio. It is commonly used in applications where reducing the overall weight of the system is critical.
Nickel-Plated: Nickel-plated roller chain couplings provide enhanced corrosion resistance, making them suitable for applications in challenging environments.
When selecting a roller chain coupling, it is essential to consider the specific requirements of the application, including torque, speed, environment, and potential exposure to corrosive substances. Choosing the right material ensures the coupling's longevity and efficient power transmission in the intended operating conditions.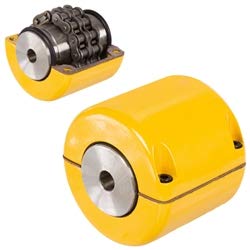 Accommodating Misalignment and Reliable Torque Transmission in Roller Chain Couplings
Roller chain couplings are designed to accommodate misalignment and provide reliable torque transmission in mechanical power transmission systems. They achieve this through the following features:
Elongated Holes: The roller chain coupling's hubs have elongated holes that allow for angular misalignment between the connected shafts. These holes provide flexibility and prevent excessive stress on the coupling and connected equipment.
Roller Chain Design: The roller chain used in the coupling is a flexible and robust component that can transmit torque even in situations with slight misalignment. The design of the roller chain ensures smooth engagement and disengagement of the sprockets, reducing wear and power loss.
Tension Adjustment: Roller chain couplings typically have an adjusting mechanism that allows for tensioning the chain. Proper tensioning is crucial for maintaining efficient torque transmission and preventing slippage.
Single or Double Roller Chain: Some roller chain couplings come with a double roller chain design, which increases the torque capacity and allows for higher misalignment compensation.
Torsionally Rigid Coupling: While roller chain couplings can accommodate misalignment, they still provide torsional rigidity, ensuring efficient power transmission without significant losses.
By allowing for misalignment while maintaining reliable torque transmission, roller chain couplings are well-suited for various power transmission applications, including those where slight misalignment is unavoidable or expected.



editor by CX 2023-08-09