Product Description
Product Description
HRSY Roller Chain Profile

Standard:

ANSI, DIN, ISO

Type:        

Drive chains, Conveyor chains, Engineering chains, Agricultural chains, Traction chains, Escalator chains

Drive chain

Short pitch precision roller chain (A series, B series, Hevey duty series roller chain) 

High strength short pitch roller chains
Corrosion resistant short pitch roller chain

Self-lubrication roller chain

O-Ring chains

Oil filed chains

Heavy duty cranked-link transmission chains

Double pitch transmission chains

Inverted tooth chains

Motorcycle chains

Other (Driver chains)

Conveyor chains

Conveying roller chains

Rubber attached plate chains

Printing iron drying room line chains

Double hinged conveyor chains

Metric (M type) conveyor chains

FV series conveyor chains

Wooden conveyor chains

Chains for food packaging machinery

Conveyor chains for paper roll

Engineering chains

Conveying chains for cement industry

Scraper conveyor chains

Conveyor chains for coal washer

Rubber gloves carrier chains

Steel sleeve chain for engineering

Welded-steel-type mill chains

Sugar machine chains

Conveyor chains for steel mill

Agricultural chains

Agricultural machinery drive chains

Steel pintle chains 

ZGS38 combine harvester chains

Rice harvester chains

S type C type
Steel roller chains

Others

Traction chains

Plate chains

Leaf chains for sky stacker

Traction chains

Others

Escalator chains

Escalator step chains

Escalator driver chains

Material

40Mn, 45Mn, SS316, SS304, SS201

Advantage

We have competitive price and high quality.

Our stock standard length: 5ft each piece, 10ft each piece.

Custom length: We can custom according to your demand.

We can accept your Logo, accept ODM, OEM.
Detailed Photos
Packaging & Shipping
Company Profile
ZheJiang Haorongshengye Electrical Equipment Co., Ltd.
1. Was founded in 2008
2. Our Principle:
"Credibility Supremacy, and Customer First"
3. Our Promise:
"High quality products, and Excellent Service"
4. Our Value:
"Being Honesty, Doing the Best, and Long-lasting Development"
5. Our Aim:
"Develop to be a leader in the power transmission parts industry in the world"
 
6.Our services:

1).Competitive price

2).High quality products

3).OEM service or can customized according to your drawings

4).Reply your inquiry in 24 hours

5).Professional technical team 24 hours online service

6).Provide sample service
Main products
Machines
Exbihition
Shipping Cost:

Estimated freight per unit.





To be negotiated
| | |
| --- | --- |
| Standard or Nonstandard: | Standard |
| Application: | Textile Machinery, Garment Machinery, Conveyer Equipment, Packaging Machinery, Electric Cars, Motorcycle, Food Machinery, Marine, Mining Equipment, Agricultural Machinery, Car |
| Surface Treatment: | Oil Blooming |
Samples:

US$ 50/Meter

1 Meter(Min.Order)

|

Order Sample
Customization:

Available

|

Customized Request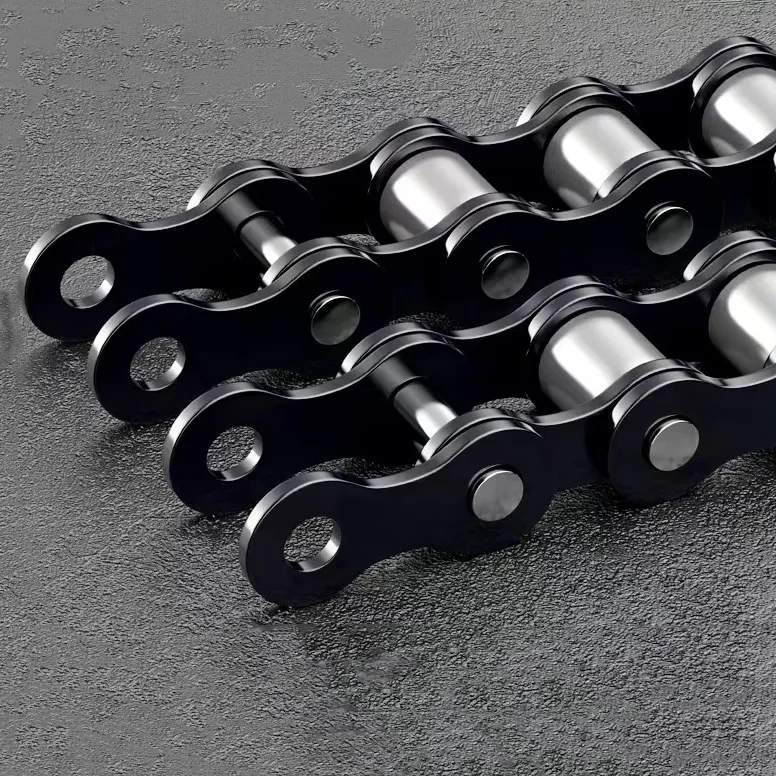 Can roller chains be used for overhead or inverted applications?
Roller chains can be used for overhead or inverted applications, but there are certain considerations to keep in mind. Here's a detailed answer to the question:
1. Lubrication: In overhead or inverted applications, proper lubrication is crucial to ensure smooth operation and prevent premature wear. Gravity can affect the distribution of lubricant within the chain, so it's important to use a lubrication method that can effectively reach all the critical components.
2. Tensioning: In overhead or inverted applications, the tensioning of the roller chain becomes even more important. The chain should be properly tensioned to prevent sagging or excessive slack, which can lead to uneven load distribution, chain skipping, or disengagement from the sprockets.
3. Environmental Considerations: Overhead or inverted applications may expose the roller chain to environmental factors such as dust, debris, moisture, or temperature variations. It's important to select a roller chain that is designed to withstand the specific environmental conditions and provides adequate protection against corrosion, contamination, and wear.
4. Sprocket Alignment: Proper sprocket alignment is critical for the smooth operation of roller chains in overhead or inverted applications. Misalignment can result in chain binding, increased friction, and premature wear. Regular inspection and adjustment of the sprocket alignment are necessary to maintain optimal performance.
5. Chain Design: Depending on the specific requirements of the overhead or inverted application, specialized roller chain designs may be available. These designs may include features such as sealed joints, self-lubricating capabilities, or corrosion-resistant coatings to enhance performance and reliability in such applications.
By considering these factors and selecting a roller chain specifically designed for overhead or inverted applications, it is possible to achieve reliable and efficient power transmission in these challenging orientations.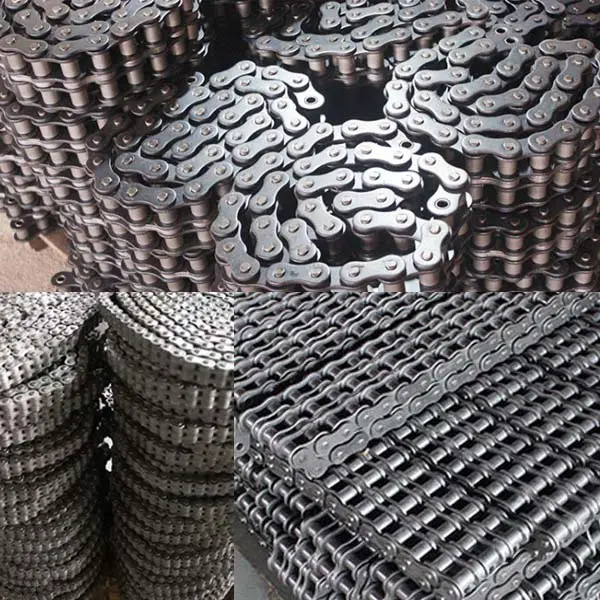 How do roller chains handle lateral loads?
Roller chains are primarily designed to handle axial loads, which are loads acting in the direction of the chain's axis. However, roller chains can also tolerate a certain degree of lateral loads, which are loads acting perpendicular to the chain's axis. Here's a detailed answer to the question:
1. Sprocket Alignment: Proper sprocket alignment is crucial for roller chains to effectively handle lateral loads. The sprockets must be aligned in a parallel and concentric manner to ensure that the chain tracks properly and experiences minimal lateral force. Misaligned sprockets can cause the chain to derail or experience excessive wear due to uneven loading.
2. Tolerance for Lateral Misalignment: Roller chains have some tolerance for lateral misalignment between the sprockets. This means that the chain can tolerate a slight deviation from a perfectly straight line between the sprockets. The chain's side plates and rollers are designed to provide some flexibility, allowing the chain to adjust to minor lateral forces without significant problems.
3. Guide Rails or Flanges: In applications where lateral loads are more significant, guide rails or flanges can be employed to help keep the roller chain aligned and prevent excessive lateral movement. These additional components act as guides and help control the chain's lateral displacement, ensuring that it remains on the sprockets and operates smoothly.
4. Chain Tension: Proper chain tension is crucial for handling lateral loads. A well-tensioned chain minimizes slack and reduces the chances of lateral movement. It helps keep the chain engaged with the sprockets and ensures that the load is evenly distributed across the chain's width.
It's important to note that roller chains have a primary function of transmitting power and handling axial loads. While they can handle some lateral loads within their design limits, excessive lateral forces can lead to chain derailment, increased wear, and reduced performance. Therefore, it's essential to design the system properly, consider the anticipated lateral loads, and ensure proper alignment and tension to maintain the chain's integrity and performance.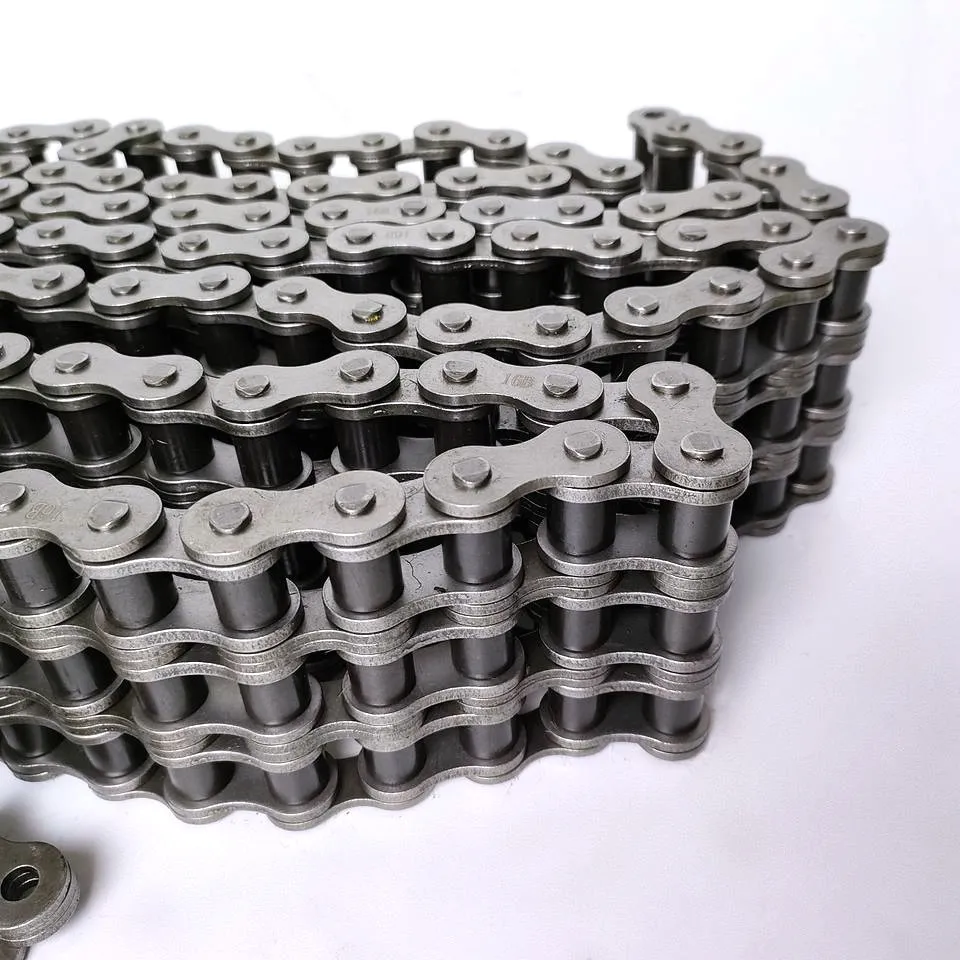 What are some common misconceptions about roller chains?
There are several misconceptions about roller chains that are worth addressing. Here are some common ones:
1. Roller chains are maintenance-free: While some roller chains are designed for reduced maintenance, no chain is truly maintenance-free. All roller chains require regular inspection, lubrication, and occasional replacement to ensure optimal performance and longevity.
2. Roller chains are indestructible: Roller chains are durable and can handle significant loads, but they are not indestructible. Like any mechanical component, roller chains have their limits and can fail if subjected to excessive loads, poor lubrication, misalignment, or other adverse conditions.
3. Any lubricant can be used on roller chains: Using the wrong type or insufficient amount of lubricant can negatively impact the performance and lifespan of a roller chain. It is important to follow the manufacturer's recommendations regarding lubrication to ensure proper chain operation and longevity.
4. All roller chains are the same: Roller chains come in various designs, sizes, and materials to suit different applications. It is essential to select the right chain for the specific application based on factors such as load capacity, speed, environment, and operating conditions.
5. Roller chains cannot handle high speeds: While roller chains may have speed limitations, advancements in design and materials have allowed for the development of high-speed roller chains. These chains are specifically engineered to withstand the demands of high-speed applications.
6. Roller chains are noisy: While poorly maintained or misaligned roller chains can produce noise, properly lubricated and aligned chains can operate quietly. Regular maintenance, including proper lubrication and tensioning, can minimize noise levels and ensure smooth chain operation.
7. Roller chains require constant adjustment: With proper installation and tensioning, roller chains should not require frequent adjustments. However, regular inspection and occasional adjustment are necessary to maintain proper tension and prevent excessive wear.
It is important to rely on accurate information and consult experts or manufacturers when it comes to roller chain selection, installation, maintenance, and troubleshooting to avoid falling prey to common misconceptions and ensure optimal chain performance.



editor by CX 2023-09-07