Product Description
Item
Standard Transmission Roller Chains
Model
Series A, Series B, Heavy Duty
Row
Simplex/Duplex/Triplex
Application
Machinery Parts
Surface Teatment
Self-color/Sand-blasted/Shot-peening
Brand
OEM
Package
Poly bag, then box, finally poly-wooden case
Port
Any sea port or airport in China
A Series
03C,04C-1,06C-1,085-1,08A-1,10A-1,12A-1,16A-1,20A-1,24A-1,28A-1,32A-1,36A-1,40A-1,48A-1. 15,25-1,35-1,41-1,40-1,50-1,60-1,80-1,100-1,120-1,140-1,160-1,180-1,200-1,240-1.
04C-2,06C-2,085-2,08A-2,10A-2,12A-2,16A-2,20A-2,24A-2,28A-2,32A-2,36A-2,40A-2,48A-2. 15,25-2,35-2,41-2,40-2,50-2,60-2,80-2,100-2,120-2,140-2,160-2,180-2,200-2,240-2.
04C-3,06C-3,085-3,08A-3,10A-3,12A-3,16A-3,20A-3,24A-3,28A-3,32A-3,36A-3,40A-3,48A-3. 15,25-3,35-3,41-3,40-3,50-3,60-3,80-3,100-3,120-3,140-3,160-3,180-3,200-3,240-3.
B Series
05B-1,06B-1,08B-1,10B-1,12B-1,16B-1,20B-1,24B-1,28B-1,32B-1,40B-1,48B-1,56B-1,64B-1,72B-1.
05B-2,06B-2,08B-2,10B-2,12B-2,16B-2,20B-2,24B-2,28B-2,32B-2,40B-2,48B-2,56B-2,64B-2,72B-2.
05B-3,06B-3,08B-3,10B-3,12B-3,16B-3,20B-3,24B-3,28B-3,32B-3,40B-3,48B-3,56B-3,64B-3,72B-3.
Heavy Duty Type
35H-1,40H-1,50H-1,60H-1,80H-1,100H-1,120H-1,140H-1,160H-1,180H-1,200H-1,240H-1.
35H-2,40H-2,50H-2,60H-2,80H-2,100H-2,120H-2,140H-2,160H-2,180H-2,200H-2,240H-2.
35H-3,40H-3,50H-3,60H-3,80H-3,100H-3,120H-3,140H-3,160H-3,180H-3,200H-3,240H-3.
| | |
| --- | --- |
| Standard or Nonstandard: | Standard/Nonstandard |
| Application: | Textile Machinery, Garment Machinery, Conveyer Equipment, Packaging Machinery, Motorcycle, Food Machinery, Marine, Mining Equipment, Agricultural Machinery, Car |
| Surface Treatment: | Polishing |
| Structure: | Roller Chain |
| Material: | Carbon Steel/Stainless Steel |
| Type: | Short Pitch Chain |
Samples:

US$ 5/Several links of standard chain

1 Several links of standard chain(Min.Order)

|
Request Sample
Customization:

Available

|

Customized Request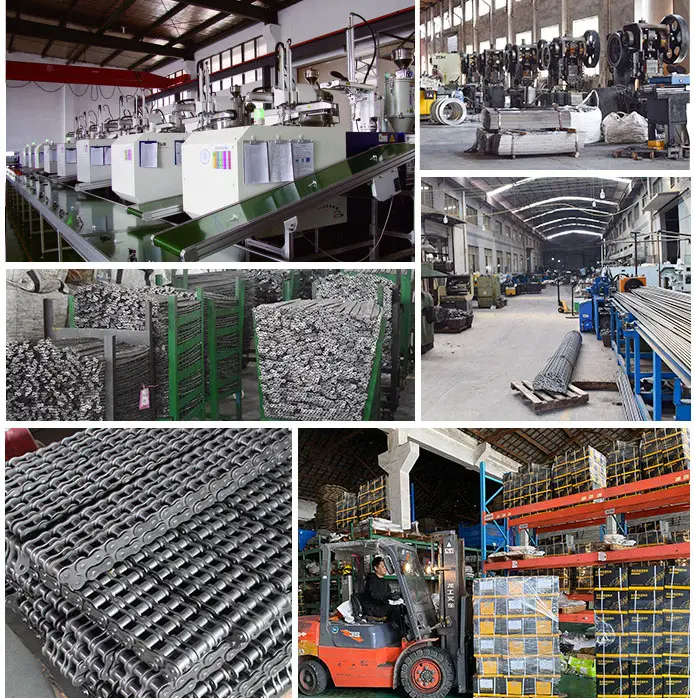 How do roller chains handle side loads?
Roller chains are designed to primarily handle axial (or in-line) loads, which are forces applied along the axis of the chain. However, they do have some capability to handle limited side loads. Here's a detailed answer to the question:
1. Roller Design: The rollers in a roller chain are cylindrical in shape and rotate freely between the inner and outer plates. This design allows the chain to accommodate limited side loads by allowing the rollers to roll and adjust their position within the chain.
2. Bearing Surfaces: Roller chains have bearing surfaces between the pins and the bushings or rollers. These bearing surfaces help distribute the load and reduce friction, allowing the chain to handle some degree of side loads.
3. Tolerance for Misalignment: Roller chains have some tolerance for misalignment between the sprockets, which can help compensate for minor side loads. However, excessive misalignment can lead to increased wear and decreased chain life.
4. Limitations: It's important to note that roller chains are primarily designed for transmitting power and handling axial loads. While they can tolerate some side loads, their ability to handle significant side loads is limited. Excessive side loads can cause increased wear, premature chain failure, and reduced overall performance.
To ensure the longevity and reliable performance of a roller chain, it is essential to minimize side loads as much as possible. Proper alignment of the sprockets, appropriate tensioning of the chain, and avoiding excessive side loads are important considerations when using roller chains in an application.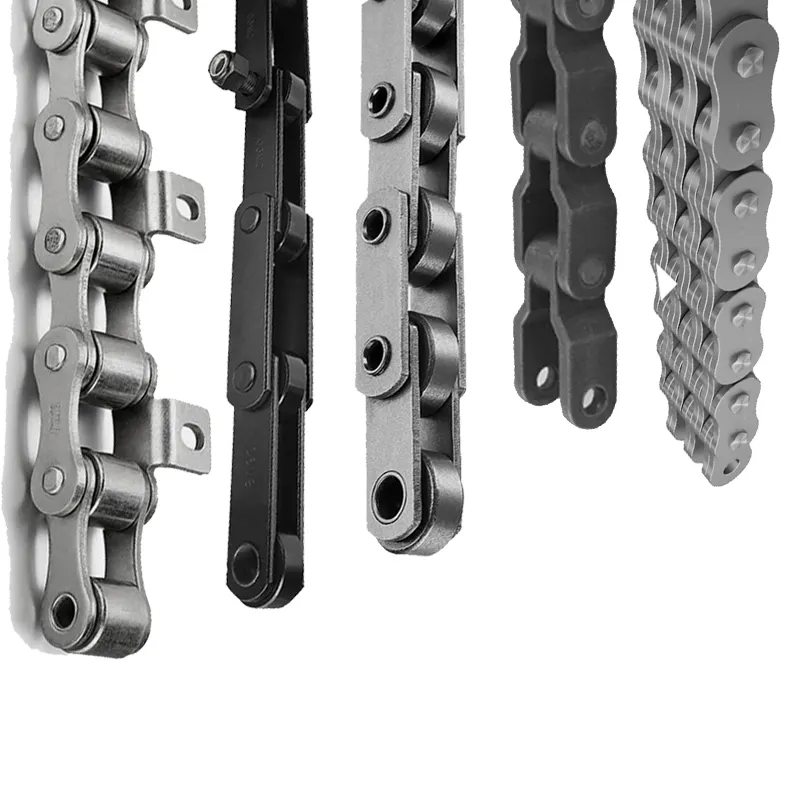 Can roller chains be used for power transmission in agricultural vehicles?
Yes, roller chains are commonly used for power transmission in agricultural vehicles. These vehicles often require reliable and robust power transmission systems to handle the demanding tasks in agricultural operations. Roller chains offer several advantages that make them suitable for such applications. Here's a detailed answer to the question:
1. High Strength and Durability: Agricultural vehicles operate in rugged environments and encounter heavy loads. Roller chains are known for their high strength and durability, allowing them to withstand the demanding conditions found in agricultural settings. They can handle the power transmission requirements of vehicles used for tasks like plowing, tilling, harvesting, and hauling.
2. Wide Range of Speeds: Agricultural vehicles often operate at various speeds depending on the task at hand. Roller chains can accommodate a wide range of speeds, allowing them to efficiently transmit power even during speed variations. They can handle both low-speed applications, such as crawling through fields, and higher-speed applications, such as transporting crops.
3. Adaptability to Misalignment: Agricultural vehicles may encounter uneven terrain and experience misalignment between the driving and driven components. Roller chains can tolerate a certain degree of misalignment, allowing them to function effectively even in challenging conditions. However, proper alignment should still be maintained to optimize chain performance and longevity.
4. Resistance to Contaminants: Agricultural environments often involve dust, dirt, and debris. Roller chains are designed to operate in such conditions and have inherent resistance to contaminants. They can continue to function reliably even in dusty or dirty environments, reducing the need for frequent cleaning and maintenance.
5. Easy Installation and Maintenance: Roller chains are relatively simple to install and maintain in agricultural vehicles. They can be easily adjusted for proper tension and replaced when necessary. Routine lubrication and inspection help ensure smooth operation and extend the chain's lifespan.
It's important to consider the specific requirements of the agricultural vehicle and select the appropriate roller chain based on factors like load capacity, speed range, and environmental conditions. Regular inspection, lubrication, and proper tensioning are essential to ensure optimal performance and longevity of the roller chain in agricultural applications.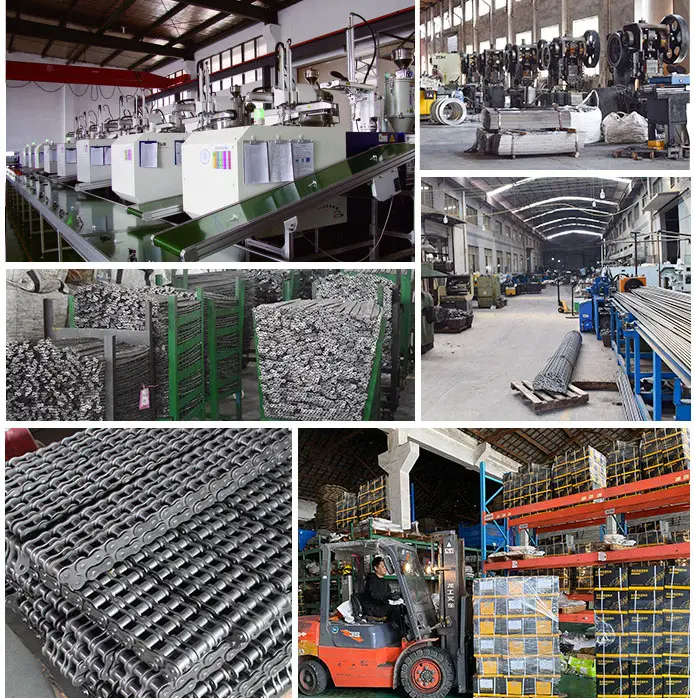 What are the different types of roller chains available?
Roller chains come in various types and configurations to suit different applications and requirements. Here's a detailed answer to the question:
1. Standard Roller Chain: This is the most common type of roller chain and is widely used in general-purpose applications. It consists of inner and outer plates, rollers, and pins.
2. Double Pitch Roller Chain: Double pitch roller chains have twice the pitch length of standard roller chains. They are commonly used in applications where slower speeds and lighter loads are present, such as conveyor systems.
3. Heavy-Duty Roller Chain: Heavy-duty roller chains are designed to withstand higher loads and more demanding operating conditions. They feature thicker plates, larger rollers, and stronger pins, offering increased strength and durability.
4. Stainless Steel Roller Chain: Stainless steel roller chains are made from corrosion-resistant stainless steel material. They are suitable for applications where resistance to moisture, chemicals, and harsh environments is required, such as food processing, pharmaceutical, and marine industries.
5. Nickel-Plated Roller Chain: Nickel-plated roller chains have a layer of nickel plating on the outer plates, providing additional corrosion resistance. They are often used in applications where protection against rust and wear is essential.
6. O-Ring Roller Chain: O-ring roller chains have O-ring seals between the outer plates and rollers. The O-rings help retain lubrication and prevent contamination, resulting in reduced maintenance requirements and extended chain life.
7. Lube-Free Roller Chain: Lube-free roller chains incorporate self-lubricating bushings or rollers that eliminate the need for external lubrication. They are suitable for applications where maintenance-free operation and clean environments are required.
8. Attachment Roller Chain: Attachment roller chains have special attachments on the outer plates, allowing for the attachment of various accessories or components. They are commonly used in applications such as conveying, lifting, or indexing systems.
9. Silent Chain: Silent chains, also known as inverted tooth chains, have tooth-shaped links that engage with the sprockets. They offer smooth and quiet operation and are often used in applications where noise reduction is critical, such as timing drives.
10. Leaf Chain: Leaf chains consist of interlocking links with large flat plates connected by pins. They are commonly used in applications requiring high strength and durability, such as forklifts and lifting devices.
Each type of roller chain has its own unique features and advantages. The selection of the appropriate type depends on factors such as load capacity, speed, environment, and specific application requirements.



editor by CX 2023-08-09