Product Description
ISO Standard Short Pitch Precision Simplex Hardware Motorcycle Industrial Roller Chain
 
Product Description

1. Material: Alloy Steel
2. Surface Treatment: Shot peening
3. Application: The product is mainly applied in small lifting.
4. Chain No: 40-1, 50-1, 60-1, 80B-1, 10B-1, 12B-1, etc.
Product name
ISO Standard Short Pitch Precision Simplex Hardware Motorcycle Industrial Roller Chain
Materials Available 
1. Stainless Steel: SS304, SS316, etc
2. Alloy Steel: 45Mn, 42CrMo, 20CrMo, etc
3. OEM according to your request
Surface Treatment
Shot peening, Blackening, Oxygenation, Polishing, Zinc-plated, Nickel-plated, Anodized, etc.
Characteristic
Fire Resistant, Oil Resistant, Heat Resistant
Design criterion
ISO DIN ANSI & Customer's Drawing
Size
Customer's Drawing & ISO standard 
Package
Wooden Case / Container and pallet, or made-to-order
Certificate
ISO9001: 2008 
Advantage
Firtsr quality, Best service, Competitive price, Fast delivery
Delivery Time
20 days for samples. 45 days for official order.
Detailed Photos
View more products,please click here…
 
Company Profile
| | |
| --- | --- |
| Usage: | Transmission Chain |
| Material: | Alloy |
| Surface Treatment: | Oil Blooming |
| Feature: | Oil Resistant |
| Chain Size: | 40-1, 08b-1 |
| Structure: | Roller Chain |
Samples:

US$ 0/Meter

1 Meter(Min.Order)

|
Request Sample
Customization:

Available

|

Customized Request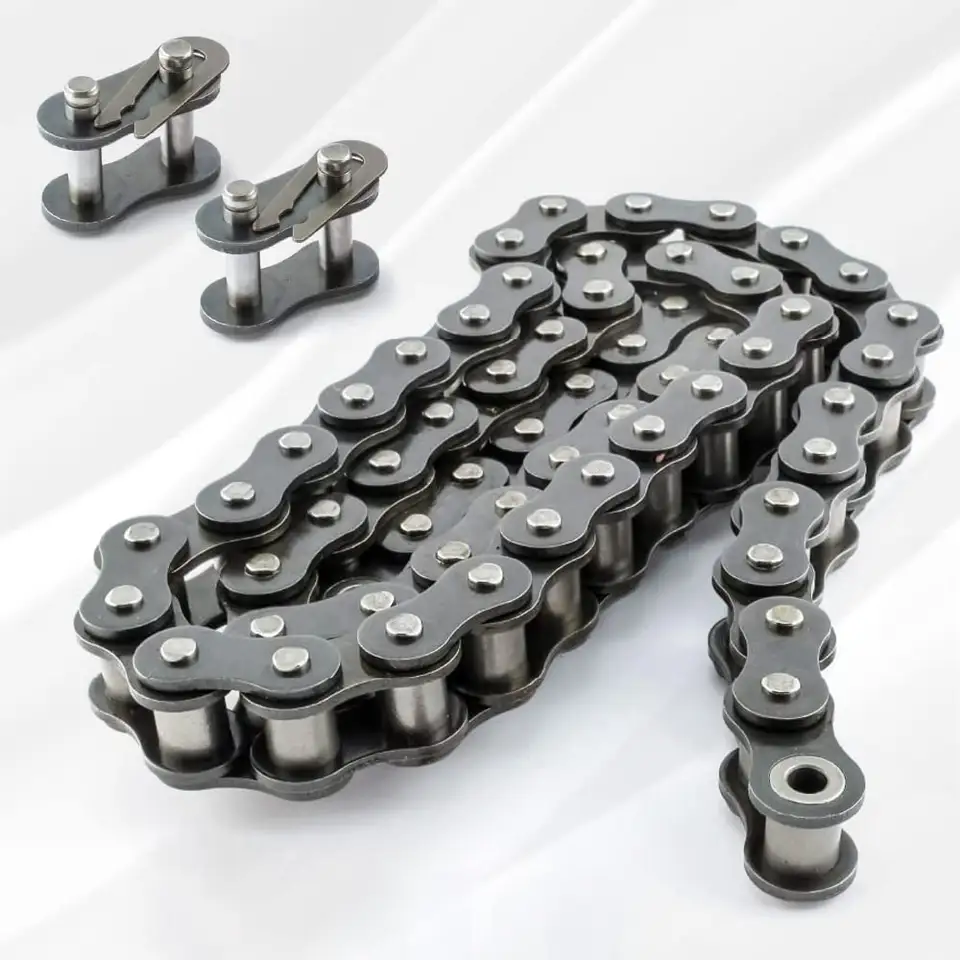 Are there any environmental considerations when using roller chains?
Yes, there are several environmental considerations to keep in mind when using roller chains. Here's a detailed answer to the question:
1. Lubricants: The choice of lubricant for roller chains can have an environmental impact. It's important to select lubricants that are environmentally friendly and comply with any relevant regulations. Biodegradable lubricants or those with low toxicity are often preferred to minimize environmental harm in case of leaks or spills.
2. Contamination: Roller chains can be susceptible to contamination from dust, dirt, or other particles present in the operating environment. Contaminants can accelerate wear and reduce the lifespan of the chain. Implementing proper sealing measures, such as using protective covers or enclosures, can help prevent contamination and maintain chain performance.
3. Noise and Vibration: Roller chains can generate noise and vibration during operation, which may have environmental implications, especially in noise-sensitive areas. Employing noise reduction measures, such as using noise-dampening materials or implementing sound barriers, can help mitigate the impact of chain noise on the surrounding environment.
4. Corrosion Protection: In corrosive environments, protecting the roller chain from corrosion is crucial. Corrosion not only affects the performance and lifespan of the chain but can also lead to the release of harmful substances into the environment. Using corrosion-resistant materials or applying appropriate coatings can help minimize environmental risks.
5. Energy Efficiency: Roller chains should be properly tensioned and maintained to ensure efficient power transmission. By optimizing the performance of the chain, energy consumption can be minimized, resulting in reduced environmental impact.
6. Recycling and Disposal: When roller chains reach the end of their lifespan, proper disposal or recycling should be considered. Some components of the chain, such as metal links, can be recycled to minimize waste and conserve resources. Local regulations and recycling facilities should be consulted for guidance on the proper disposal or recycling methods.
It's important to assess the specific environmental requirements and regulations in the operating environment and choose roller chain solutions that align with sustainable practices and minimize any negative environmental impacts.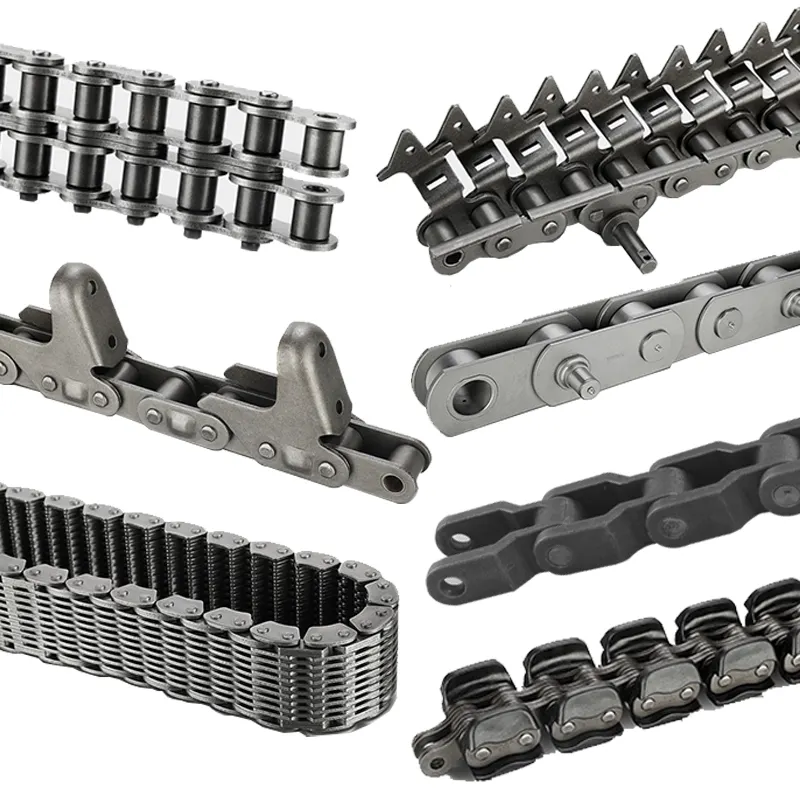 Can roller chains be used for power transmission in pumps and compressors?
Yes, roller chains can be used for power transmission in pumps and compressors. Here's a detailed answer to the question:
1. Power Transmission: Roller chains are widely used in various industries for transmitting power between rotating components. In pumps and compressors, roller chains can efficiently transfer power from the motor to the impeller or compressor wheel, enabling the pumping or compression action.
2. Versatility: Roller chains are available in different sizes, pitches, and configurations, making them suitable for various power transmission requirements. They can accommodate a wide range of power levels and speeds, allowing pumps and compressors to operate effectively in different applications and conditions.
3. Load Handling: Pumps and compressors typically involve dynamic loads due to the movement of fluids and gases. Roller chains are designed to handle these dynamic loads effectively. The multiple rollers and pins in the chain distribute the load evenly, minimizing stress concentrations and ensuring smooth power transmission.
4. Durability: Roller chains are known for their durability and resistance to wear. They are designed to withstand demanding operating conditions, including high speeds, fluctuating loads, and exposure to contaminants. Proper lubrication and maintenance further enhance their longevity and reliability in pump and compressor applications.
5. Easy Installation and Maintenance: Roller chains offer ease of installation and maintenance. They can be easily installed, adjusted, and tensioned to ensure proper alignment and operation. Routine maintenance tasks such as lubrication and inspection can help optimize chain performance and identify any potential issues.
It's important to select the appropriate roller chain based on the specific requirements of the pump or compressor, considering factors such as power transmission capacity, speed, load characteristics, and environmental conditions. Regular inspection and maintenance are crucial to ensure optimal performance and to detect any signs of wear or damage that may require replacement or repair.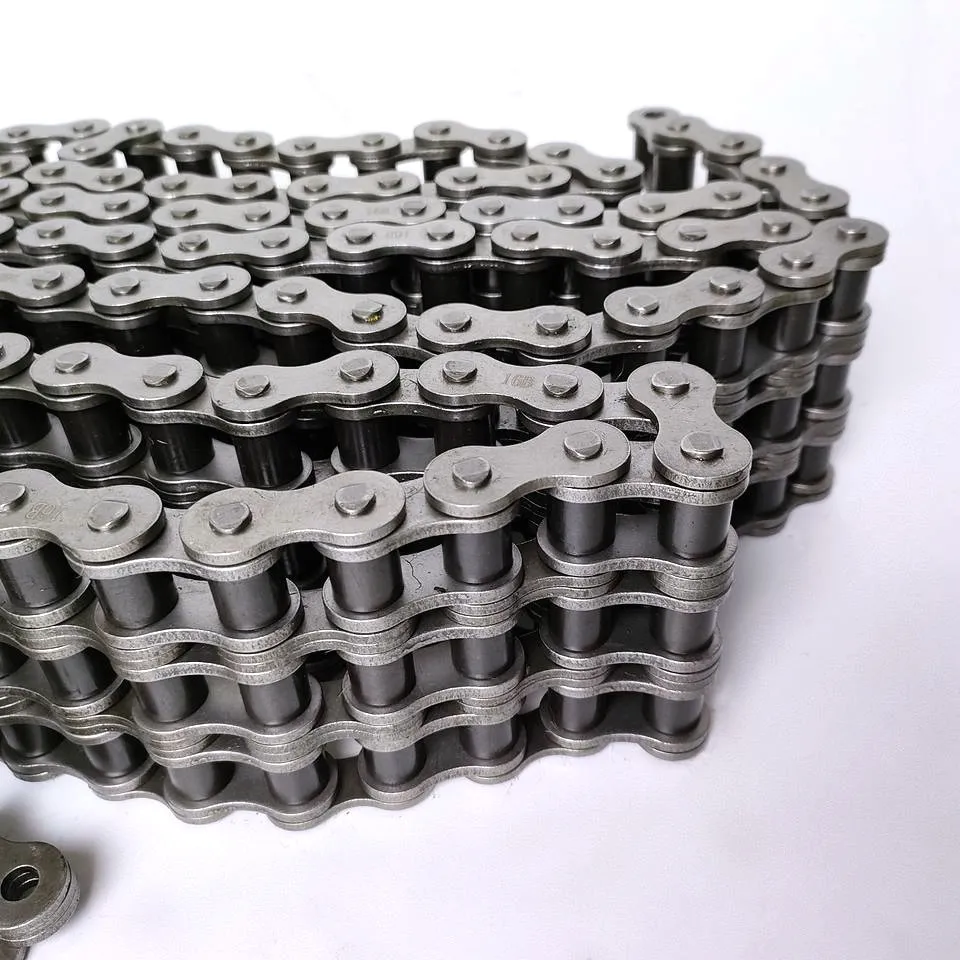 What are some common misconceptions about roller chains?
There are several misconceptions about roller chains that are worth addressing. Here are some common ones:
1. Roller chains are maintenance-free: While some roller chains are designed for reduced maintenance, no chain is truly maintenance-free. All roller chains require regular inspection, lubrication, and occasional replacement to ensure optimal performance and longevity.
2. Roller chains are indestructible: Roller chains are durable and can handle significant loads, but they are not indestructible. Like any mechanical component, roller chains have their limits and can fail if subjected to excessive loads, poor lubrication, misalignment, or other adverse conditions.
3. Any lubricant can be used on roller chains: Using the wrong type or insufficient amount of lubricant can negatively impact the performance and lifespan of a roller chain. It is important to follow the manufacturer's recommendations regarding lubrication to ensure proper chain operation and longevity.
4. All roller chains are the same: Roller chains come in various designs, sizes, and materials to suit different applications. It is essential to select the right chain for the specific application based on factors such as load capacity, speed, environment, and operating conditions.
5. Roller chains cannot handle high speeds: While roller chains may have speed limitations, advancements in design and materials have allowed for the development of high-speed roller chains. These chains are specifically engineered to withstand the demands of high-speed applications.
6. Roller chains are noisy: While poorly maintained or misaligned roller chains can produce noise, properly lubricated and aligned chains can operate quietly. Regular maintenance, including proper lubrication and tensioning, can minimize noise levels and ensure smooth chain operation.
7. Roller chains require constant adjustment: With proper installation and tensioning, roller chains should not require frequent adjustments. However, regular inspection and occasional adjustment are necessary to maintain proper tension and prevent excessive wear.
It is important to rely on accurate information and consult experts or manufacturers when it comes to roller chain selection, installation, maintenance, and troubleshooting to avoid falling prey to common misconceptions and ensure optimal chain performance.



editor by CX 2023-09-18