Product Description
MODEL NO.: SS04C,SS06C,SS08A,SS10A,SS12A,SS16A,SS20A,SS24A,SS28A,SS32A,SS36A,SS40A,SS48A
SS25,SS35,SS40,SS50,SS60,SS80,SS1, HangZhou, China.
Branch: Yingbin Rd., HangZhou, HangZhou, ZHangZhoug, China
 
 
Web: xmpower
Shipping Cost:

Estimated freight per unit.





To be negotiated
| | |
| --- | --- |
| Standard or Nonstandard: | Standard |
| Application: | Conveyer Equipment, Packaging Machinery, Food Machinery |
| Surface Treatment: | Polishing |
Samples:

US$ 0/Foot

1 Foot(Min.Order)

|

Order Sample
Customization:

Available

|

Customized Request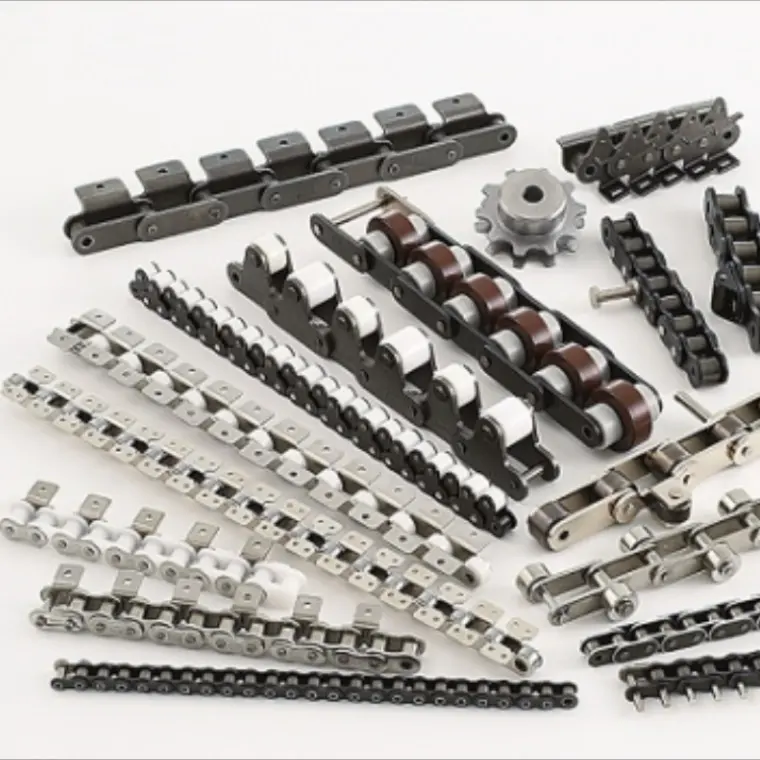 Can roller chains be used in food processing or pharmaceutical industries?
Roller chains can be used in certain food processing and pharmaceutical applications, but there are specific considerations and requirements to ensure compliance with industry standards and regulations. Here's a detailed answer to the question:
1. Food Grade Materials: In food processing and pharmaceutical industries, it is essential to use roller chains made from food-grade materials. These materials are non-toxic, corrosion-resistant, and designed to meet the hygiene and cleanliness requirements of these industries. Stainless steel chains or chains with special food-grade coatings are commonly used.
2. Lubrication: Proper lubrication is crucial in food processing and pharmaceutical applications to prevent contamination. Food-grade lubricants that are safe for consumption or lubrication-free chains are often used to meet the industry standards and regulations. It's important to ensure that the lubricants used are compatible with the specific chain material and application requirements.
3. Cleanliness and Sanitization: The equipment and chains used in food processing and pharmaceutical industries must be designed for easy cleaning and sanitization. Smooth surfaces, without crevices or pockets that can trap food particles or bacteria, are preferred. Regular cleaning and maintenance procedures should be implemented to ensure proper hygiene and prevent the risk of contamination.
4. FDA and Regulatory Compliance: Roller chains used in food processing and pharmaceutical industries must comply with the regulations set by the Food and Drug Administration (FDA) or other relevant regulatory bodies. These regulations specify the acceptable materials, lubricants, and cleanliness standards for equipment used in these industries.
5. Hazard Analysis and Critical Control Points (HACCP): The Hazard Analysis and Critical Control Points system is commonly implemented in the food processing industry to identify and control potential hazards. When using roller chains in food processing, it's important to assess the risks and implement appropriate measures to prevent contamination, such as installing guards to protect the chain from direct contact with food products.
While roller chains can be used in food processing and pharmaceutical industries, it is crucial to consult industry-specific guidelines and work with suppliers or manufacturers experienced in supplying chains for these applications. Adhering to industry standards and regulations ensures the safe and reliable use of roller chains in such sensitive environments.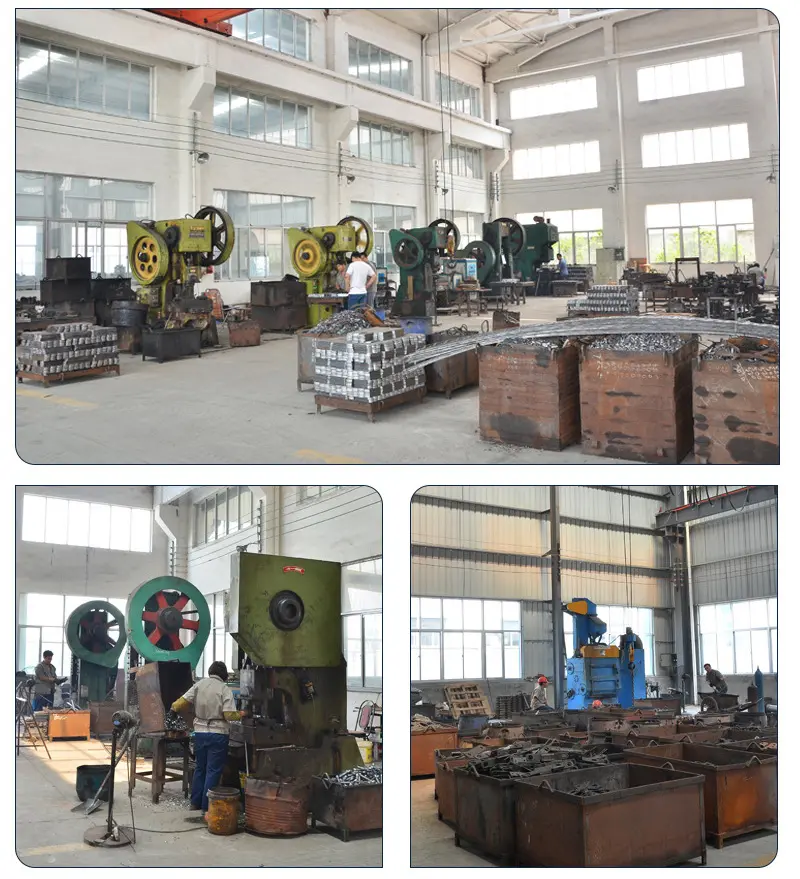 What are the limitations of using roller chains in certain applications?
Roller chains are versatile and widely used in various applications, but they do have some limitations to consider. Here's a detailed answer to the question:
1. Speed Limitations: Roller chains have a practical speed limit due to factors such as chain length, centrifugal forces, and roller-to-sprocket engagement. At high speeds, the centrifugal forces can cause excessive chain vibration and increase wear, potentially leading to chain failure. In such cases, alternative power transmission systems like gears or belts may be more suitable.
2. Precision Requirements: Roller chains require proper alignment and tensioning for efficient operation. In applications that demand high precision, such as precision machinery or robotics, the inherent flexibility and slight elongation of roller chains may not meet the desired accuracy requirements. In such cases, alternative systems like timing belts or direct drive solutions may be preferred.
3. Environmental Limitations: Roller chains may not be suitable for certain environments with extreme temperatures, corrosive substances, or high levels of contamination. Harsh conditions can accelerate chain wear, reduce lubrication effectiveness, or cause corrosion. In these situations, specialized chains with appropriate coatings or alternative power transmission systems may be necessary.
4. Noise and Vibration: Roller chains can generate noise and vibrations during operation, particularly when not properly tensioned or maintained. In applications where noise or vibration is a concern, such as in noise-sensitive environments or precision machinery, additional measures like chain tensioners, vibration dampening, or alternative drive systems may be required.
5. Size and Space Constraints: Roller chains have a certain physical size and require appropriate clearance for installation. In applications with limited space or tight packaging requirements, alternative power transmission systems like compact belts or direct drives might be more suitable.
It's important to carefully evaluate the specific requirements and constraints of each application when considering the use of roller chains. Alternative power transmission systems may be more suitable in certain cases, and consulting with experts or manufacturers can help determine the best solution for the intended application.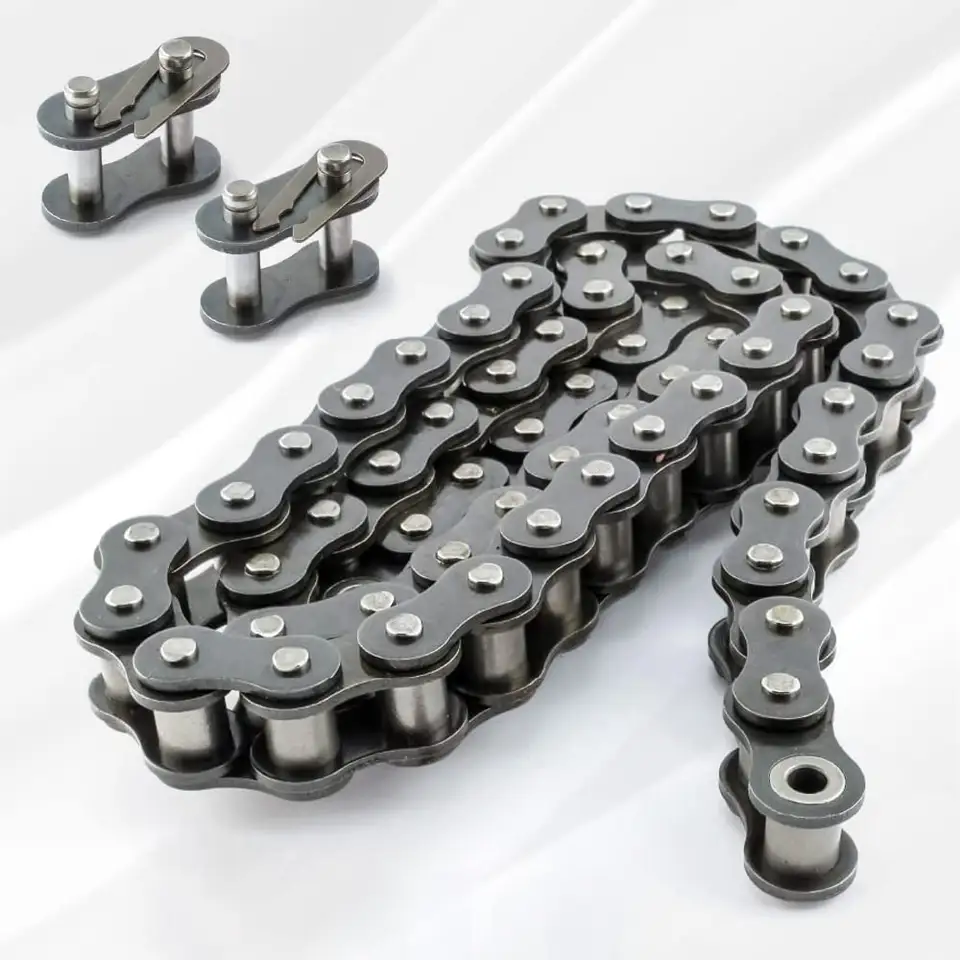 How do you measure roller chain wear?
Measuring roller chain wear is important to determine if the chain is still within acceptable tolerances or if it needs to be replaced. Here are the steps to measure roller chain wear:
1. Chain Elongation Measurement: Chain elongation is a common form of wear in roller chains. To measure chain elongation, you'll need a ruler or caliper with metric units and a reference length of the chain. The reference length is typically a certain number of pitches, which is the distance from one roller to the next.
2. Select Reference Points: Choose two reference points on the chain, ideally at least 10 pitches apart. These points should be accessible and free from any significant wear or damage.
3. Measure the Distance: With the chain in a relaxed state, measure the distance between the reference points. This can be done by aligning the ruler or caliper with the rollers of the chain. Ensure the measurement is taken along the same side of the chain throughout the process.
4. Compare with the Manufacturer's Specification: Consult the manufacturer's specification or maintenance manual to determine the allowable elongation limit. Typically, roller chains have a maximum allowable elongation of around 1-2% before replacement is recommended.
5. Calculate Elongation Percentage: Calculate the elongation percentage by comparing the measured distance with the reference length. Subtract the reference length from the measured distance, divide the result by the reference length, and multiply by 100 to get the elongation percentage.
6. Determine Chain Condition: If the elongation percentage exceeds the manufacturer's recommended limit, it indicates significant wear and elongation of the chain. In such cases, it is advisable to replace the chain to prevent potential failure and damage to the machinery.
It's important to note that measuring chain wear is just one aspect of assessing chain condition. Visual inspection for signs of wear, such as pin wear, plate wear, or roller wear, is also crucial. If you notice any signs of damage or wear during the inspection, it is recommended to replace the chain, regardless of the elongation measurement.



editor by CX 2023-09-19