Product Description
MODEL NO.: 04B-1, 05B-1,06B-1,08B-1,10B-1,12B-1,16B-1,20B-1,24B-1,28B-1,32B-1,36B-1,40B-1,48B-1,56B-1,64B-1,72B-1;
Simplex(single row)
HangZhou Power Transmission company has specialized producing chains and sprocket products for over
10 years. Rising from domestic market, now with abundant industry experience, it has become an important supplier and exporter in South China, and set up its own qualified brands.
QUALITY is the essence of long term business and support to our customers. Production is strictly controlled from origin, normal material choices : 45Mn, 30GeMnTi, #10, 20Mn, Stainless Steel, Customized material, through strict technique standards of ANSI, DIN, ISO.
Material chosen
Well wire-cutting
Plate shot peening
Bluing
Well through heat-treatment
Carburizing
Quenching
Tempering
Oiling/greasing
Pre-stretched
Pre-running
XMPOWER mainly cover products as below:
Drive Chains
A Series Short Pitch Precision Roller Chains
B Series Short Pitch Precision Roller Chains
Heavy Series Short Pitch Roller Chains
Short Pitch Straight Side Plate chains
Agricultural Chains and Attachments
Oil field Roller Chains
Heavy-duty Cranked link Roller Chains
AB Series Double Pitch Conveyor Roller Chains
Coupling Chains
AB Series Straight Sidebar Roller Chain
Silent Chains
PIV Chains
Conveyor Chains
Double Pitch Stright Side Plate Conveyor Chains (A & B Series)
Double Pitch Large Roller Conveyor Chains (A & B Series)
Attachments A1, K1, SA1, SK1, WA1, WA2, WK1, WK2, AA1, KK1, SAA1, SKK1, D1, D3, etc.
Hollow Pin Chains (B/BUSH/ROLLER Type)
Side Bow Roller Chains
Double Flex Chains
Double Plus Chains
Sharp Top Chains
Flat-top Chains
FV/FVT/FVC Series Conveyor chains
M/MT/MC Series Conveyor chains
Side Roller Conveyor Chains
Top Roller Conveyor Chains
Lumber Conveyor Chains
Mining and Metallurgy Conveyor Chains
Leaf Chains
AL Series Leaf Chains
BL Series Leaf Chains
LL Series Leaf Chains
 
Special Chains
Palm Oil Chains
Sugar Chains
Tobacco Machinery Chains
Grain Machine Chains
Beer Bottling Conveyor Roller Chains
Coal Chains
Crawler Asphalt Paver Conveyor Chains
Cold Drink Food Processing Chains
Welded Steel Chains
Water Dispose Chains
Motorcycle 
Motorcycle chains 
Engine Chains
SPROCKETS & Gear
1045 Steel Sprockets, ANSI/DIN standards
Module Gears
Motorcycle sprockets
Bevel Gears
Stainless Steel Sprockets
Customized
All CZPT products are strictly checked before delivery to our customers. Tests have been conducted through material till finished product,
XMPOWER's expertise and commitment will be 1 of best choices as your reliable chain supplier.
In the light of our vision and mission, we constantly value our each partner, and work closely with each other to achieve satisfied solutions. We look CZPT to forging strong partnership with you and ensure long term progress!
Contact: CZPT Huang/Sales Manager/Transmission Dept.
HangZhou POWER TRANSMISSION IMP.& EXP.CO.,LTD
Add.:  #19 Bldg, #158, Canglindong Rd, Xihu (West Lake) Dis. Industrial Zone, 361
Fax:
Web: xmpower
| | |
| --- | --- |
| Standard or Nonstandard: | Standard |
| Application: | Textile Machinery, Garment Machinery, Conveyer Equipment, Packaging Machinery, Food Machinery |
| Surface Treatment: | Polishing |
| Structure: | Roller Chain |
| Material: | Carbon Steel |
| Type: | Short Pitch Chain |
Samples:

US$ 0/Foot

1 Foot(Min.Order)

|
Request Sample
Customization:

Available

|

Customized Request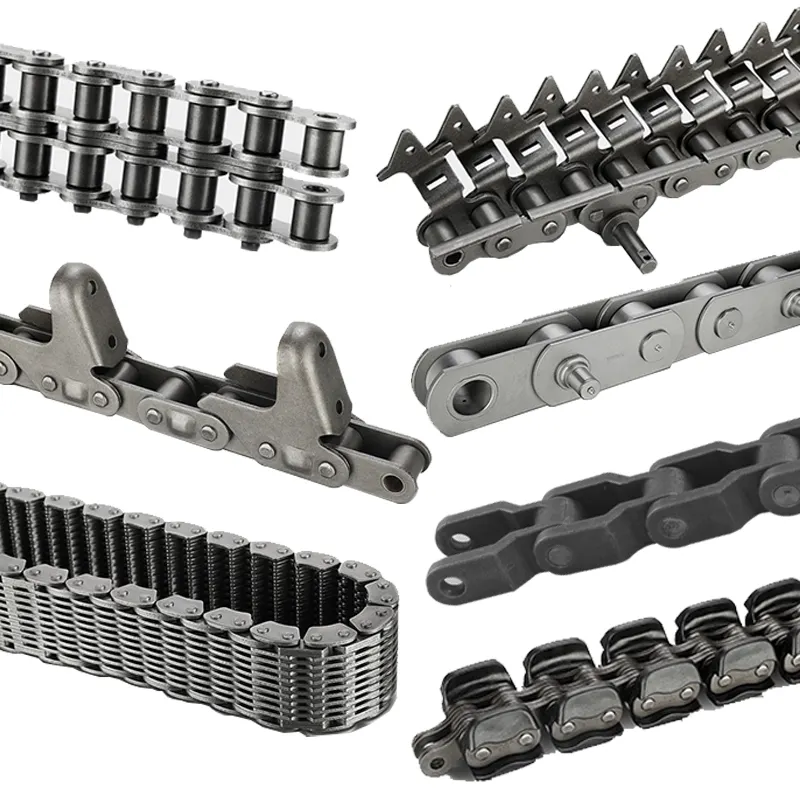 Can roller chains be used in low-temperature environments?
Yes, roller chains can be used in low-temperature environments, but there are several factors to consider for their proper performance and longevity:
1. Material Selection: Choose roller chains that are specifically designed for low-temperature applications. These chains are typically made from materials that can withstand the cold temperatures without becoming brittle or losing their mechanical properties. Common materials used in low-temperature roller chains include stainless steel, nickel-plated steel, or special alloys.
2. Lubrication: Proper lubrication is essential in low-temperature environments to ensure smooth operation and prevent excessive wear. However, it's important to consider the type of lubricant used as some lubricants may become less effective or thickened at low temperatures. Select lubricants that are specifically formulated for low-temperature applications to maintain proper chain lubrication and reduce friction.
3. Temperature Ratings: Check the temperature ratings provided by the roller chain manufacturer. Ensure that the roller chain is suitable for the specific low-temperature range of your application. Different roller chains have different temperature limits, and exceeding these limits can lead to decreased performance, increased wear, and potential chain failure.
4. Impact Resistance: Low temperatures can make materials more susceptible to impact damage. It's important to ensure that the roller chain selected has good impact resistance properties to withstand any sudden shocks or loads that may occur during operation in low-temperature environments.
5. Environmental Factors: Consider the overall environmental conditions of the low-temperature environment. Factors such as moisture, ice, or freezing conditions can affect the performance of roller chains. In such cases, additional protection measures like sealing, covers, or regular maintenance may be necessary to prevent ice formation or moisture ingress.
6. Regular Inspection and Maintenance: Regularly inspect the roller chains for signs of wear, damage, or inadequate lubrication. Monitor their performance and address any issues promptly. In low-temperature environments, extreme cold can exacerbate any existing issues, so proactive maintenance is crucial to ensure the continued reliability of the roller chains.
By considering these factors and selecting roller chains designed for low-temperature applications, you can ensure their proper functioning and durability in low-temperature environments.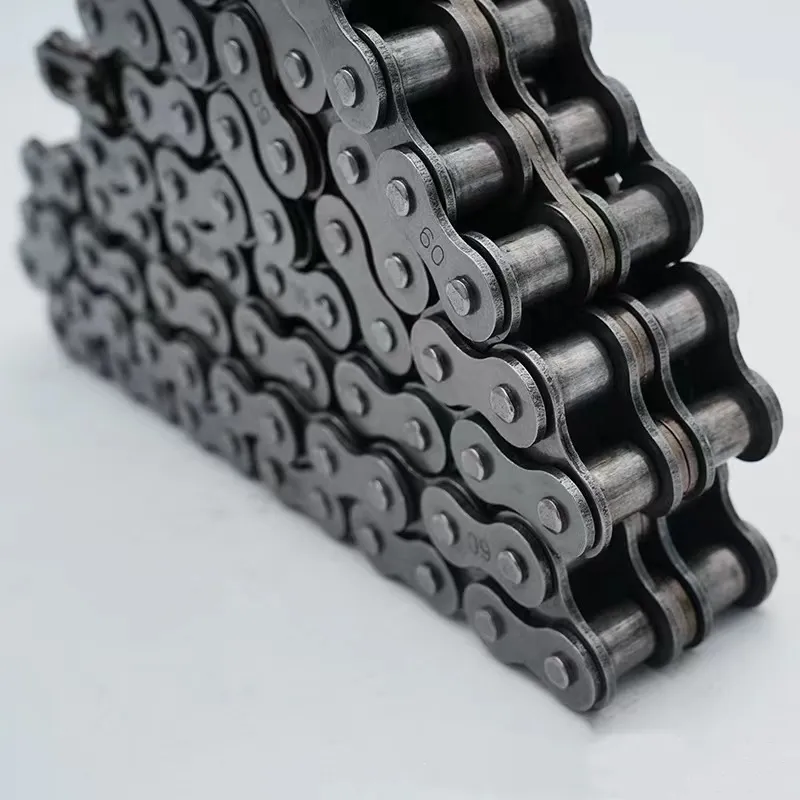 How do roller chains handle abrasive environments?
Roller chains are designed to handle various operating conditions, including abrasive environments. Here's a detailed answer to the question:
1. Material Selection: Roller chains are typically constructed using high-quality materials that offer good resistance to abrasion. Common materials used for roller chains include alloy steel, stainless steel, or specialized coatings that enhance wear resistance.
2. Surface Hardness: The components of a roller chain, such as the pins, bushings, and rollers, are heat-treated to achieve a high surface hardness. This hardness helps to resist wear caused by abrasive particles present in the environment.
3. Lubrication: Proper lubrication plays a crucial role in protecting roller chains from abrasive wear. Lubricants act as a barrier between the chain components and abrasive contaminants, reducing friction and minimizing wear. The lubricant also helps to flush away any abrasive particles that may come in contact with the chain.
4. Sealing and Protection: Roller chains can be equipped with seals or protective covers to provide an additional layer of defense against abrasive particles. These seals help to prevent contaminants from entering the chain and causing premature wear. Seals also help to retain lubrication within the chain, further enhancing its performance in abrasive environments.
5. Regular Maintenance: Regular inspection and maintenance are essential to ensure the longevity of roller chains in abrasive environments. This includes periodic cleaning to remove accumulated debris and checking for signs of wear or damage. Prompt replacement of worn components is necessary to prevent further deterioration and ensure reliable operation.
While roller chains are generally robust in abrasive environments, it's important to consider the severity of the abrasion, as extremely abrasive conditions may require specialized chain materials or additional protective measures. Consulting with experts and selecting the appropriate chain design and materials based on the specific application requirements can help maximize the performance and lifespan of roller chains in abrasive environments.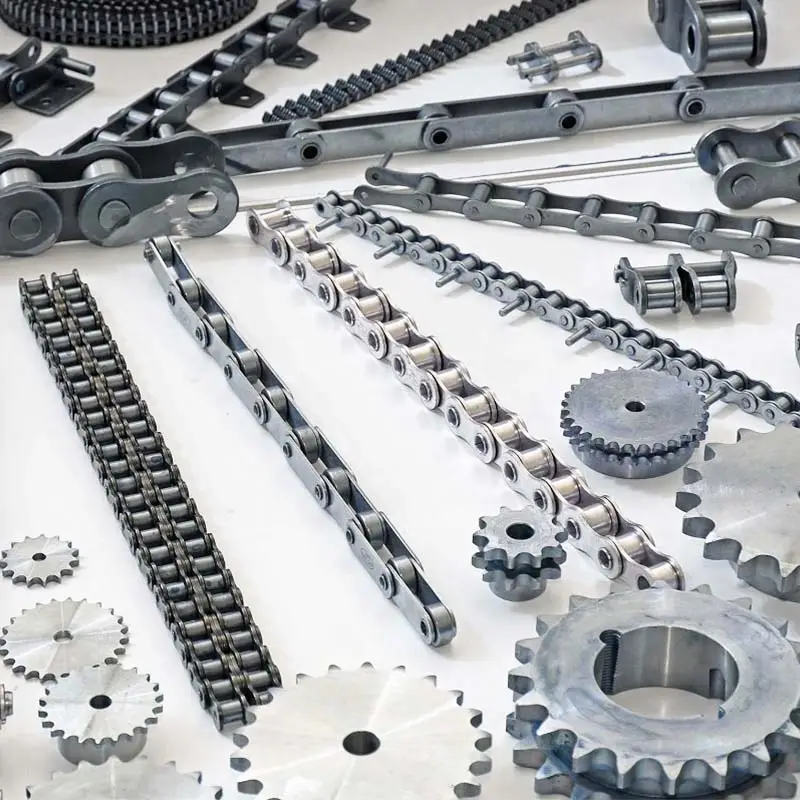 Are there any alternatives to roller chains for power transmission?
Yes, there are several alternatives to roller chains for power transmission, depending on the specific application requirements. Here's a detailed answer to the question:
1. Belt Drives: Belt drives are a common alternative to roller chains for power transmission. They use a flexible belt made of materials such as rubber, polyurethane, or neoprene. Belt drives offer smooth and quiet operation, high-speed capabilities, and can transmit power over long distances. They are often used in applications where precise synchronization is not required.
2. Gear Drives: Gear drives use meshing gears to transmit power. They offer high torque capabilities, precise motion control, and can handle heavy loads. Gear drives are commonly used in applications that require high efficiency and precise speed control, such as industrial machinery, automotive transmissions, and robotics.
3. Timing Belts: Timing belts, also known as synchronous belts, are toothed belts that provide positive power transmission. They are used in applications that require precise synchronization between two or more shafts. Timing belts offer low noise, high efficiency, and resistance to slippage. They are commonly used in automotive engines, industrial automation, and precision machinery.
4. Chain Drives: Chain drives, similar to roller chains, use interconnected links to transmit power. However, chain drives often have larger pitch sizes and heavier-duty construction compared to roller chains. Chain drives offer high load-carrying capacity, durability, and can operate in demanding conditions. They are commonly used in heavy machinery, agricultural equipment, and motorcycles.
5. Direct Drives: Direct drives eliminate the need for mechanical power transmission components like chains or belts. They directly connect the motor or power source to the driven equipment, providing a more efficient and compact solution. Direct drives are commonly used in applications that require high precision, such as CNC machines, robotics, and linear motion systems.
When considering alternatives to roller chains, factors such as load requirements, speed, precision, environmental conditions, and cost must be taken into account. Each alternative has its own advantages and limitations, and the choice depends on the specific needs of the application.



editor by CX 2023-07-25