Product Description
Product Name
Roller Chain coupling
Model NO.
KC3012 KC4012 KC4014 KC4016 KC5014 KC5016 KC5018 KC6018 
KC6571 KC6571 KC8018 KC8571 KC8571 KC1571 KC12018 KC12571
Chain Type
06B-2×12 40-2×12 40-2×14 40-2×16 50-2×14 50-2×16 50-2×18
60-2×18 60-2×20 60-2×22 100-2×20 100-2×18 100-2×22
Min. Bore Diameter
12mm-35mm, customized
Max. Bore Diameter
16mm-140mm,customized
Weight
0.4kg-72.0kg
Material
Stainless Steel,Carbon Steel,Aluminum Sleeve
Cover Dimensions
63mm-357mm, customized
Features
The chain coupling is composed a duplex roller chain and 2 sprockets.The function of connection and datachment is done by the joint of chain.It has the characteristics of simplicity,high efficiency,easy-on and easy-off and nice out-looking.It also have aluminum cover to prevent dust and protect the lubricant in order to extend the life of chain coupling.
Chain couplings are offered in the industrys largest variety of stock bore/keyway combinations. These couplings require no lubrication and provide highly reliable service for light, medium, and heavy duty electrical motor and internal combustion power transmission applications.  Applications include power transmission to industrial equipment such as pumps, gear boxes, compressors, blowers, mixers, and conveyors.
The chain coupling has the advantages of simple structure (consisting of 4 parts), convenient installation and disassembly, 2 shafts which are joined without moving during disassembly, compact size, light weight, compensation ability, low installation accuracy, reliable operation, long life and low cost.
Packing&Shipping
Package
Standard suitable package / Pallet or container.
Polybag inside export carton outside, blister and Tape and reel package available.
If customers have specific requirements for the packaging, we will gladly accommodate.
Shipping

10-20working days ofter payment receipt comfirmed (based on actual quantity).
Packing standard export packing or according to customers demand.   

Professional goods shipping forward.
About MIGHTY
ZheJiang Mighty Machinery Co., Ltd. specializes in manufacturing Mechanical Power Transmission Products.We Mighty is the division/branch of SCMC Group, which is a wholly state-owned company, established in 1980.
About Mighty:
-3 manufacturing factories, we have 5 technical staff, our FTY have strong capacity for design and process design, and more than 70 workers and double shift eveyday.
-Large quality of various material purchase and stock in warhouse which ensure the low cost for the material and production in time.
-Strick quality control are apply in the whole production. 
we have incoming inspection,process inspection and final production inspection which can ensure the perfect of the goods quality.
-14 years of machining experience. Long time cooperate with the Global Buyer, make us easy to understand the csutomer and handle the export. MIGHTY's products are mainly exported to Europe, America and the Middle East market. With the top-ranking management, professional technical support and abundant export experience, MIGHTY has established lasting and stable business partnership with many world famous companies and has got good reputation from CZPT customers in international sales.
FAQ
Q: Are you manufacturer or trading company?
A: We are factory.
Q: How long is your delivery time?
A: Generally it is 5-10 days if the goods are in stock. or it is 15-20 days if the goods are not in stock, it is according to quantity.
Q: Do you provide samples ? is it free or extra ?
A: Yes, we could offer the sample for free charge but do not pay the cost of freight.
Q: What is your terms of payment ?
A: Payment=1000USD, 30% T/T in advance ,balance before shippment.
We warmly welcome friends from domestic and abroad come to us for business negotiation and cooperation for mutual benefit. To supply customers excellent quality products with good price and punctual delivery time is our responsibility.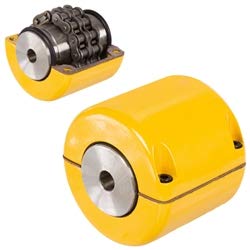 Efficient Power Transmission and Low Maintenance of Roller Chain Couplings
Roller chain couplings offer efficient power transmission and low maintenance due to their unique design and construction:
High Torque Capacity: Roller chain couplings are capable of transmitting high torque between the driving and driven shafts, making them suitable for heavy-duty applications.
Reduced Power Loss: The flexible and rugged nature of roller chain couplings helps minimize power loss during torque transmission, ensuring energy efficiency in the system.
Shock Absorption: Roller chain couplings can absorb shocks and vibrations, protecting connected machinery and components from damage and wear.
Misalignment Tolerance: They can accommodate both angular and parallel misalignments, reducing stress on the shafts and extending the equipment's life.
Simple and Reliable Design: Roller chain couplings have a simple design with fewer moving parts, leading to low maintenance requirements and reduced downtime.
Easy Installation: Their easy installation process allows for quick setup, minimizing installation time and associated costs.
Durability and Longevity: Roller chain couplings are made from robust materials such as steel, ensuring durability and longevity even in harsh operating conditions.
Cost-Effectiveness: Due to their long service life and low maintenance needs, roller chain couplings offer a cost-effective solution for power transmission applications.
Overall, roller chain couplings provide reliable and efficient power transmission while requiring minimal maintenance, making them a preferred choice in various industries where continuous operation and reduced downtime are essential.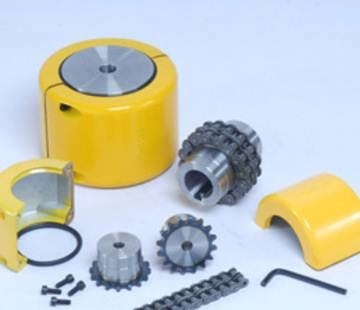 Roller Chain Couplings in Applications Requiring Frequent Starts and Stops
Yes, roller chain couplings can be used in applications that require frequent starts and stops. These couplings are designed to provide reliable torque transmission and accommodate misalignments even during repetitive and rapid motion changes.
The key features that make roller chain couplings suitable for such applications include:
Durable Construction: Roller chain couplings are typically constructed from high-quality materials, such as steel or stainless steel, which offer excellent durability and resistance to wear and fatigue.
Shock Absorption: The flexible nature of roller chain couplings allows them to absorb shocks and vibrations that may occur during frequent starts and stops, preventing damage to connected equipment.
Backlash Minimization: Roller chain couplings are designed to minimize backlash, which is the amount of free play between the connected shafts. This feature ensures precise and reliable torque transmission, even when starting and stopping repeatedly.
Smooth Operation: The chain and sprocket design of roller chain couplings allows for smooth operation, reducing jarring movements during starts and stops.
Misalignment Tolerance: Roller chain couplings can accommodate angular and parallel misalignments between shafts, which is essential in applications where frequent starts and stops may lead to slight shifts in the alignment.
Easy Maintenance: Roller chain couplings are relatively easy to maintain, making them suitable for applications requiring frequent operation. Regular inspection and lubrication can help ensure optimal performance.
It is important to select the appropriate size and type of roller chain coupling based on the specific requirements of the application, including the expected frequency of starts and stops. Proper maintenance and monitoring of the coupling's condition can help prolong its lifespan and ensure smooth operation even in demanding applications with frequent motion changes.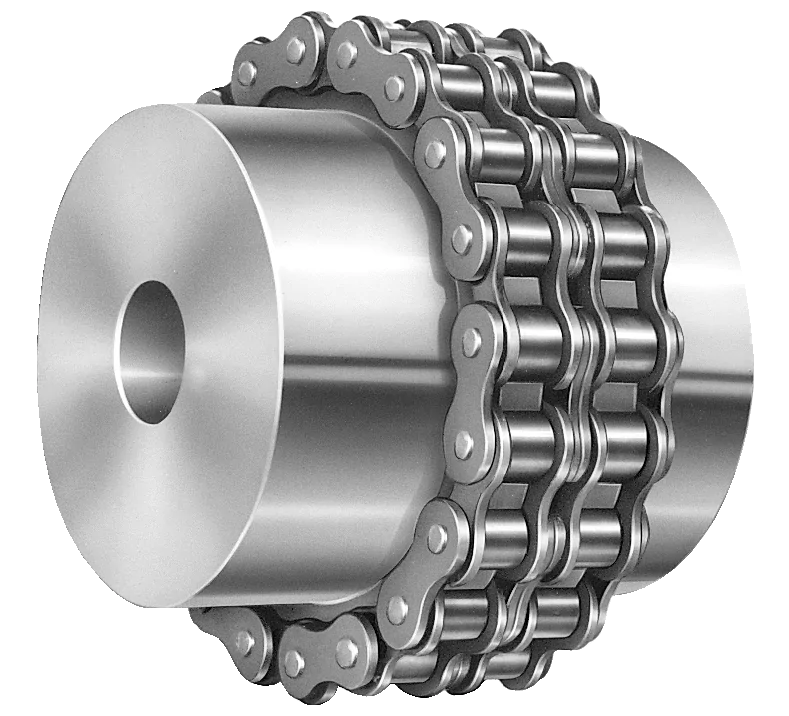 What are the Different Types of Roller Chain Couplings Used in Various Industrial Applications?
Roller chain couplings come in several variations to suit different industrial applications. The main types of roller chain couplings include:
Standard Roller Chain Couplings: These are the most common type of roller chain couplings, featuring two sprockets of the same size connected by a standard roller chain. They are used in general power transmission applications and are suitable for moderate torque requirements.
Heavy-Duty Roller Chain Couplings: As the name suggests, these couplings are designed for heavy-duty applications that require higher torque capacity. They typically have larger and stronger sprockets and chains to handle increased loads.
Double Roller Chain Couplings: This type of coupling includes two roller chains side by side on each sprocket. It offers higher torque transmission capabilities and increased redundancy for critical applications.
Idler Roller Chain Couplings: In this design, an idler sprocket is added between the driving and driven sprockets. It helps to reduce the impact of shock loads and misalignment on the coupling.
Spacer Roller Chain Couplings: These couplings have a spacer between the two sprockets, allowing for larger axial misalignment while maintaining torque transmission.
The choice of the roller chain coupling type depends on the specific requirements of the application, including torque, speed, misalignment, and environmental factors. Engineers and designers need to select the appropriate type of coupling to ensure reliable and efficient power transmission in their industrial machinery.



editor by CX 2023-09-07