Product Description
Harvester Chains of Carton Steel (415S)
PRODUCT SHOW

PRODUCT DETAILS
Product Parameters
Standard
GB, ISO, ANSI, DIN
Type
Standard A and standard B precision roller chain, conveyor chain;
special chain with accessories, welding chain, leaf chain and sprocket
ANSI chain No.
40,50,60,80,100,120,140,160,180,200,240;
C40,C50,C60,C80,C100,C120,C140,C160;
DIN/ISO chain No.
08A,10A,12A,16A,20A,24A,28A,32A,36A,40A,48A;
C08A,C10A,C12A,C16A,C20A,C24A,C28A,C32A;
Application
Food processing, pharmaceutical and chemical industries, electronics, machinery;
household appliances, automotive manufacturing, metallurgy, sewage treatment
Series
A series, B series
More Products

Advantage
Certifications
DETAILS ABOUT CZPT CHAIN 
Exhibition
Workshop
Application

Packaging Details
Shipping
FAQ      
1. Are you a manufacturer or trade Company?
We are a factory founded in 1997 with a trade team for international service.
2. What terms of payment do you usually use?
T/T 30% deposit and 70% against document, Western Union, L/C at sight
3. What is your lead time for your goods?
Normally 35 days after confirmed order. 30 days could be available in the low season for some items (during May to July), and 45 days during the new year and hot season ( Jan to March).
4. Samples
For customers who need sample confirmation before ordering, please bear in mind that the following policy will be adopted:
1) All samples are free of charge with a maximum value not exceeding USD 100.
2) The courier cost for the first-time sample sending will be charged by the consignee. We will send the samples with freight to be collected. So please inform your account with FedEx, UPS, DHL, or TNT so that we can proceed promptly.
3) The first-time courier cost will be totally deducted from the contract value of the trial cooperation.
| | |
| --- | --- |
| Usage: | Transmission Chain, Conveyor Chain, Agricultural Machine |
| Material: | Alloy/Carbon Steel |
| Surface Treatment: | Polishing |
| Feature: | Heat Resistant |
| Chain Size: | All Sizes |
| Structure: | Agricultural Machine |
Customization:

Available

|

Customized Request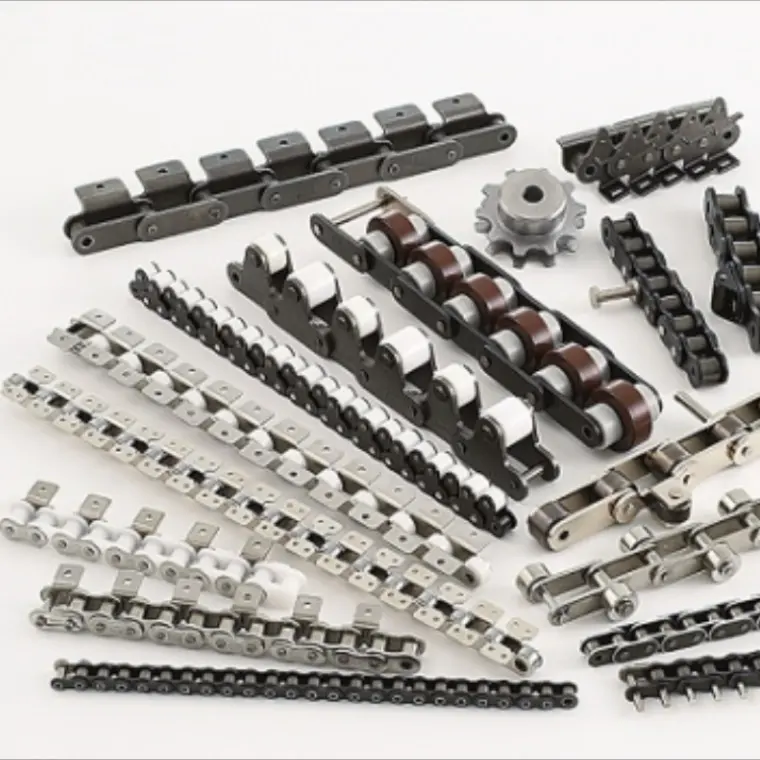 Can roller chains be used in food processing or pharmaceutical industries?
Roller chains can be used in certain food processing and pharmaceutical applications, but there are specific considerations and requirements to ensure compliance with industry standards and regulations. Here's a detailed answer to the question:
1. Food Grade Materials: In food processing and pharmaceutical industries, it is essential to use roller chains made from food-grade materials. These materials are non-toxic, corrosion-resistant, and designed to meet the hygiene and cleanliness requirements of these industries. Stainless steel chains or chains with special food-grade coatings are commonly used.
2. Lubrication: Proper lubrication is crucial in food processing and pharmaceutical applications to prevent contamination. Food-grade lubricants that are safe for consumption or lubrication-free chains are often used to meet the industry standards and regulations. It's important to ensure that the lubricants used are compatible with the specific chain material and application requirements.
3. Cleanliness and Sanitization: The equipment and chains used in food processing and pharmaceutical industries must be designed for easy cleaning and sanitization. Smooth surfaces, without crevices or pockets that can trap food particles or bacteria, are preferred. Regular cleaning and maintenance procedures should be implemented to ensure proper hygiene and prevent the risk of contamination.
4. FDA and Regulatory Compliance: Roller chains used in food processing and pharmaceutical industries must comply with the regulations set by the Food and Drug Administration (FDA) or other relevant regulatory bodies. These regulations specify the acceptable materials, lubricants, and cleanliness standards for equipment used in these industries.
5. Hazard Analysis and Critical Control Points (HACCP): The Hazard Analysis and Critical Control Points system is commonly implemented in the food processing industry to identify and control potential hazards. When using roller chains in food processing, it's important to assess the risks and implement appropriate measures to prevent contamination, such as installing guards to protect the chain from direct contact with food products.
While roller chains can be used in food processing and pharmaceutical industries, it is crucial to consult industry-specific guidelines and work with suppliers or manufacturers experienced in supplying chains for these applications. Adhering to industry standards and regulations ensures the safe and reliable use of roller chains in such sensitive environments.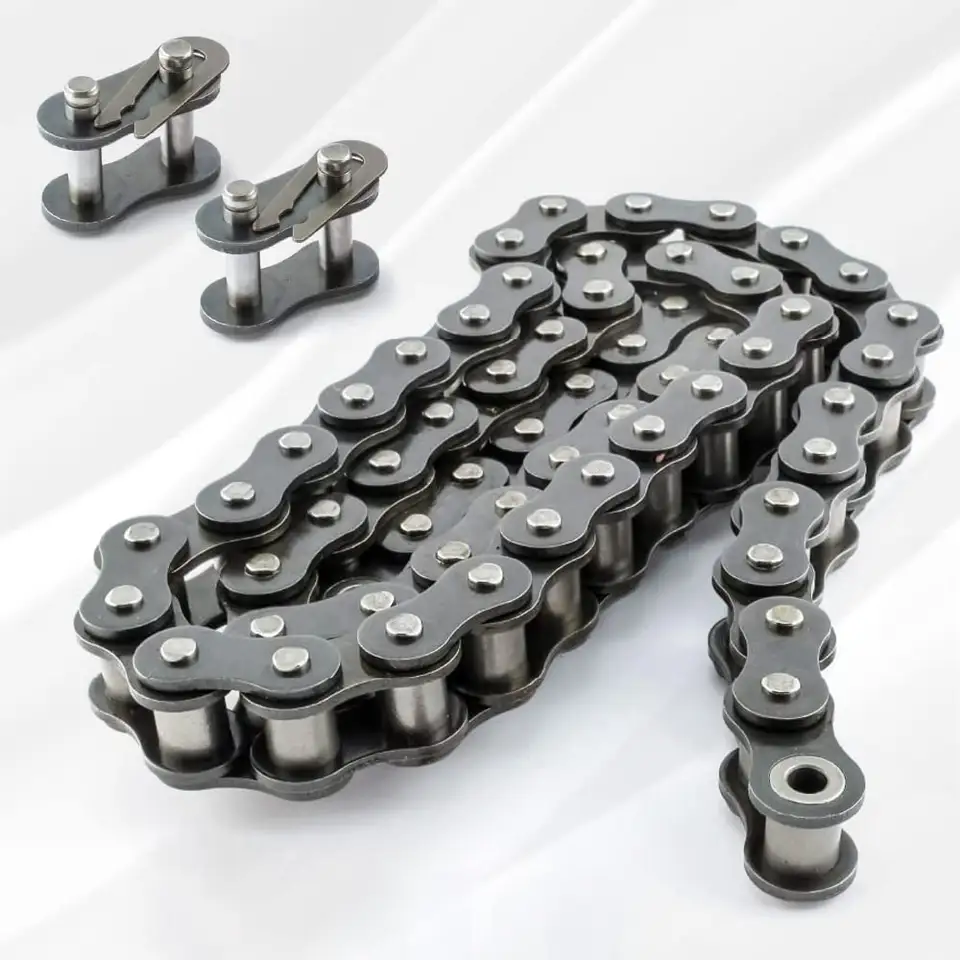 Can roller chains be used in underwater applications?
Roller chains are not typically recommended for direct use in underwater applications due to the potential for corrosion and water ingress. However, with appropriate modifications and additional protective measures, roller chains can be adapted for certain underwater applications. Here's a detailed answer to the question:
1. Corrosion Resistance: In underwater environments, corrosion is a significant concern. Roller chains can be manufactured from corrosion-resistant materials such as stainless steel or coated with anti-corrosion treatments to mitigate the effects of exposure to water and moisture.
2. Sealing and Waterproofing: Special seals, O-rings, or protective covers can be installed to prevent water ingress into the chain's internal components. These seals help to maintain lubrication and protect against corrosion, ensuring reliable operation even in wet conditions.
3. Lubrication Selection: Choosing the appropriate lubricant is crucial for underwater applications. Lubricants with excellent water resistance and corrosion protection properties should be selected to provide long-lasting lubrication in the submerged environment.
4. Maintenance and Inspection: Regular maintenance and inspection are essential to monitor the condition of the roller chain in underwater applications. This includes checking for signs of corrosion, lubricant degradation, or seal damage. Prompt replacement of worn or damaged components is necessary to prevent chain failure and ensure optimal performance.
It's important to consult with experts or manufacturers experienced in underwater applications to determine the suitability of roller chains for specific underwater environments. They can provide guidance on the necessary modifications, materials, and maintenance practices to ensure the safe and reliable operation of roller chains in such conditions.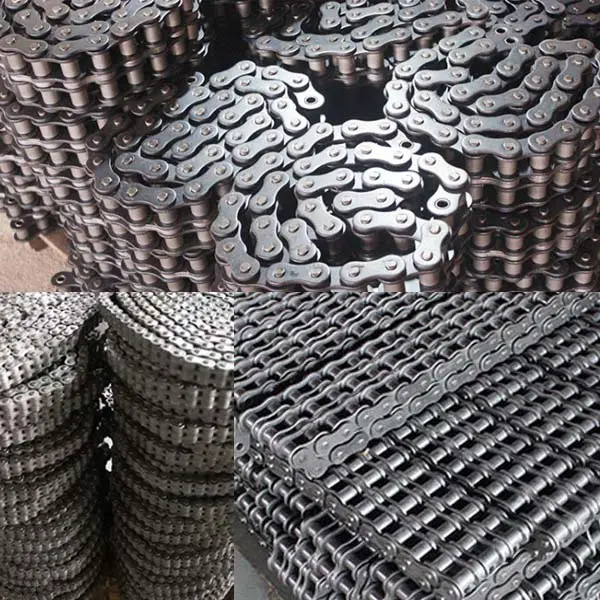 What is the expected lifespan of a roller chain?
The expected lifespan of a roller chain can vary depending on several factors, including the quality of the chain, the operating conditions, and the level of maintenance. Here's a detailed answer to the question:
The lifespan of a roller chain is primarily influenced by the following factors:
1. Chain Quality: High-quality roller chains made from durable materials and manufactured to precise specifications tend to have a longer lifespan compared to lower-quality chains. Chains from reputable manufacturers often undergo rigorous testing and quality control processes to ensure their performance and durability.
2. Operating Conditions: The operating environment greatly affects the lifespan of a roller chain. Factors such as temperature, humidity, contamination, shock loads, and vibration can impact the chain's wear and fatigue resistance. Chains operating in harsh conditions may require more frequent maintenance and replacement.
3. Lubrication and Maintenance: Proper lubrication is crucial for maintaining the lifespan of a roller chain. Regular lubrication helps reduce friction, wear, and corrosion, thereby extending the chain's life. Additionally, regular inspection and maintenance, including tension adjustment, sprocket alignment, and cleaning, can help identify and address issues that could shorten the chain's lifespan.
4. Load and Speed: The load and speed at which the roller chain operates also play a role in determining its lifespan. Chains operating under heavy loads or high speeds may experience increased wear and fatigue, shortening their lifespan. Choosing a chain with the appropriate strength and size for the application is important to ensure optimal performance and longevity.
Generally, a well-maintained roller chain can last for thousands of hours of operation. However, it is essential to monitor the chain's condition regularly and replace it when signs of wear, elongation, or damage become apparent. Following the manufacturer's recommendations for maintenance and replacement intervals is crucial for maximizing the lifespan of the roller chain.



editor by CX 2023-07-28